The Trump Doctrine: A Work in Progress
Politics
/
US Politics
Dec 21, 2016 - 03:47 PM GMT


By Reva Goujon : The world is in a "frenzy of study," Henry Kissinger said in a recent interview. At home and abroad, strategists and pundits are trying to piece together a blueprint of American foreign policy under U.S. President-elect Donald Trump from a stream of tweets, some campaign slogans, a few eye-catching Cabinet picks, meetings at Trump Tower, and a pingpong match already underway with Beijing. Highbrow intellectualism can be a handicap in this exercise. Commentators among the Washington establishment have been quick to dismiss Trump's foreign policy moves outright as erratic and self-serving over the past few weeks. In an op-ed entitled "Trump Failed His First Foreign Policy Test," for instance, columnist David Ignatius admonished the president-elect for the "hot mess" his phone call with Taiwanese President Tsai Ing-wen precipitated. Trump makes people uncomfortable. It's what he does best, in fact. But how this quality applies to foreign policy is a question that merits deeper exploration than knee-jerk displays of stricken disbelief. After all, as Kissinger noted in his Dec. 18 interview, "a president has to have some core convictions."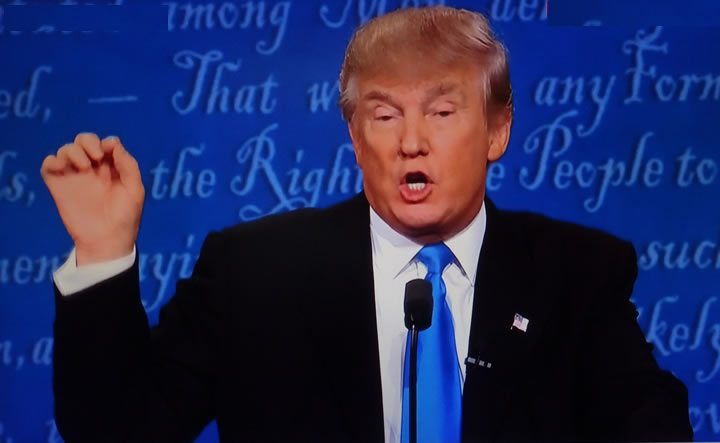 So what are Trump's? From what we can discern so far from his upbringing, the trajectory of his career and the profiles of those who have infiltrated his inner circle, Trump prizes business acumen and a "killer" instinct for managing affairs. He has enough corporate firepower in his Cabinet to fill the next Forbes' list. By nominating ExxonMobil CEO Rex Tillerson as secretary of state, he has demonstrated his belief that tough deal-making — identifying sources of leverage and showing a willingness to use them — is the secret to running a country and presiding over the international system. Trump does not fear nationalism; he sees it as the natural and rightful path for every state, the United States included, to pursue in protecting its interests. He also seems to have internalized the idea that the United States is losing its competitiveness and that internationalist foreign policy is to blame. Finally, Trump apparently believes that U.S. foreign policy has become too predictable and overwrought with diplomatic formality. Better to say it like it is and call out institutions and conventions that have outlived their usefulness.
This, at least, is the worldview at a distance. When we come in for a closer look, however, some of the cracks come into clearer view. In 1953, General Motors Co. CEO Charles Wilson was asked in his Senate confirmation hearing to become President Dwight D. Eisenhower's secretary of defense whether his decisions in office could end up harming his company. He answered that they might but that he could not imagine such a scenario since "for years I thought what was good for the country was good for General Motors and vice versa." In fact, what is good for a business will not always be congruent with the national interest. A company is answerable to its shareholders, just as a president is answerable to some degree to Congress and the American public. But the mission of the CEO — maximizing value for its shareholders — entails different considerations when pursuing the raison d'etat and preserving a social contract with a nation's citizenry. The latter entwines economic arguments with the social and moral obligations of the state, a nebulous territory where inefficiencies, compromise and the social consequences of massive deregulation are unavoidable.
Driving a Hard Bargain
Trump sees it as his mission to repair the social contract with the American public by bringing manufacturing jobs back to the United States. This will be easier said than done, however. Across-the-board tariffs against big trading partners, such as China, might have worked 20 years ago but not in today's globalized environment. Raising import tariffs now could cause the price of goods no longer produced domestically to skyrocket and disrupt international supply chains, turning many U.S. businesses into pawns in various overseas trade wars.
It could be argued that China depends more heavily on exports than the United States does and cannot afford to risk its vital supply lines in a major confrontation with the world's most powerful navy. This, in effect, leaves Washington with the upper hand in its trade tussle with Beijing. In the search for additional leverage against China, Trump has shown a willingness to expire Washington's "one-China" policy, a holdover from the Cold War that dodged the question of Taiwan's statehood to drive a wedge between the Soviets and Communist China.
But that's just one side of the equation. China has twin imperatives to maintain access to export markets and raw materials and to prevent an outside power from blockading its northern coast through the Taiwan Strait. If Trump's policies interfere with these objectives, Beijing has levers it can pull to retaliate. Should the United States play the Taiwan card to try to exact economic concessions from Beijing, China can strong-arm U.S. companies operating on the mainland. Beijing can also use its enormous economic clout over Taiwan — whose semiconductor manufacturing and assembly industry is tightly intertwined with the mainland — to threaten a disruption to the global tech supply chain. Furthermore, as its recent seizure of an unmanned U.S. naval drone illustrated, China can flex its maritime muscle, albeit cautiously, to raise the stakes in a trade dispute with the United States. Though Trump would rather leave it to regional stakeholders such as Japan and South Korea to balance against Beijing, his compulsion to correct the United States' trade relationship with China will draw him into stormy security waters in the Pacific.
A Different Kind of Negotiation
Just as Trump regards the one-China policy as a relic of the Cold War worth revisiting, he intends to update Washington's relationship with Moscow. As Trump sees it, the United States is not fighting an existential battle with Russia deserving of Cold War-era collective security commitments. Russia is no longer preoccupied with forging an empire under an ideology that is anathema to Western capitalism. Instead, Moscow is focused on the more basic task of constructing a national identity and insulating the state and its borderlands from Western encroachment in anticipation of greater domestic turmoil to come. As Kissinger recently put it, Russian President Vladimir Putin is like one of Fyodor Dostoevsky's characters, for whom "the question of Russian identity is very crucial because, as a result of the collapse of communism, Russia has lost about 300 years of its history." If Russia were to try to build a state by expanding its already sprawling territory, nationalism would not be enough to hold it together. Consequently, Putin is trying to defend the areas surrounding his country and compel the West to recognize and respect that sphere of influence.
Taking a less alarmist view of Russia's intentions, the Trump administration sees an opening to develop a new understanding with Moscow, one that could put to rest the question of Crimea and perhaps recognize Russia's influence over eastern Ukraine. Syria, a peripheral issue for both Moscow and Washington, would be recognized as such. Since sanctions are a drag on business and Russia sorely needs investment, Trump could ease the measures to get a dialogue moving on what an understanding would look like without sacrificing the U.S. military presence along Europe's eastern flank.
Should Tillerson be confirmed as secretary of state, Trump would rely on his knowledge of Kremlin personalities and their internal feuds to advance the negotiations. After all, if a company needs good inroads with the Kremlin to do business in Russia, the same must go for a government that wants to negotiate with Moscow. But negotiating access to Russia's Arctic shelf on ExxonMobil's behalf is not the same as conducting talks centered on Russia (or China, for that matter) trying to get the West out of its backyard.
Russia has no illusion that a shuffle of personalities in the White House will reverse U.S. policy and cede the former Soviet sphere to it. The United States will still be compelled to keep a check on Russia's moves in Europe just as Moscow will maintain its levers across several theaters, from cybersecurity to arms control to proxy wars in the Middle East. Though Trump's administration may change the tone of the conversation and broach the topic of tactical concessions, Russia will still be driven by an unrelenting distrust of Western intentions that will keep defenses up on both sides. Nonetheless, the very notion of a private bargain developing between Washington and Moscow will inject uncertainty into long-standing collective security arrangements as the European Continent is undergoing another Machiavellian moment in history where the assertion of state interests is breaking the bonds of its flawed union.
An Unlikely Precedent
Despite the changes that Trump will doubtless bring to the presidency, his foreign policy is not as unprecedented as the world's pundits may claim. The bridge between President Barack Obama's foreign policy doctrine and the one evolving under Trump is not entirely sturdy, but the foundation is there. As president, Obama was a realist. He considered it his mission to rebalance the United States after the country had overextended itself fighting wars in the Islamic world. His resistance to expanding U.S. military commitments in the Middle East was deeply ingrained; as he said in an interview in The Atlantic, "it is literally in my DNA to be suspicious of tribalism." He held strong convictions that the United States would once again be trampled under a sectarian horde in the Middle East if it tried to extend its ambitions beyond the more immediate and visible threat of the Islamic State. He also pressured even close U.S. allies such as the United Kingdom to pay their fair share in security commitments because, as he put it, "free riders aggravate me." Obama was a follower of 20th-century American theologian Reinhold Niebuhr, who held a rather Hobbesian view of the world as a struggle among self-interested groups. (It was Niebuhr who wrote, "God, grant me the serenity to accept the things I cannot change, the courage to change the things I can, and the wisdom to know the difference.") The current president built a foreign policy on extreme restraint while addressing his own set of geopolitical anachronisms: the United States' relationships with Iran and Cuba.
But Obama, unlike Trump, applied an internationalist lens to his realist views. He wanted his allies to pay their share but was resolute in keeping the U.S. security umbrella over their heads. He viewed foreign trade as a means to build alliances and contain conflicts. Still, protectionism was already well underway during Obama's tenure. Since the 2008 financial crisis, the United States has led G-20 countries in carrying out discriminatory trade measures on selective industries (particularly metals), according to a report by Global Trade Alert. At the same time, Obama saw that the world was changing with technology and that old jobs would give way to advances in manufacturing. He preferred to think in longer horizons, at times to his own detriment: For Obama, the long-term impact of climate change was existential compared with the short-term threat posed by the Islamic State.
By contrast, Trump's realism is steeped in nationalism and tends to be more myopic in assessing threats. His solution to displaced American labor is to punish foreign trade partners rather than to retool the workforce to adapt to demographic and technological change. Under Trump, climate change concerns will take a back seat to the more immediate desires to ease regulations on business. Rather than play a restrained globalist role, the next president would sooner respect countries' rights to defend themselves, irrespective of the long-term consequences of undermining time-honored collective security arrangements. Though a departure from an already defunct two-state solution in Israel's favor acknowledges the current reality, it also risks further destabilizing the balance of power in the Middle East as Turkey continues its resurgence and multiple civil wars rage on. A short-term escalation with Beijing over trade and Taiwan could cost Washington a much bigger strategic discussion over China's attempts to achieve parity with the United States in numerous spheres, from cyberspace to the seas.
Keeping the World on Its Toes
Perhaps the greatest difference between the Obama and Trump foreign policies lies in what may be Trump's biggest virtue: his unpredictability. Obama has been criticized as overly cautious in his foreign policy and thus too much of a known entity for U.S. adversaries. Trump, on the other hand, gives the impression that he is willing to throw caution to the wind and rely on instinct in shaping foreign policy. This matters immensely for U.S. allies and adversaries alike that have to be kept on their toes in developing their long-term strategy while avoiding the unexpected with the world's superpower.
Regardless of who occupies the presidency, the United States' strong geopolitical foundation gives it options. As opposed to more vulnerable countries in less forgiving locales, the United States, buffered as it is by two vast oceans, can debate the merits of isolationism and intervention. George Kennan, a diplomat during the Cold War era, may have captured the immense power of the country's unpredictability best:
"[American democracy is like] one of those prehistoric monsters with a body as long as this room and a brain the size of a pin: He lives there in his comfortable primeval mud and pays little attention to his environment; he is slow to wrath — in fact, you practically have to whack his tail off to make him aware that his interests are being disturbed; but, once he grasps this, he lays about him with such blind determination that he not only destroys his adversary but largely wrecks his native habitat."
Aloofness in international affairs is a geopolitical luxury, but it cannot be taken for granted. That may be the basis for the Trump doctrine.
"The Trump Doctrine: A Work in Progress is republished with permission of Stratfor."
This analysis was just a fraction of what our Members enjoy, Click Here to start your Free Membership Trial Today! "This report is republished with permission of STRATFOR"
© Copyright 2016 Stratfor. All rights reserved
Disclaimer: The above is a matter of opinion provided for general information purposes only. Information and analysis above are derived from sources and utilising methods believed to be reliable, but we cannot accept responsibility for any losses you may incur as a result of this analysis.
© 2005-2019 http://www.MarketOracle.co.uk - The Market Oracle is a FREE Daily Financial Markets Analysis & Forecasting online publication.

Only logged in users are allowed to post comments.
Register/ Log in