Get Ready for the Future - Exponential Machine Intelligence Mega-trend towards Singularity
News_Letter
/
Technology
Jan 02, 2017 - 11:32 PM GMT

The Market Oracle Newsletter
10th October, 2016 Issue # 25 Vol. 10


The Market Oracle Newsletter
10th October, 2016 Issue # 25 Vol. 10
Get Ready for the Future - Exponential Machine Intelligence Mega-trend towards Singularity

Dear Reader,
Whilst most readership interest is in my regular stock market in-depth analysis that tend to conclude in detailed trend forecast usually covering at least the next 2-3 months and where possible much longer. However, whilst it is useful to know the probable short-term direction of the stock market for trading, accumulation (investing) and distribution (banking profits) purposes, but frankly, I think most people get overly carried away if not obsessed with seeking out short-term market direction.
For instance if you have followed my articles for the past decade or so, then you should see a pattern in that trends PERSIST, i.e. stocks have been in a bull market since March 2009 and ever since then EVERY article I have written and video I have produced has concluded that as a consequence of the exponential inflation mega-trend that humanity has been on that this bull market could run for far longer and higher than anyone, including I can imagine. So what does one do when faced with a market correction, flash crash, even technical bear markets (20%+) drops ? We'll one accumulates, one BUYs!
I can understand that many reading this will be skeptical, despite my market analysis track record which speaks for itself. So in this video, the first of a series I will explain WHY, Why I am persistently so bullish on stocks when a whole host of analysts repeatedly come out with x,y,z reason for why the end is always nigh, stock market armageddon is always said to be just around the corner i.e. the Top is in mantra etc..
Well the answer is as I have voiced several times over the years that human's are LINEAR THINKING MACHINES, that's how we have evolved, we perceive everything in terms of linear trends,1,2,3,4,5,6,7,8,9,10 ... linear growth, linear inflation, whereas instead for the past 200 years or so humanity has been immersed in an EXPONENTIAL INFLATION MEGA-TREND,2,4,8,16,32,64,128,256,512,1024... and I don't just mean PRICE INFLATION! So the only real thing that I can see that differentiates me from most other analysts is that my life-experiences have conditioned me to think in EXPONENTIAL TERMS, which is why I was so sure that stocks in March 2009 were entering a bull market that would run for many years. Since whenever someone has asked me when will the bull market end, on pondering the question my reply has virtually always been that we are probably not even at the half way mark yet! IN 2009, 2010, 2011, 2012, 2013 - 'probably not at the half way mark yet!' 2014, 2015, 2016, still the same response, and I will explain WHY in this video, the first of a series that will be focused on INVESTING in the Exponential Mega-trend that humanity is on, which should prove far more profitable then even usually accurate short-term trend forecasts, and perhaps may change the way some of you think i.e. in exponential terms.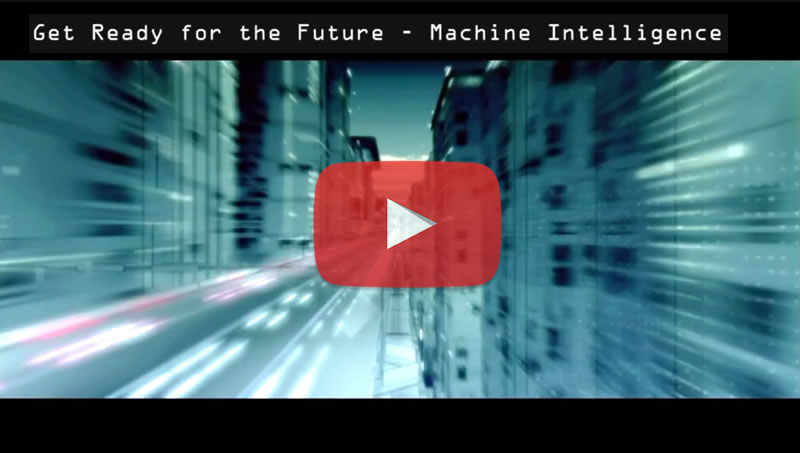 Ensure you are subscribed to our youtube channel for future videos in this mega-trend investing series and subscribed to our always FREE newsletter.
Latest from the Trump Presidential Reality Show
The leaked lewd audio tape from a decade ago has been having a devastating impact on what was an already a badly damaged Trump campaign that has been on a downward trend trajectory after Trump lost the 1st debate, where virtually each day has tended to bring forward more bad news as the mainstream press digs deeper into Trumps past.
"I moved on her like a *****, but I couldn't get there. and she was married."
"I better use some Tic Tac's just in case I start kissing her."
"You know I'm automatically attracted to beautiful - I just start kissing them. It's like a magnet. Just kiss. I don't even wait."
"And when you're a star they let you do it. You can do anything. Grab them by the p ussy. You can do anything."
Whilst the opinion polls still show little shift with Hillary on 45% and Trump on 41%. However, the betting markets such as betfair are signaling that the Trump campaign was is in full meltdown mode. For instance just prior to the 1st Presidential debate Trump had rallied to his best standing of 2.88, immediately following the 1st debate that had widened to 3.35, and peaking at 4.05 just prior to the VP debate. Post the VP debate the odds had marginally shifted in Trumps favour by falling to 3.80. But then after the tax return and audio tape leaks, all of that hard work had been undone sending Trump's betfair price to stand at 5.7 against Hillary on 1.26 going into the 2nd debate that I saw in the openign few minutes leap to 6.2.
However as the debate went on Trump managed to get weare Hillary down and score a few good one liners such as that if he was President then Hillary would be in jail. He also managed to put Hillary on the defensive a few times such as over the 33,000 deleted emails. The end result is that Trump managed to stem the haemooraging as the lasted betfair price puts Trump on 5.2, a recovery of sorts but a long way to go to get anywhere Hillarys standing of 1.27
US Presidential Election 2016 Betfair Market
| | | | | |
| --- | --- | --- | --- | --- |
| Date | Time (BST) | Hillary | Trump | Comments |
| 25th Sept | | 1.58 | 3.05 | Trending in Trumps favour |
| 27th Sept | 2am | 1.57 | 2.88 | Trump peaks just prior to the start of the 1st debate |
| 27th Sept | 4am | 1.44 | 3.35 | Just after the 1st debate confirming Trump lost. |
| 30th Sept | 3am | 1.45 | 3.45 | Odds continuing to move against Trump election win |
| 30th Sept | 9pm | 1.39 | 3.75 | Accelerating meltdown of Trump odds |
| 1st Oct | 2pm | 1.37 | 3.85 | Still little sign of Trump recovery |
| 4th Oct | 9pm | 1.35 | 4.05 | Trump continues losing trend |
| 5th Oct | 5am | 1.36 | 3.90 | Pence wins VP debate |
| 7th Oct | 5pm | 1.38 | 3.8 | Trump recovery continues |
| 8th Oct | 12pm | 1.32 | 4.8 | Effect of leaked audio tape of Trump Groping women |
| 9th Oct | 8pm | 1.25 | 5.7 | Trump campaign in free fall |
| 10th Oct | 4.30am | 1.27 | 5.2 | Trump wins 2nd Debate. |

So going into the second debate Trump now literally has nothing to lose so we can see him come out all guns blazing which at the very least ensures it will be very, very entertaining to watch and give much material for the satirists. Though whether it will work or not we will find out in the betting markets shortly after the debate for Trump currently has a huge mountain to climb.
In my most recent video analysis I gave several suggestions of what Trump could do to reverse his losing streak going into the second debate and where I warned of his achilles heel of his tax returns and the Trump organisation that lacked financial transparency which if revealed could blow his chances of winning the election as illustrated by the subsequent NYT story. Whilst step 2 was to stop attacking women and minorities which the audio tape leak worsens his standing in respect of.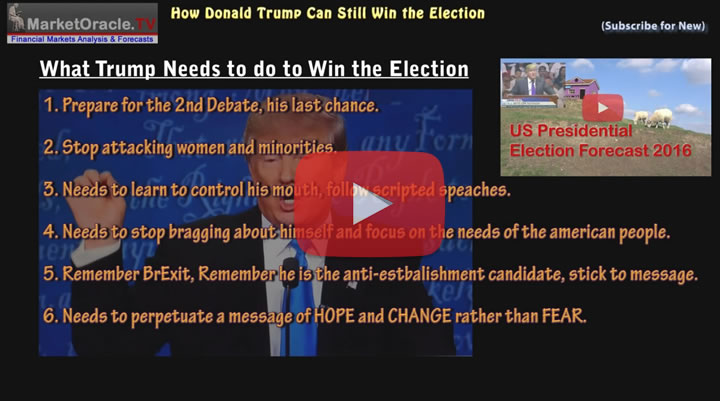 For the reality of what a a now diminishing chances of a Trump Presidency would actually look like see -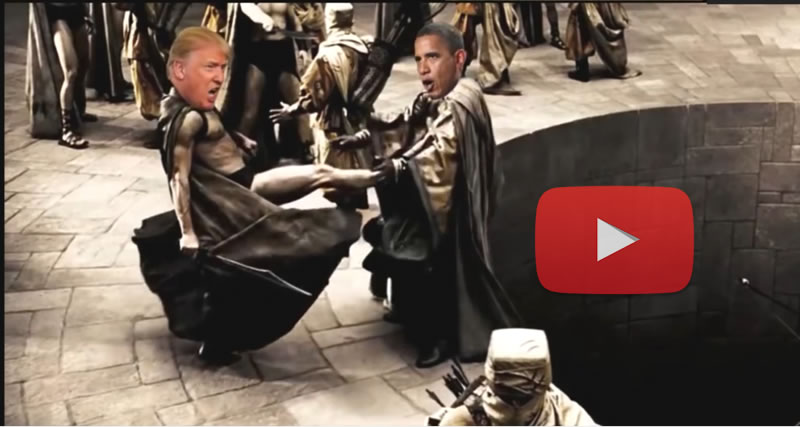 My forecast of several weeks ago concluded who most probably would win the election to become the next US President, which I said I would revisit closer to election day, and which given what has subsequently coming to pass I will now definitely be doing so.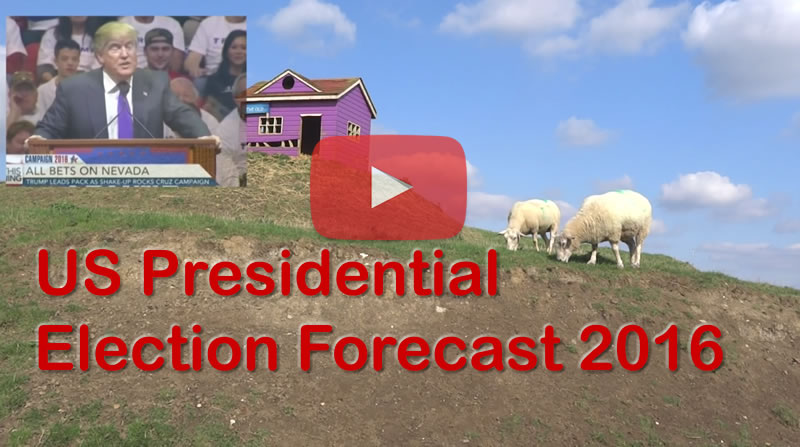 By Nadeem Walayat
Nadeem Walayat has over 25 years experience of trading derivatives, portfolio management and analysing the financial markets, including one of few who both anticipated and Beat the 1987 Crash. Nadeem's forward looking analysis focuses on UK inflation, economy, interest rates and housing market. He is the author of five ebook's in the The Inflation Mega-Trend and Stocks Stealth Bull Market series that can be downloaded for Free.

Nadeem is the Editor of The Market Oracle, a FREE Daily Financial Markets Analysis & Forecasting online publication that presents in-depth analysis from over 1000 experienced analysts on a range of views of the probable direction of the financial markets, thus enabling our readers to arrive at an informed opinion on future market direction. http://www.marketoracle.co.uk
Disclaimer: The above is a matter of opinion provided for general information purposes only and is not intended as investment advice. Information and analysis above are derived from sources and utilising methods believed to be reliable, but we cannot accept responsibility for any trading losses you may incur as a result of this analysis. Individuals should consult with their personal financial advisors before engaging in any trading activities.
You're receiving this Email because you've registered with our website.
How to Subscribe
Click here to register and get our FREE Newsletter
To access the Newsletter archive this link
Forward a Message to Someone [FORWARD]
To update your preferences [PREFERENCES]
How to Unsubscribe - [UNSUBSCRIBE]
About: The Market Oracle Newsletter
The Market Oracle is a FREE Financial Markets Forecasting & Analysis Newsletter and online publication.
(c) 2005-2016 MarketOracle.co.uk (Market Oracle Ltd) - The Market Oracle asserts copyright on all articles authored by our editorial team. Any and all information provided within this newsletter is for general information purposes only and Market Oracle do not warrant the accuracy, timeliness or suitability of any information provided in this newsletter. nor is or shall be deemed to constitute, financial or any other advice or recommendation by us. and are also not meant to be investment advice or solicitation or recommendation to establish market positions. We recommend that independent professional advice is obtained before you make any investment or trading decisions. ( Market Oracle Ltd , Registered in England and Wales, Company no 6387055. Registered office: International House, 124 Cromwell Road, Kensington, London, SW7 4ET, UK )
Copyright 2016 MarketOracle.co.uk
© 2005-2019 http://www.MarketOracle.co.uk - The Market Oracle is a FREE Daily Financial Markets Analysis & Forecasting online publication.

Only logged in users are allowed to post comments.
Register/ Log in