Obama Leaves, Hope Arrives, Will Stupid Stay?
Politics
/
US Politics
Jan 17, 2017 - 11:03 AM GMT


Obama's presidential term will mercifully expire on 1/19/17. Hallelujah! He can quickly descend to his correct historical position as the second worst leader in american history beside the 28th president, Woodrow Wilson. Why is Wilson the worst leader ever? A brief synopsis follows.
1 - Wilson ceded power to the Federal Reserve Bank in 1913 (an un-Constitutional act)
2 - Wilson gave us the 16th Constitutional Amendment giving the federal government power and authority to seize taxation from payrolls (another un-Constitutional act)
3 - Wilson injected the US into WWI at the delight of the central bankers who were kind enough to loan money for the butchery of humans around the globe.
4 - Wilson showed the first film in the White House. It promoted the good work of the KKK.
I could go on.
Obama's list of acts deleterious to the well-being of a free people is just as long and nearly as damning.
1 - Obama delighted his central banker masters by doubling the national debt to the current $20 trillion.
2 - Obama continued his Richard Nixon impersonation by cloaking government operations in a veil of secrecy, deceit, and despotism.
3 - Obama surrounded himself with appointed government officials whose level of corruption and criminal behavior would make Al Capone blush. See Hillary Clinton as Secretary of State for example.
4 - Worst of all, Obama promoted the expansion of a New World Order as he tirelessly worked to denigrate the american work ethic, sign trade deals that did not benefit americans, redistribute wealth to the top 1% (mostly his rich banker friends), and nationalize the country's health care system.
5 - Obama's international efforts speak for themselves - see Syria, Libya, etc.
6 - And as he leaves office, Mr. Obama seems intent on picking a fight with Russia and China. Like Wilson, Obama likes war. His two terms have been dominated with constant war.
7 - Like his twin brother, George Bush, Mr. Obama has continued to foment trouble around the globe by developing, equipping, and funding 'terrorist' so the populace becomes so afraid they surrender all rights and liberties to the Illuminati.
8 - The NDA. This government agency is exactly what the Fourth Amendment to the US Constitution sought to prohibit.
Again, I could go on.
Now President-elect Donald Trump prepares to take office. Like a gasp of oxygen to a drowning man, hope has returned to at least half of america (the half that works at a business). Upon Mr. Trump's victory, consumer confidence rose, small business confidence rose, stock index prices rose dramatically, and hope for something better than the last 20 years of idiocy is abounding. Of course, those voters who prefer to have a government bureaucrat pin up their diapers and heat their pabulum do not share the same hope.
True liberty can be scary. True stupidity is even scarier. Unfortunately, Mr. Trump was so right when during a debate he said that america was run by "…very, very, stupid people."
It wasn't easy but I found a smart person. His name is Simon Salazar. Mr. Salazar is not just smart. He is brilliant. He should be our president. At least, he should be the head of Mr. Trump's economic team.
Simon Salazar was born in California. He is currently 40-years old and is easily the smartest person I have ever read about residing in that state. Yet, he works on a raisin farm as a mechanic in the central agricultural valley. I read about him in the December 2016 edition of Smithsonian magazine. Dale Maharidge wrote an excellent article titled 'American Ballad' in which he described the lives of the working poor in america. This is how I learned of California's smartest man - Simon Salazar.
How do I assess Mr. Salazar's intellect?
First, the author asked Mr. Salazar if he was poor. Mr. Salazar thoughtfully explained the relative nature of the word 'poor'. He explained that while a lot of other people seemed to have more possessions, those people borrowed money for those possessions and therefore didn't really own them. In contrast, what little Mr. Salazar had, he owned. He had no debt.
Second, I thought the Earth itself would wobble when I read Mr. Salazar's next musing. The article's author had interviewed different people from coast to coast who were members of the working poor. He offered a ray of hope to Mr. Salazar that his state, California, had just voted to increase the minimum wage in the state. Mr. Salazar shrugged his shoulders. The author inquired as to why there was no joy. Then Mr. Salazar shared his genius. His reply to the increased minimum wages? "The cost of everything will just go up." Simon Salazar did not expect higher minimum wages to put any additional dollars in his pocket. Wow!
Why is it that a poor, undereducated, raisin farm mechanic knows more about economics than anyone else in the state of California or Washington, DC? Because he lives economics. He likely has grease under his finger nails and callouses on his hands. In other words, Mr. Salazar works for a living. He doesn't sit in an ivory tower of idiocy on some college campus espousing foolish politics and erroneous economic theories. Nor is he a corrupt politician. How did Mr. Salazar become so smart? Why is this man working on a raisin farm while his intellectually inferior citizens run governments and schools? Why aren't the imbeciles teaching at indoctrination centers like UCal-Berkeley not taking notes on every utterance of Mr. Salazar? As I pointed out in a previous post, raising minimum wages is pointless in an economy in which the central bank perpetually tries to boost inflation by at least 2% per year. At that rate, even a doubling of minimum wages would be completely inconsequential in less than a generation.
Of course federally mandated and state mandated minimum wage increases don't really help the poor people make more money. Increased wages without a commensurate increase in productivity is useless. Mandated wage increases are designed to do two things.
1 - It is a way for government elected officials to pander to the ignorant progressives (sorry for the oxymoron).
2 - It is a way to deceitfully raise taxes on business, employers, and employees (higher pay results in higher taxes).
This issue is an example of stupid people leading other stupid people. Yes, Mr. Obama is finally leaving but will he take stupid with him? Mr. Trump is arriving but will hope lead to prosperity? Stock indexes can rally on hope for quite a while before succumbing to reality. Unless Mr. Trump appoints Mr. Salazar to his economic team, I suspect hope will eventually fade.
The chart below graphically shows investor despair mounting back in November as it was widely believed that Hillary Clinton would be elected president. Stock indices were beginning to roll over. Twelve of the fifteen trading days leading up to the election were negative days for stocks. Then, as soon as it was apparent that Mr. Trump had secured enough non-Californian votes to win the presidency, stocks took off. In my opinion, this happened partly because of the hope presented by a Trump presidency but also because of the seasonality effect. The chart is the S&P 500.
Again, from a previous post, over the past few decades almost all stock gains occur in the final quarter of the year. Again, as Mr. Trump has said, the system is rigged. Nevertheless, enjoy the rally until it is no more. Eventually we will all have to deal with reality and the embarrassing legacy of an Obama attempt to make america a third world nation. See the chart for the truth.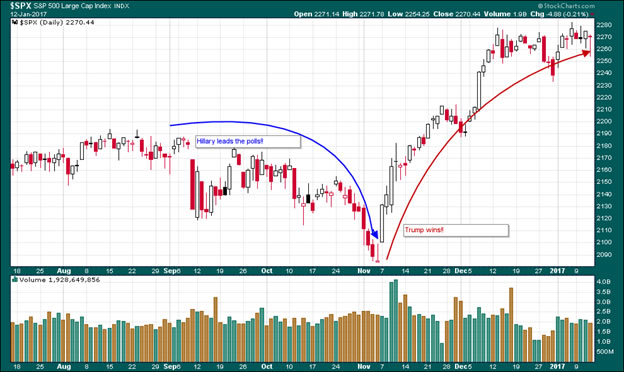 Chart courtesy stockcharts.com
And now, for the stupidest human of the week, I offer Jim Kenney, Mayor of Philadelphia. To fight obesity, he helped pass a 'soda tax' of 1.5 cents per ounce of soda effective 1/1/2017. He expected wholesalers and retailers to bear the brunt of the tax increase. They did not. They raised prices. Mr. Kenney was surprised. Mr. Kenney said it was "wrong" and "misleading" for businesses to pass the tax on to their customers in the form of higher soda prices. Don't all businesses pass on expenses to the customer so the business can make a profit and continue to pay employees? Yet another liberal 'progressive' has shown their profound misunderstanding of business. How can humans get this stupid? Is it de-evolution at work? This is another example of why writer H.L. Mencken said democracies eventually fail. It is the stupidity of the electorate that puts people like this in office. Mr. Mencken's quote is: "On some great and glorious day the plain folks of the land will reach their heart's desire at last, and the White House will be adorned by a downright moron." Mission accomplished!!
Yes, Obama might be gone and Trump might be arriving, but it looks like stupid is with us forever as there appears to be no cure.
Barry M. Ferguson, RFC
President, BMF Investments, Inc.
Primary Tel: 704.563.2960
Other Tel: 866.264.4980
Industry: Investment Advisory
barry@bmfinvest.com
www.bmfinvest.com
www.bmfinvest.blogspot.com
Barry M. Ferguson, RFC is President and founder of BMF Investments, Inc. - a fee-based Investment Advisor in Charlotte, NC. He manages several different portfolios that are designed to be market driven and actively managed. Barry shares his unique perspective through his irreverent and very popular newsletter, Barry's Bulls, authored the book, Navigating the Mind Fields of Investing Money, lectures on investing, and contributes investment articles to various professional publications. He is a member of the International Association of Registered Financial Consultants, the International Speakers Network, and was presented with the prestigious Cato Award for Distinguished Journalism in the Field of Financial Services in 2009.
© 2016 Copyright BMF Investments, Inc. - All Rights Reserved
Disclaimer: The views discussed in this article are solely the opinion of the writer and have been presented for educational purposes. They are not meant to serve as individual investment advice and should not be taken as such. This is not a solicitation to buy or sell anything. Readers should consult their registered financial representative to determine the suitability of any investment strategies undertaken or implemented.
© 2005-2019 http://www.MarketOracle.co.uk - The Market Oracle is a FREE Daily Financial Markets Analysis & Forecasting online publication.

Only logged in users are allowed to post comments.
Register/ Log in