The Oscars – Worth Their Weight in Gold?
Commodities
/
Gold and Silver 2017
Feb 24, 2017 - 10:26 AM GMT

89th Oscars to air this weekend
Oscars have been dipped in 24 karat gold since 1929
If the Oscars were made of solid gold they would weigh 330 ounces
330 ounces of gold is worth $408,210 at today's prices (nearly €400k & £330k)
Only some $630 worth of gold in Oscar statue
Oscars cannot be sold due to regulations
Steven Spielberg keeps his gold Oscar with the Academy for 'safe-keeping'
Shows importance of owning gold in safest ways
Price of gold has climbed from $20.67 since the first Oscars ceremony to over $1,237 today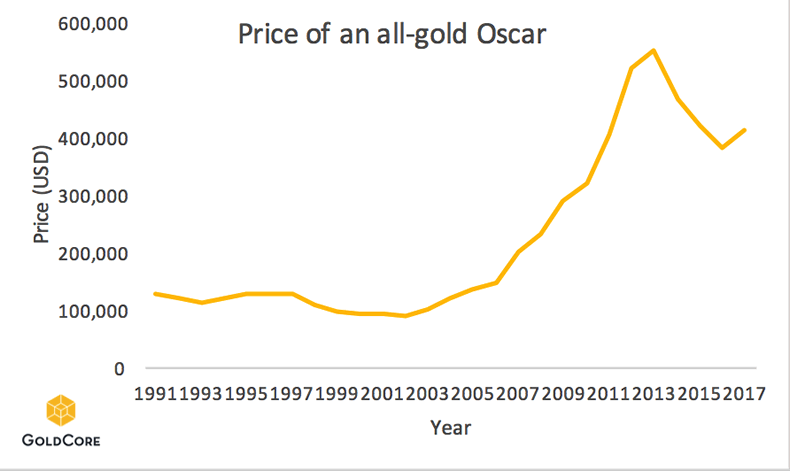 'We All Dream In Gold' read the strap line for last year's Academy Awards. This is no doubt still the case for the nominees of the 24 awards set to be given out at this Sunday's 89th Oscars.
Since the first awards in 1929 nearly 3,000 oscar statues have been awarded to the lucky darlings of the film industry. After the teary speeches, after-parties and press junkets following their win, what is left for those who have achieved the highest-level of recognition in the film industry?
Winning an Oscar is an expensive business, studios spend millions trying to get their hands on at least one, each year. But film and celebrity is a fickle trade and few people can remember who received Oscars last year, let alone when they were first launched in 1929.
How much value do they really bring?
As we all dream in gold, we've spent some time thinking about the golden Oscars, asking just how golden they are and how they hold up when compared to gold itself.
What is an Oscar?
Designed by George Stanley, the Oscar (rumours abound why it is has that nickname) shows a knight standing with a reel of film, clutching his sword. There are five spokes on the base, one representing the branches of the Academy: Actors, directors, producers, writers and technicians.
Fun fact, whilst the Oscars have been going on since 1929 and seemingly little has changed in regard to the appearance of the statue, the mould currently used was only created last year.
The Academy wanted a version of the statue that was closer to the original 1929 design. A 3D printer created the version that is used today and provides the trophies with their more authentic look.
The awards weigh around 8 and a half pounds, and are made from Britannia metal or Britannium and plated in copper, nickel silver, and on the top layer is 24-karat gold. Excluding three years during the Second World War, the statue has always been dipped in gold. So when the Academy says that we all dream in gold, they're not wrong when it comes to the Oscars.
Worth its weight in gold?
As mentioned above, the gold on the Oscar is the icing on the cake, a cake which is made up of a few layers and alloys. However there is very little gold when it comes to the actual Oscar, in fact just 0.38 microns (one-two hundredth of the thickness of a human hair).
This year's statues are rumoured to have a monetary worth of $629 each, demonstrating just how little gold Oscar is wearing.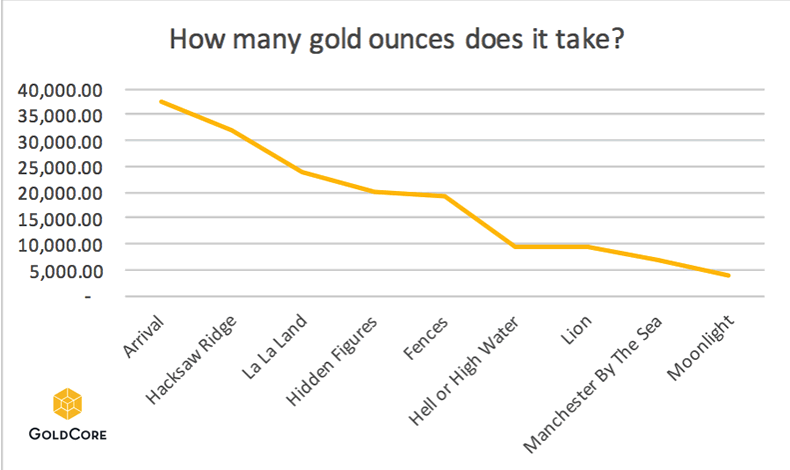 This isn't to say the Academy Award trophies aren't worth anything.
Since the first ceremony in 1929, the price of gold has climbed from $20.67 to $1,237 today. Just the gold alone, in those 13.5 inch statues have climbed by nearly 60 times in price.
It is a classic example of how the dollar has devalued over the years – the dollar has devalued and has lost 98% of its value against gold in those 88 years.
But what if Hollywood had really wanted to show its stars how much they valued them? What if the dreams of gold really came true and the Oscar was made of solid gold?
At 8.7 lb, the statue in its current form is equivalent to 126.9 troy ounces but this weight has been taken on from the fact that the statue is made up of Britannia metal. Britannia metal is an alloy consisting of approximately 92% tin, 6% antimony and 2% copper.
Assuming that we are working with 24 karat gold with a density of 19.282 g/cm3, then research tells us that the cubic centimetres of this much tin is around 531.25, and it would take nearly 22.6 pounds of gold to fill it. This means a solid gold Oscar would weigh around 330 troy ounces and at today's price would be worth around $408,210. A significant uptick from last year's which were worth around $382,000.
Had actors and actresses received solid gold Oscars nearly 30 years ago, in 1991, then they would have seen a climb in value of over 3 times over. Not bad for a few months' work on a film and not a bad return on any investment.
Regardless of whether or not someone remembers who won and what for, the solid gold Oscar wouldn't care. The gold would act as a timeless store of value and insurance, no matter what the public and critics think of you and your film in the years ahead.
You can sell your gold but not your Oscar
Some of you might be arguing that the Oscars bring so much more than just a piece of gold, and the kudos that comes with them is priceless. If you were to sell an Oscar, you might argue, then you would get far more thanks to the kudos that comes with it being 'an Oscar.'
Some trophies from the pre-1950s era have been sold and have done very well. David Copperfield bought Michael Curtiz's 1942 Oscar for Casablanca, in 2003 for $299,000 later selling it for over $2 million. The 1939 Oscar for Gone With the Wind was estimated to sell for $300,000 in 1999 but was bought at a far higher price of $1.54 million.
You could take a leaf out of Steven Spielberg's book. The ET director and one of the most successful directors of all time has previously bought two 1950s Oscars and rather than kept them in his cloakroom (as many seem to do) he has handed them both over to the Academy 'for safekeeping'.
This is a similar approach taken by many who invest in the most precious of metal – gold. Gold investors often use storage facilities provided by the likes of GoldCore in Zurich, Singapore, Hong Kong and elsewhere, in order to maintain the safekeeping of their assets.
But before you start thinking you could go out and invest in an Oscar, it is no longer possible. Unlike investing in gold bars, which are borderless and cannot be controlled by one authority, the Oscars market is restricted. Those who receive Oscars are prevented from selling their awards at market price as since 1950 the trophies have been considered the perpetual property of the Academy.
The 'Regulations' section of the oscars.org website reads, 'Award winners shall not sell or otherwise dispose of the Oscar statuette, nor permit it to be sold or disposed of by operation of law, without first offering to sell it to the Academy for the sum of $1.00. This provision shall apply also to the heirs and assigns of Academy Award winners who may acquire a statuette by gift or bequest.'
The idea is that the honour of winning an Oscar is maintained, were it to be sold then some believe it would be cheapened. This is where a solid gold Oscar would be very different.
The market for gold is affected by economics and the desire to hold gold as a form of insurance, rather than the prestige that comes with owning a piece of something that is gold-plated and was once owned or won by somebody who happened to be famous and or was a great actor.
Gold does not discriminate, the Oscars do
Few will have missed the furore that surrounds the Academy Awards when it comes to recognition that it shows to ethnic minority groups. The issue has its own hashtag #OscarsSoWhite.
But what few people discuss is the discrimination when it comes to the benefit of winning an Oscar. A 2008 paper by Kevin Sweeney, finds that "an Oscar increases a male winner's salary by 81% holding all other variables constant."
But this is not the case for women, Sweeney finds that, "Female winners do not experience this same clear boost in their salaries…women, experience significantly lower salary increases from winning an Academy Award than men. In such cases, winning an Academy Award did not have a statistically significant effect on women's salaries in the sample."
As mentioned above, gold does not discriminate when it comes to who you are or when you won, and it certainly doesn't care what nationality you are.
Gold is a stateless form of money, something that has been bought for generations as a store of value across the globe. The Chinese Aunties don't care who won an Oscar when it comes to Chinese New Year, parents don't mind which film won when it comes to buying their daughter's wedding jewellery in India and central bankers can't give two hoots about the best costume winner when they are accumulating gold reserves and diversifying their foreign exchange reserves.
These people and everyone who chooses to own gold, know that it will hold its value and act as a form of insurance and money in the months and years to come.
Give the gift of gold
February is the month of love and this year's Oscars attendees will certainly be feeling it when they get hold of the 2017 Academy Awards' infamous 'Everyone Wins' goody bags. Last year each of the gift bags were worth £232,000 and included (according to Forbes):
' a year's worth of Audi rentals ($45,000), 15-day private tour of Japan ($54,000), VIP all-inclusive trip to Israel ($55,000) and a lifetime's supply of Lizora skincare products ($31,200).'
This year the bags have even more bizarre, luxury products:
"including a female sex toy, the Nuelle Fiera Arouser for Her, deluxe Swiss toilet paper …" according to the Telegraph.
The swag bags are provided by Distinctive Assets, whose Managing Director said "We are gifting them for the same reason that they are paid upwards of $20 million for a single film…because their personal brand has value as a commodity."
The commodity that is celebrity is (as we said early on) is very fickle and comes and goes with the tides. Gold, the ultimate commodity and money, is not.
Its shine has not been tarnished over the years and it still sees constant and universal demand.
This year, celebrities are not the only commodities that will be on show. A 14 carat gold and diamond OM bracelet is part of the swag bag. As we wrote earlier this month, gold jewellery is a bad investment when compared to a pure gold bar or sovereign coin. Demand for gold jewellery is falling and the resale price is appalling compared to the initial purchase price. Celebrities would be better served, if they were gifted with a few gold bars or coins which will hold their value, in contrast to a flimsy gold bracelet or bangle.
Who will win Best Picture this year?
Personally, I'm not going gaga over 'La La Land' like most people seem to be, so I'm rooting for 'Arrival'. But sometimes these things come down to personal preference.
Look out for our-post Oscars coverage next week. I'm afraid that doesn't mean we'll be giving you an actress-by-actress account of who wore what designer, instead we'll be looking at the winning pictures and how much gold it takes to win an Oscar.
Interestingly the films nominated for this year's Best Picture Award are diverse in their costs in terms of gold ounces. We will show you in previous years how much the price of movies has and hasn't changed when it comes to spend in dollars and gold.
Conclusion
Celebrity, fame and awards all have their worth and they're good fun for lots of people. In the same way, imagining what holding a solid gold Oscar in our hands would be like is also fun.
Winning an Oscar and being acknowledged for being a great actor would be wonderful. Winning a solid gold Oscar would be even better – a conversation starter and contrary to the Oscar 'regulations' in the event of financial crisis and collapse, it could be sold for close to its gold melt or spot value.
When it comes to protecting your life savings, or having essential financial insurance for a rainy day, we just think it's better to own the good, timeless commodity and currency that are gold coins and bars.
But let's be honest, most of us are unlikely to win any sort of Oscar – be it one made from base metal or investment grade gold bullion, and so a few gold coins or gold bars are better guarantees of wealth and financial security in the long-run.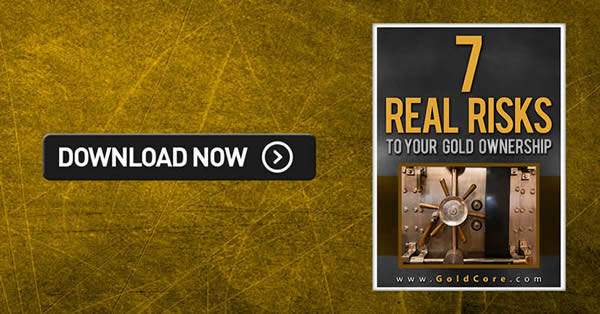 Gold Prices (LBMA AM)
22 Feb: USD 1,237.50, GBP 994.21 & EUR 1,178.22 per ounce
21 Feb: USD 1,228.70, GBP 988.86 & EUR 1,166.16 per ounce
20 Feb: USD 1,235.35, GBP 991.49 & EUR 1,163.21 per ounce
17 Feb: USD 1,241.40, GBP 1,000.57 & EUR 1,165.55 per ounce
16 Feb: USD 1,236.75, GBP 988.41 & EUR 1,163.29 per ounce
15 Feb: USD 1,225.15, GBP 985.27 & EUR 1,161.81 per ounce
14 Feb: USD 1,229.65, GBP 986.67 & EUR 1,157.84 per ounce
Silver Prices (LBMA)
22 Feb: USD 18.00, GBP 14.47 & EUR 17.14 per ounce
21 Feb: USD 17.89, GBP 14.41 & EUR 16.97 per ounce
20 Feb: USD 17.98, GBP 14.42 & EUR 16.92 per ounce
17 Feb: USD 18.01, GBP 14.50 & EUR 16.91 per ounce
16 Feb: USD 18.10, GBP 14.49 & EUR 17.02 per ounce
15 Feb: USD 17.88, GBP 14.39 & EUR 16.94 per ounce
14 Feb: USD 17.91, GBP 14.37 & EUR 16.85 per ounce
Mark O'Byrne
Executive Director
This update can be found on the GoldCore blog here.
IRL
63
FITZWILLIAM SQUARE
DUBLIN 2

UK
NO. 1 CORNHILL
LONDON 2
EC3V 3ND

IRL +353 (0)1 632 5010
UK +44 (0)203 086 9200
US +1 (302)635 1160
WINNERS MoneyMate and Investor Magazine Financial Analysts 2006
Disclaimer: The information in this document has been obtained from sources, which we believe to be reliable. We cannot guarantee its accuracy or completeness. It does not constitute a solicitation for the purchase or sale of any investment. Any person acting on the information contained in this document does so at their own risk. Recommendations in this document may not be suitable for all investors. Individual circumstances should be considered before a decision to invest is taken. Investors should note the following: Past experience is not necessarily a guide to future performance. The value of investments may fall or rise against investors' interests. Income levels from investments may fluctuate. Changes in exchange rates may have an adverse effect on the value of, or income from, investments denominated in foreign currencies. GoldCore Limited, trading as GoldCore is a Multi-Agency Intermediary regulated by the Irish Financial Regulator.
GoldCore is committed to complying with the requirements of the Data Protection Act. This means that in the provision of our services, appropriate personal information is processed and kept securely. It also means that we will never sell your details to a third party. The information you provide will remain confidential and may be used for the provision of related services. Such information may be disclosed in confidence to agents or service providers, regulatory bodies and group companies. You have the right to ask for a copy of certain information held by us in our records in return for payment of a small fee. You also have the right to require us to correct any inaccuracies in your information. The details you are being asked to supply may be used to provide you with information about other products and services either from GoldCore or other group companies or to provide services which any member of the group has arranged for you with a third party. If you do not wish to receive such contact, please write to the Marketing Manager GoldCore, 63 Fitzwilliam Square, Dublin 2 marking the envelope 'data protection'
© 2005-2019 http://www.MarketOracle.co.uk - The Market Oracle is a FREE Daily Financial Markets Analysis & Forecasting online publication.

Only logged in users are allowed to post comments.
Register/ Log in