Most Popular Financial Markets Analysis of 2016 - Stock Market Crash Postponed Again
News_Letter
/
Financial Markets 2017
Mar 13, 2017 - 12:27 AM GMT

The Market Oracle Newsletter
1st January, 2017 Issue # 1 Vol. 11


The Market Oracle Newsletter
1st January, 2017 Issue # 1 Vol. 11
Most Popular Financial Markets Analysis of 2016 - Stock Market Crash Postponed Again

Dear Reader,
The two most unexpected political shock events of the year were Britain's EU Referendum BrExit vote that literally no one in the establishment media, markets, the pollsters or bookies saw coming, which left a newly appointment Prime Minister to explain what BrExit exactly means who response is always that "BrExit means Brexit". Though many who commentated on breakfast, I mean Brexit end up confusing the two. "Brexit means Breakfast". Anyway we shall soon find out exactly what BrExit means....
Then there was alt-reality TV star, Donald Trump literally inducing mass delirium in the american electorate, going on to win the US Presidency which again for the second time for during 2016 no one in the establishment media saw coming, the pollsters, the financial markets all got another election outcome badly wrong leaving them to create a new bogeyman to explain their ineptitude upon, the FAKE NEWS MONSTER!
Stock Market Dow Closes 2016 Up 13.4%
The Dow Jones stock market index closed 2016 up 2338 points at 19,763, up 13.4% for year confounding the doom merchants who saw every surprise event of 2016 from Januarys oil price collapse to Britain's Brexit EU Referendum vote to America's very own self professed Mr BrExit, Donald Trump shocking the American establishment elite by winning the US Presidential election, all and more were apparently definite harbingers for a stock market apocalypse, reaching their most vocal just as the stocks bottomed and surged higher.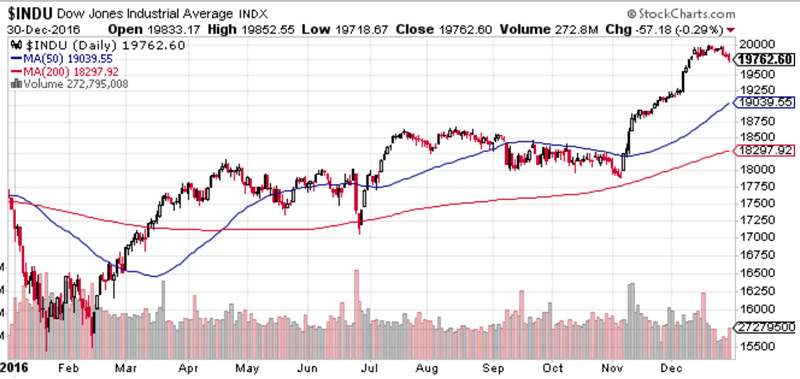 So none of the financial presses head lines of imminent flash crashes, death crosses, domed house pattern tops, double, triple and quadruple tops, or the frighteningly named Hindenburg Omen several of which apparently took place during 2016 ever transpired in a bear market or worse. However, as my articles and videos warned ALL YEAR to to IGNORE the perma-doom merchants who had already been wrong for 7 straight years and given my in-depth analysis of January and its forecast conclusions to expect the stock market to set a series of new all time highs during the Second half of 2017, so the perma wrong crowd would once more looked set to be proven to be wrong again for the stocks bull markets eighth year.
As for what's in the store for the stock market for 2017, then see my most recent video analysis posted right the recent peak of the Dow, on the day it touched a new high of 19,987 and warned "These Stocks Bull Market Delights Can Have Violent Bear Market Ends" and why I was immediately looking to sell 50% of my stocks portfolio. Given that the warning was posted on the 22nd of December, on the day the Dow traded at its highest level ever of 19,987 just 13 points shy of 20,000, then it could yet turn out to be one of the most timely market warnings in history issued right at the trading peak of the stocks bull market, and this not from a perma-bear but from someone who has been a consistent bullish since March 2009! (15 Mar 2009 - Stealth Bull Market Follows Stocks Bear Market Bottom at Dow 6,470).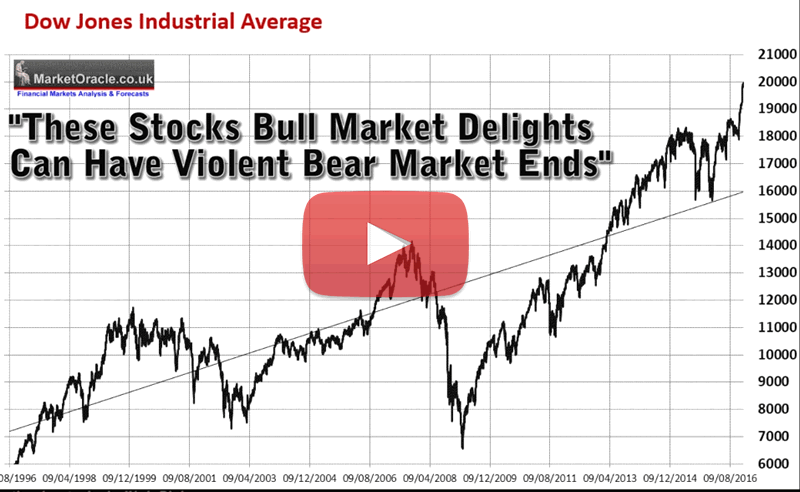 FTSE Stock Market Index Ends 2016 at BrExit New All Time High
The FTSE ended 2016's last day of trading at a NEW ALL TIME high of 7,142, which according the mainstream financial press's reporting for virtually the whole year was an IMPOSSIBLE outcome. After all the surprise BrExit EU Referendum vote result was supposed to have heralded a crash, collapse, recession new bear market, NONE of which materialised!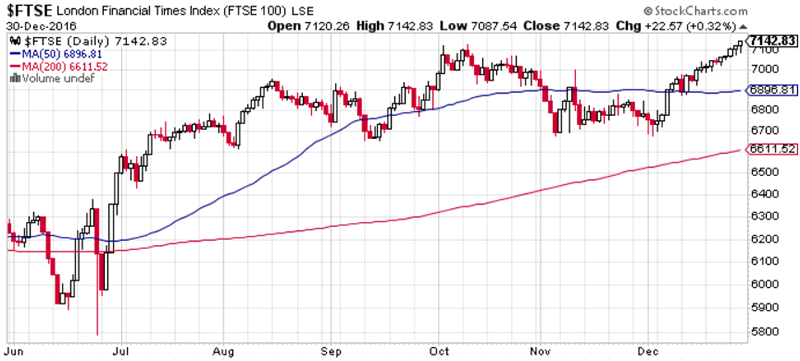 As ever the clueless mainstream financial press that people actually pay good money to be in receipt of and which tends to get further regurgitated across the BlogosFear is well practiced at two things -
1. Amnesia in relation to the tripe that tends to get published, their fake analysis and fake news. For most of that which is published lacks independent thought due to the fact the stories tend to fit a predetermined agenda of those who own the media i.e. that BrExit is BAD and thus the stock market must fall.
2. As ever the mainstream financial press is great at coming up with reasons with the benefit of hindsight to explain away market movements such as today's FTSE new all time high being blamed on the drop in the sterling, despite the fact that the drop in the sterling took place many months ago, long before the FTSE's current surge to new all time highs that THEY NEVER SAW COMING!
A reminder of what happened at the time of BrExit as the mainstream press's panic reporting of Brexit morning (June 24th) following the FTSE's early morning 5% fall in the wake of the UK voting to LEAVE the EU.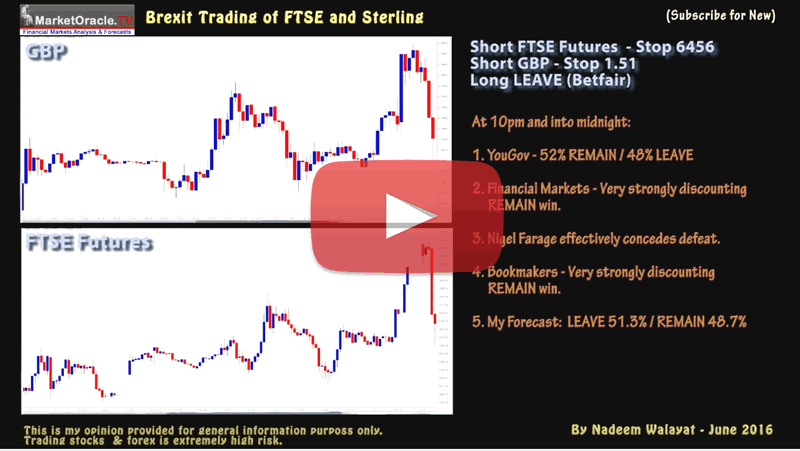 Exactly Why BrExit Happened in the UK
It happened because the British Prime Minster David Cameron believed his own fantasy Westminster elite bubble reality to be true, thus in his reality there was ZERO likelihood of the British people voting to leave the European Union 9 months after having surprised the pundits by electing the Conservatives back into office. After all if the rebellious Scottish people had voted to REMAIN within the UK who had the highly vocal and organised Scottish Nationalists in charge of running the Scottish government, then how was possible that the British people, 90% of whom in the 2015 General Election voted for either a Labour, Conservative or Liberal Democrat REMAIN MP could result in a LEAVE vote outcome.
So the Tory Westminster establishment elite viewed the EU referendum as merely a parlour trick, an illusion of democracy and freedom game to play with the British people, for given the understanding of Britain's politic elite of Labour, Conservative, Liberal Democrat and a strongly pro EU SNP in Scotland then a LEAVE outcome was clearly an impossibility. Which is why David Cameron announced in February 2016 that a referendum would be held on the 23rd of June 2016 and why EVERYONE remained blind to a LEAVE outcome right upto and for several hours after the polls closed. THEY ALL GOT IT WRONG! The mainstream media, the politicians, the bankers, the businesses, the pundits, the academics, POLLSTERS! AND the BOOKIES! All of whom assumed the same as David Cameron that a LEAVE outcome was IMPOSSIBLE!
As for exactly why the British people voted for Brexit then see my most popular Brexit videos that I created and posted during the EU referendum campaign which clearly illustrate WHY the British people would vote to LEAVE the European Union, as a rebellion was under way against the Westminister political elite who had lied to the British public for decades so that no matter which party won a general election few of the promises made ever materialised.
Top 10 Most Popular Videos of 2016
Ensure you are subscribed to my youtube channel for 2017 videos.
| | |
| --- | --- |
| 1 | |
| | |
| --- | --- |
| 2 | |
| | |
| --- | --- |
| 3 | |
| | |
| --- | --- |
| 4 | |
| | |
| --- | --- |
| 5 | |
| | |
| --- | --- |
| 6 | |
| | |
| --- | --- |
| 7 | |
| | |
| --- | --- |
| 8 | |
| | |
| --- | --- |
| 9 | |
| | |
| --- | --- |
| 10 | |
Ensure you are subscribed to my youtube channel for 2017 videos.
Market Oracle Top 10 Most Popular Articles of 2016
Jan 15, 2016 - 08:36 AM GMT By: Nadeem_Walayat
The oil price collapse is having a devastating impact on ALL of the worlds major oil producers as it's not just a case of what is the break-even price but the price necessary to finance government budgets that are now in deep deficits which has been triggering increasing global instability as the price has slid to $30. In fact the budgets of virtually every major oil producer requires an oil price north of $80 just to break-even. With several such as Russia requiring $100+. Furthermore the oil price slump of 2015 has played a large part in sparking economic mass migration out of African oil producers such as Nigeria whose government requires an oil price of $120 to balance it's budget.
Apr 21, 2016 - 03:22 PM GMT By: Gordon_T_Long
FRA Co-founder, Gordon T. Long is joined by Harry Dent to have a detailed discussion about the state of the global economy and how investors can be prepare themselves for the turmoils to come.
Harry S. Dent, Jr. is the Founder of Dent Research, an economic forecasting firm specializing in demographic trends. His mission is "Helping People Understand Change". Using exciting new research developed from years of hands-on business experience, Mr. Dent offers unprecedented and refreshingly understandable tools for seeing the key economic trends that will affect your life, your business, and your investments over the rest of your lifetime.
Feb 06, 2016 - 04:59 AM GMT By: Nadeem_Walayat
Six months ago Bank of England Governor, Mark Carney in 'forward guidance' at the time gave his intentions to start to raise UK interest rates early 2016, that in the run up to the Fed December rate hike had galvanised many to expect a similar trailing response from the Bank of England to gradually follow the Fed towards normalisation of UK interest rates towards a target of 2.5% over 3 years i.e. by Mid 2018.
"Short-term interest rates have averaged around 4.5% since around the Bank's inception three centuries ago, the same average as during the pre-crisis period when inflation was at target...
Jul 03, 2016 - 04:42 PM GMT By: Nadeem_Walayat
The establishment REMAIN camp peddled the same story for the UK housing market all year, one of a collapse, crash or worse! As operation fear each month ramped up the threats of that which awaited a post Brexit Britain. The house prices crash fear mongering even emanated direct from George Osborne himself who warned: "If we leave the European Union there will be an immediate economic shock that will hit financial markets... That affects the value of people's homes and the Treasury analysis shows that there would be a hit to the value of people's homes by at least 10 per cent and up to 18 per cent."
Nov 12, 2016 - 05:40 PM GMT By: InvestingHaven
As the price of gold and silver came down sharply, many investors are asking what the future price of gold will be. Although we do not pretend to have a crystal ball, we observe sufficient signals in the charts to make a make a call about the future price of gold into 2017.
In general, the precious metals market has turned very sour. Gold registered it largest loss on a weekly basis since it crashed in 2013. Moreover, gold and silver miners, said to lead the precious metals complex, have truly crashed this week.
Jan 17, 2016 - 05:41 AM GMT By: Nadeem_Walayat
The crude oil price collapse of 2015 has continued into 2016 with the price of oil plunging to a 12 year low of just under $30 per barrel as a consequence of a perfect storm of falling demand, primarily due to the slowing Chinese economy and relentlessly rising output that is not just limited to the usual OPEC suspects but is as the natural consequences of the fracking boom that continued to ripple out from the US to across the world during 2015.
Nov 19, 2016 - 06:33 PM GMT By: Nadeem_Walayat
There were two consensus views heading into the US Presidential Election count night. Firstly that Hillary Clinton would win the election, after all Nate Silver had her penned at a 71% probability whilst the New York Times was touting 85% and so were the betting markets discounting a Hillary win with Trump trading on Betfair at 6.6 whilst Hillary stood at just 1.17 an hour before the polls closed. Then there were Hillary's wall street backers who had all but discounted their candidate winning.
Jan 11, 2016 - 07:28 AM GMT By: Clive_Maund
Many were talking about the market crashing last week and the mainstream financial press were waxing hysterical, but as we will now see the crash hasn't even started yet. If the press got like that last week, imagine what they will be like when it really does crash - last week was just a "warmup", the 2nd and final warning, the 1st warning was the plunge last August.
On the 10-year chart for the S&P500 index, we can see that while the market did indeed drop hard last week, it still has not broken down from its Head-and-Shoulders top, the lower boundary of which is shown by the thin black line. When it does break down from the top area, there is an awful lot of air below it - it has a long, long way to drop, and the decline is likely to be precipitous.
Feb 22, 2016 - 06:23 AM GMT By: Nadeem_Walayat
The crude oil price last close of $32 stands $6 higher than its recent multi-year bear market low of $26. Whilst little has changed fundamentally so far in terms of supply i.e. OPEC and others are still pumping flat out and Iran continues to ramp up production, nevertheless demand destruction of many smaller oil producers operating at below break even prices is finally starting to be discounted by the market.
Jan 11, 2016 - 07:53 AM GMT By: Dr_David_J_Harris
A new mathematical model has been developed that predicts future significant corrections in the US stock market, but in particular it has the potential to predict the next US stock market flash crash.
In Q4 2015, a new mathematical model was developed with the potential to predict the next US stock market flash crash, prior to the actual event.
Originally built to calculate strength in price movement in a stock index, the new model can be used to predict significant periods of price weakness.
Key market corrections, including the recent stock market flash crash events of May 2010 and August 2015 are correctly identified by the model, in advance.
In addition, key waterfall type corrections, including February 2009, August 2011 and May 2012 are successfully identified by the model, in advance.
Predictions for 2016 are presented in this article.

President Donald Trump's 2017 New Year Message
President Elect Donald Trumps's frank and truthful New Year Message to all americans of what to expect come January 20th. Whilst the mainstream media in a desperate attempt to survive has now decided to embrace fake news as illustrated by BBC. And lastly, did BrExit and Trump really happen? Or was 2016 all just a dream so that we are going to be waking up in a few short hours to January the 1st 2016.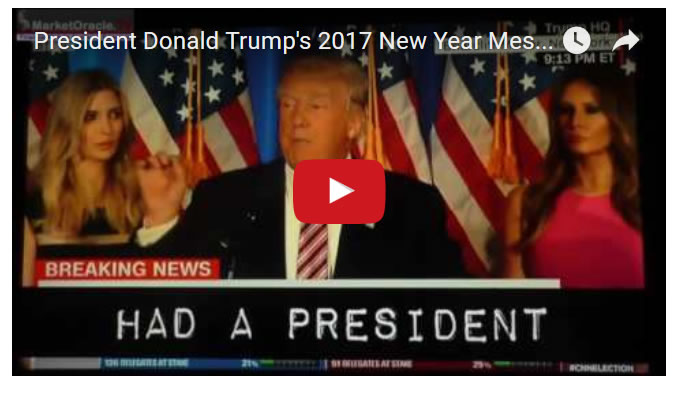 On January 20th it's goodbye from President Obama and hello from President Trump, here's what to expect form President Donald Trump's first address (created Jan 2016) -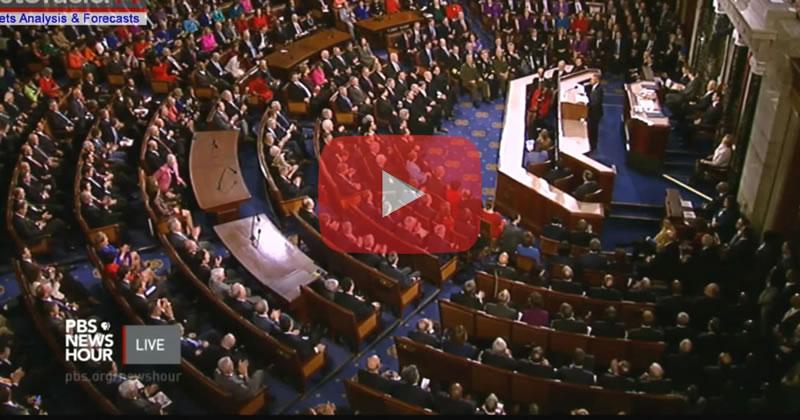 Ensure you are subscribed to my always free newsletter and youtube channel for forthcoming analysis and detailed trend forecasts aimed at capitalising on Trumps Coming War on China.
Source and Comments: http://www.marketoracle.co.uk/Article57651.html
By Nadeem Walayat
Copyright © 2005-2016 Marketoracle.co.uk (Market Oracle Ltd). All rights reserved.
Nadeem Walayat has over 25 years experience of trading derivatives, portfolio management and analysing the financial markets, including one of few who both anticipated and Beat the 1987 Crash. Nadeem's forward looking analysis focuses on UK inflation, economy, interest rates and housing market. He is the author of five ebook's in the The Inflation Mega-Trend and Stocks Stealth Bull Market series that can be downloaded for Free.

Nadeem is the Editor of The Market Oracle, a FREE Daily Financial Markets Analysis & Forecasting online publication that presents in-depth analysis from over 1000 experienced analysts on a range of views of the probable direction of the financial markets, thus enabling our readers to arrive at an informed opinion on future market direction. http://www.marketoracle.co.uk
Disclaimer: The above is a matter of opinion provided for general information purposes only and is not intended as investment advice. Information and analysis above are derived from sources and utilising methods believed to be reliable, but we cannot accept responsibility for any trading losses you may incur as a result of this analysis. Individuals should consult with their personal financial advisors before engaging in any trading activities.
You're receiving this Email because you've registered with our website.
How to Subscribe
Click here to register and get our FREE Newsletter
To access the Newsletter archive this link
Forward a Message to Someone [FORWARD]
To update your preferences [PREFERENCES]
How to Unsubscribe - [UNSUBSCRIBE]
About: The Market Oracle Newsletter
The Market Oracle is a FREE Financial Markets Forecasting & Analysis Newsletter and online publication.
(c) 2005-2016 MarketOracle.co.uk (Market Oracle Ltd) - The Market Oracle asserts copyright on all articles authored by our editorial team. Any and all information provided within this newsletter is for general information purposes only and Market Oracle do not warrant the accuracy, timeliness or suitability of any information provided in this newsletter. nor is or shall be deemed to constitute, financial or any other advice or recommendation by us. and are also not meant to be investment advice or solicitation or recommendation to establish market positions. We recommend that independent professional advice is obtained before you make any investment or trading decisions. ( Market Oracle Ltd , Registered in England and Wales, Company no 6387055. Registered office: International House, 124 Cromwell Road, Kensington, London, SW7 4ET, UK )
Copyright 2016 MarketOracle.co.uk
© 2005-2019 http://www.MarketOracle.co.uk - The Market Oracle is a FREE Daily Financial Markets Analysis & Forecasting online publication.

Only logged in users are allowed to post comments.
Register/ Log in