3 Maps That Explain China's Real Goal In The South China Sea
Politics
/
China US Conflict
Mar 31, 2017 - 06:10 PM GMT


There's been a lot of media hype over China's ongoing military buildup in the South China Sea. But as always, the truth lies beyond the headlines.
Chinese action has so far been largely contained to two island groups: the Spratly Islands and the Paracel Islands.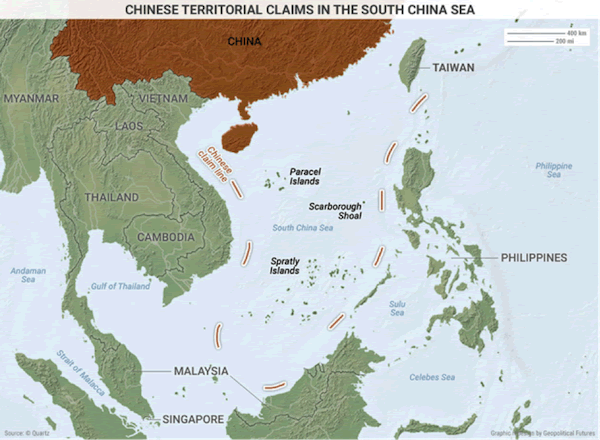 It's true that China has indeed been building largely on these island groups—constructing harbors, runways, helipads, and radar facilities, and installing missile defense systems.
However, these facilities are defensive in nature. They are meant to extend China's reach further past its coastline.
The Basis of Chinese Claims
China's extensive claims in the South China Sea are based on the Chinese nine-dash line.
Beijing uses the nine-dash line to claim sovereignty over around 90% of the contested waters in the South China Sea. This area extends as far as 1,243 miles away from the Chinese mainland.
China argues that the nine-dash line represents historic maritime agreements, but all involved (except China) have disputed this.
China's Presence in the Spratly Islands
China has reclaimed an extensive area in the Spratly Islands. A 2016 report from the Pentagon shows that China had built 3,200 acres of artificial reefs in the island chain by the end of 2015.
Though the Spratly Islands contain many reefs, China's interests are concentrated on seven.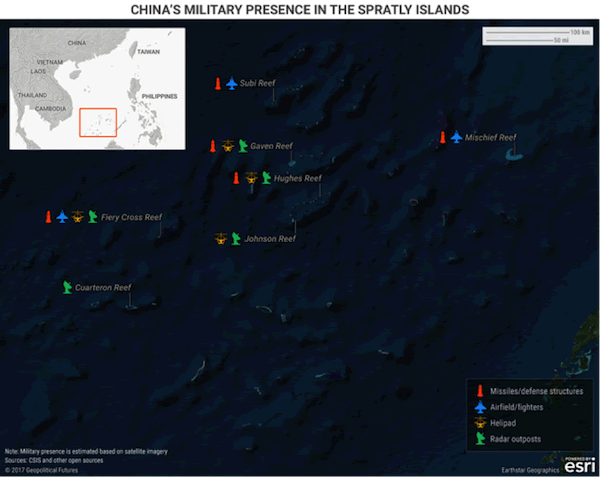 The three large reefs—Mischief, Subi, and Fiery Cross—are similar in that they all have large anti-aircraft guns and close-in weapons systems.
Each features helipads, long runways, and hangars capable of holding up to 24 fighter jets and several larger planes (including the largest in the Chinese fleet).
Fiery Cross Reef has a harbor at which China's largest naval vessels can dock. The construction of similar harbors is ongoing at Mischief and Subi reefs.
The four smaller reefs—Gaven, Hughes, Johnson, and Cuarteron—each contain structures thought to be radar towers and helipads.
A Defensive Build-Up in the Paracel Islands
The Paracel Islands give the Chinese another defensive outpost. Eight of the islands currently have some form of Chinese presence, with six containing at least radar capabilities.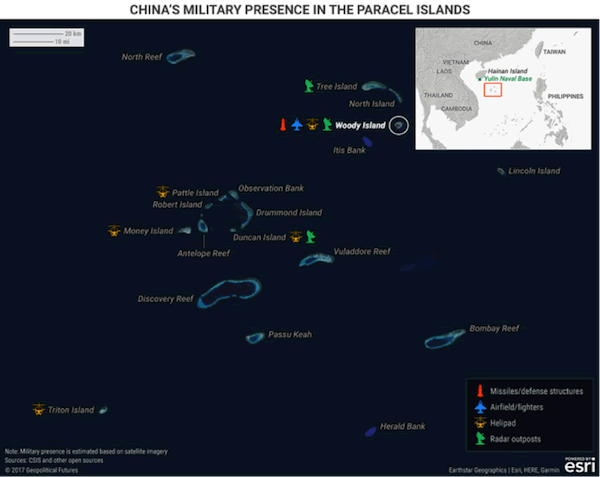 Woody Island in the northeast of the island chain has perhaps the largest presence of Chinese military in the South China Sea.
In addition to 1,400 military personnel, it also has an airstrip that can support fighter jets, up to 20 aircraft hangars, helipads, radar facilities, and surface-to-air missiles (SAMs) with a range of 124 miles.
Woody Island has been designated the official administrative capital of the region containing the island chains that China claims as its territory (Paracel, Spratly, and the area encompassing Scarborough Shoal).
In late 2016, the Chinese government attempted to take its presence on Woody Island further with daily chartered civilian flights to the island.
Putting civilians on the island bolsters China's sovereignty claim. It also increases the risk of civilian injuries in the event of an attack and so has a deterrent effect.
Scarborough Shoal: The Origin of Philippine-Chinese Tensions
While it currently has no military installations, Scarborough Shoal has been a point of tension in Philippine-Chinese relations.
Looking at the first map above, you can see why: Scarborough Shoal is located off the Philippines's west coast, only 220 miles from Manila.
Scarborough Shoal was in the headlines earlier this month as China announced plans to install "environmental monitoring stations" there. This set off a chain of reactions in the Philippines as people considered it Chinese aggression.
Conclusion
Diplomatic spats between China and the other claimants in the South China Sea are just spats for now. China is building up military camps on the contested reefs, but those are mainly defensive.
Like all Chinese moves in the South China Sea, it is just a bluff meant to make China look bigger and scarier than it actually is.
Grab George Friedman's Exclusive eBook, The World Explained in Maps
The World Explained in Maps reveals the panorama of geopolitical landscapes influencing today's governments and global financial systems. Don't miss this chance to prepare for the year ahead with the straight facts about every major country's and region's current geopolitical climate. You won't find political rhetoric or media hype here.
The World Explained in Maps is an essential guide for every investor as 2017 takes shape. Get your copy now—free!
© 2005-2019 http://www.MarketOracle.co.uk - The Market Oracle is a FREE Daily Financial Markets Analysis & Forecasting online publication.

Only logged in users are allowed to post comments.
Register/ Log in