Trump is the New Hillary - Attacking Syria Could Start World War III
Politics
/
US Politics
Apr 09, 2017 - 07:04 PM GMT


Donald Trump Warns That Attacking Syria Could Start World War III
Yes, you read the headline right. Donald Trump has warned that attacking Syria could lead the US into World War III!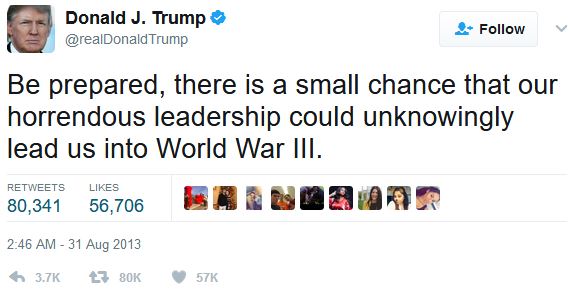 He continued to warn against the repercussions of attacking Syria.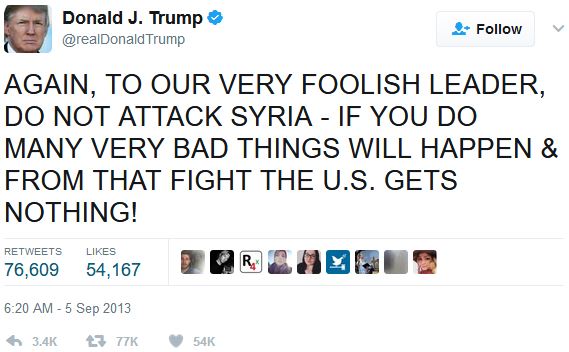 He also warned that if the President wants to attack Syria he needs to get Congressional approval.
And he warned that if the President did attack Syria and it ended up killing civilians, it would look very bad for him and the US.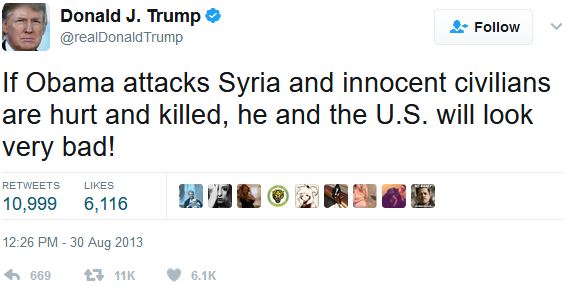 Unfortunately, all those warnings were from 2013 when Nobel Peace Prize winner, Barack O'Bomber, was considering attacking Syria.
And, two nights ago, within just hours of a supposed gas attack in Syria, and no evidence of who did it, Trump has gone ahead and attacked Syria killing numerous civilians.
Weren't we warned before the (s)election that the only way for the US to avoid a direct confrontation with Russia in Syria was to elect Donald Trump over Killary Clinton?
So much for that. And it's exactly what I have warned about since before the election. Donald Trump is a globalist puppet who will just carry on the work of Bush and Obama in the exact same way that Killary Clinton would have. We've been proven right about Trump ever since his inauguration. We even wrote an article entitled "Trump To Continue Bankrupting The US Through Foreign Wars" in March and many people said that Trump wouldn't attack Syria and said we were wrong. Well, we were right again.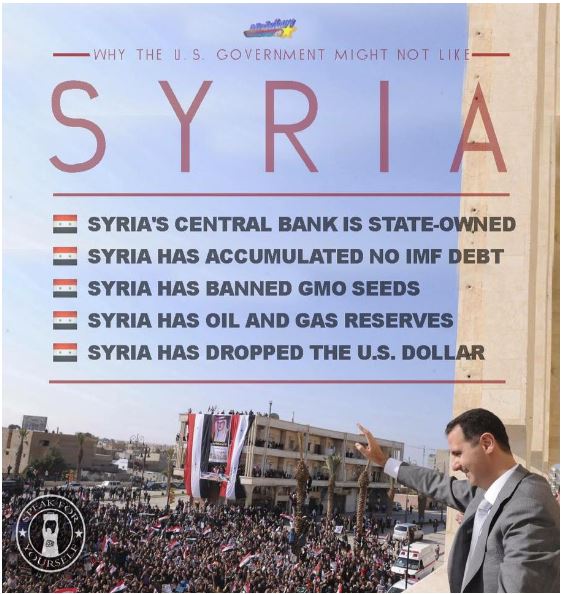 And, the attack on April 6th has all the markings of the globalist elites as it was the 100th anniversary of the US entering into World War I.
Numerous people have come out against this terrorist attack by Donald Trump including Ron Paul who said, "It doesn't make any sense for Assad under these conditions to all of a sudden use poison gasses. I think there is a zero chance he would have done, you know, this deliberately."
The people who have come out in favor of the attack are Hillary Clinton, John McCain, and Canadian Prime Minister Justin Trudeau… in other words, all of the people that Trump supporters claim to despise all adore Trump's action.
And, as per the globalist agenda, they will now position the US into a conflict with Russia.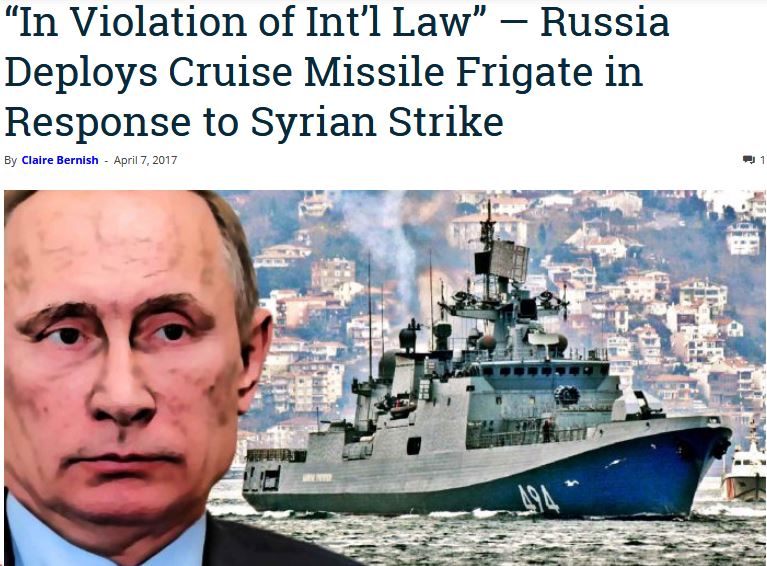 Yes, it's all scripted. Putin is just as much of a globalist puppet as Trump. But this will be used to keep the world alarmed at their potential doom unless, of course, the United Nations, one world government, steps in.
You could say a lot of people were conned by Donald Trump's pre-election promises of not getting involved in foreign entanglements. But, given what happened, it is probably better to say they were neo conned.
This attack on Syria shows that Trump sides with the neocons. He also sides with Hillary Clinton, who publicly called for the bombing of Syria just hours before it happened. And this attack also shows that Trump aligns himself with the mainstream media narrative on Syria… which is clearly Fake News. And he also has aligned himself with ISIS who is actually the CIA who has been trying to take out Assad.
Yes, Donald Trump is working with Al Qaeda to stage a fake war with CIA-backed ISIS. And some dumbed down, Fox (Faux) News watching, mostly older Americans are cheering it on! Wasn't it the older generation who warned the younger generation would become violent due to playing violent video games? Well, the older generation has become violent in real life by watching Fox News!
We are sad that we were so right on Trump. We took thousands of arrows on the internet over our view on Trump as many sided with what can only be seen as controlled opposition now, like Alex Jones or Stefan Molyneux.
But, if you thought Trump was going to fix things and you got fooled don't be too sad. We all make mistakes… we all get fooled sometimes.
Just remember, as George W. Bush once so eloquently said, "Fool me once, shame on — shame on you. Fool me — you can't get fooled again."
Trump could never fix this situation. No one person can fix things. What can fix things is spreading this information so people are aware that the true threat to the American people and everyone else in the world is the US government and the Federal Reserve.
Keep one thing in mind, however. Nearly all of what is going on in Syria is done to keep people worried, angry, fearful and therefore easier for the government to control.
So, do not be worried, angry, or fearful about what is going on… that's exactly what they want.
Instead continue to share information amongst your friends, family, and community about the evil of government and central banking and how if we remove these things we'll have peace and prosperity on Earth like we've never known it. And make sure to subscribe to The Dollar Vigilante's daily email list (you can do so on the front page of our website) or our Youtube channel and please share with others to get this information out there.
Always focus on the positive. The more that people like Trump and the US government continue to terrorize and destroy the world the more that people will wake up, stop submitting to their extortion (taxes), stop obeying their so-called authority and begin using precious metals and bitcoin as currency… and governments and central banks will simply cease to exist.
Stop hoping that governments and politicians are going to save you from government and politicians. Only you can save you from government and politicians… by renouncing any allegiance or authority to them.
Until then, the bombs will continue to be dropped and people will look to the next great leader to get them out of the next big crisis caused by the very same people.
Oh, did I mention Trump's poll numbers hit record lows a few days ago?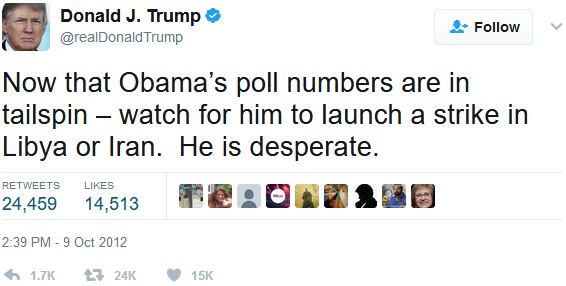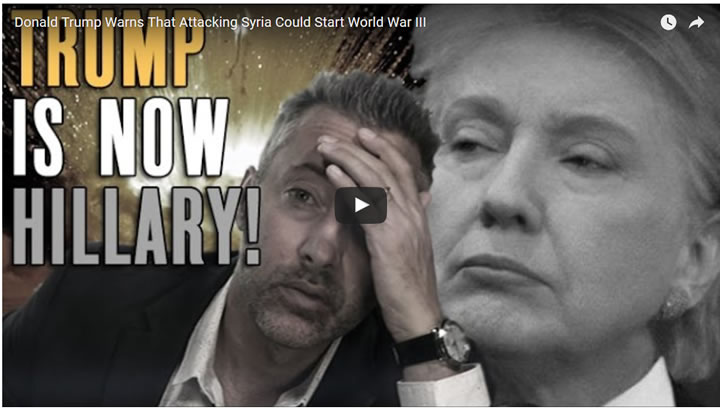 Anarcho-Capitalist. Libertarian. Freedom fighter against mankind's two biggest enemies, the State and the Central Banks. Jeff Berwick is the founder of The Dollar Vigilante, CEO of TDV Media & Services and host of the popular video podcast, Anarchast. Jeff is a prominent speaker at many of the world's freedom, investment and gold conferences as well as regularly in the media.
© 2017 Copyright Jeff Berwick - All Rights Reserved Disclaimer: The above is a matter of opinion provided for general information purposes only and is not intended as investment advice. Information and analysis above are derived from sources and utilising methods believed to be reliable, but we cannot accept responsibility for any losses you may incur as a result of this analysis. Individuals should consult with their personal financial advisors.
© 2005-2019 http://www.MarketOracle.co.uk - The Market Oracle is a FREE Daily Financial Markets Analysis & Forecasting online publication.

Only logged in users are allowed to post comments.
Register/ Log in