United Airlines "Just Kill Him" - A Symptom of New Fascist Reality In America
Politics
/
US Politics
Apr 13, 2017 - 10:07 AM GMT

I

've never understood airlines overbooking their flights. What other industry does that?
"Hi, I'm here to pick up the painting I bought from you online."
"Oh, there are two other people here who bought it too. I guess I sold it too many times, sorry. I'll just have some armed men escort you out!"
It sounds crazy, right? But, when it comes to airlines it happens all the time.
In any case, it happened again yesterday in the USSA, but this time it got violent.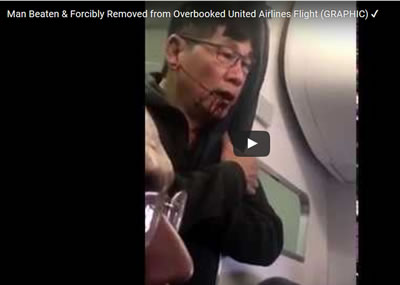 Things were already bad enough in the fasco-communist land of the free when it comes to flying. After the 9/11 false flag attack to roll out the War of Terror, flying in the US has become akin to being in a maximum security prison, complete with being raped by the child molesters who work for the TSA to get the full Black is the New Orange experience.
And, worst of all, the very same group that was responsible for 9/11 (the people who control the US government) are the ones now "helping" to make air travel more secure!
And, worse, another useless, oppressive, communist style central planning agency, the FAA, makes thousands of inane rules meant to destroy the free market.
And, so, when one extra person above what is allowed by the FAA was on a large airplane with over a hundred other people, FAA rules stipulated that someone would have to get off the plane.
You see, in a free market, the airline would probably decide that since it was causing such a ruckus, it would ask for a volunteer, or a couple, to have one sit on the other's lap for take-off and landing… or just have someone sit in the cockpit with the pilots. Or any number of other creative solutions to a minor problem.
In the free market, it would have been resolved in a matter of moments, and everyone would have laughed and cheered as they found an easy way around the problem. Life in a truly anarchist free market would be one of laughter, joy, and prosperity on a regular basis.
Not in the land of the free, though! In the land of the free, MUST FOLLOW RULES!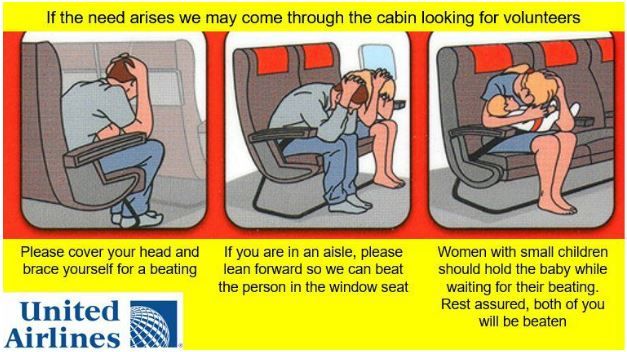 And so, United Airlines made a death threat against one of their passengers for not leaving their airplane, instead.
Yes, every time you call the government/police to force someone to do something, you are, in effect saying, "If you don't get off the plane we'll kill you!"
But, in fasco-communist USSA, nearly everyone is brainwashed to believe that all problems should be fixed with death threats and not by the two parties working things out amicably on their own.
And, worse, government enforcers came on the plane to threaten the man's life… and the man obviously did feel that his life was in danger after he was beaten so badly because he even asked the "enforcers" just to kill him.
Not one person on the plane was courageous enough to stand up to these government enforcers beating up a man. Yes, in the land of the brave, no one is brave enough to stand up to their slave master.
So, everyone took out their phones and just recorded the man being beaten. Which, is the second best thing you can do, as at least then people are aware of what is going on.
And, that is what happened. Then the free market, or capitalism, as it always valiantly does, sprung into action and immediately exacted a punishment to United Airlines. Many people decided to boycott United, and it's stock initially fell in value around 4.3% or around $1 billion.
Although the price recovered from that point, it is still down around 1%:

That is the beauty of the free market. It exacts justice immediately, swiftly and without cost and it is fair as it takes the consideration of all people's opinions into revaluing the value of United Airlines.
But, this incident also points out just how fascist the US has become. The airlines work very closely with government in almost every way… which is fascism. And this issue would never have happened in a free market.
And, just a few days ago we saw another symptom of how fascism in the US is affecting investors in the stock market, when Raytheon's stock spiked in value after Donald Trump, who also just happens to be a shareholder of the company, launched dozens of their rockets at people he's never met in a place he's never even been.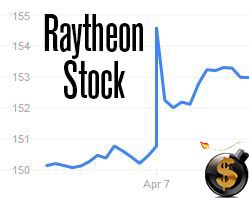 But he made some money doing it! That's the American way!
As I've pointed out for years, the US is now a mix between fascist and communist. We've seen the fascist side today. And, of course, all central government planning is a type of communism… and the US government is one of the most centrally planned and controlled governments in the world today.
And, even worse, the entire monetary system in the US is based on one of the prime tenets of communism: central banking. The Federal Reserve is one of the biggest factors affecting the economy, and certainly the financial and monetary systems in the US. And it's all centrally planned just like a Soviet Union politburo.
So, if you are going to invest or manage your money in the US today, you had better be aware of how to navigate your way around a fasco-communist system.
The good news is that fascism and communism always end in complete collapse. And, the US government, in its current bankrupt form, will not last much longer.
To ensure you don't get wiped out with it and to possibly profit massively from it, subscribe to The Dollar Vigilante newsletter (more info here). We gained 97% in 2016 for subscribers and continue to have big gains, like our recommendation of the cryptocurrency Dash on February 14th at $17.15 which gained over 550% soaring past $112 in just over a month.
In the meantime, if you do have to fly in the US, we wish you luck. You should be aware that you live in a fasco-communist police state and be aware of all the risks that come with it.
In the USSA today that means having government rules dictate that airline passengers must be treated as criminals and sexually abused. And due to those rules, an airline must physically remove one of its passengers using deadly force while not one person comes to his aid and just watches in horror… and then, once the man has been beaten and removed, the mainstream media Fake News adds insult to injury and slanders him saying he once was kidnapped by the government (arrested) for trading drugs for sex... as if it had anything to do with the situation at hand.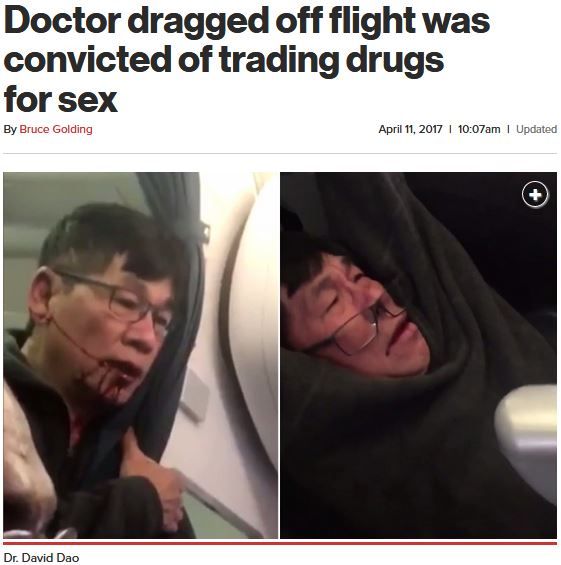 Of course, trading drugs for sex, a harmless transaction with no victim, is also reason to kidnap someone and put them in a rape camp in the USSA.
The man, originally from what is now much more capitalist and freer China, found out this week that what they say about America, the land of the free, on television programming and Hollywood propaganda movies is not exactly what they say it is.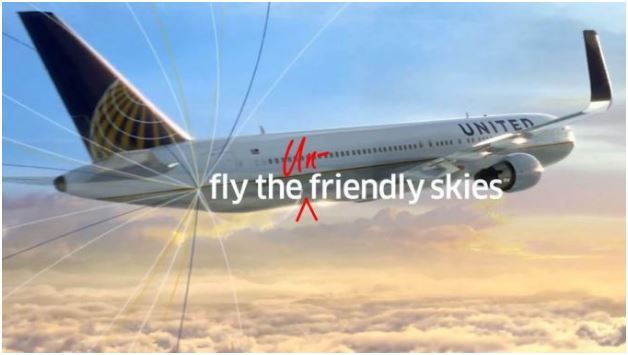 A lot of things in the US aren't what they say they are.
Anarcho-Capitalist. Libertarian. Freedom fighter against mankind's two biggest enemies, the State and the Central Banks. Jeff Berwick is the founder of The Dollar Vigilante, CEO of TDV Media & Services and host of the popular video podcast, Anarchast. Jeff is a prominent speaker at many of the world's freedom, investment and gold conferences as well as regularly in the media.
© 2017 Copyright Jeff Berwick - All Rights Reserved Disclaimer: The above is a matter of opinion provided for general information purposes only and is not intended as investment advice. Information and analysis above are derived from sources and utilising methods believed to be reliable, but we cannot accept responsibility for any losses you may incur as a result of this analysis. Individuals should consult with their personal financial advisors.
© 2005-2019 http://www.MarketOracle.co.uk - The Market Oracle is a FREE Daily Financial Markets Analysis & Forecasting online publication.

Only logged in users are allowed to post comments.
Register/ Log in