Catalonia Has Already Lost This Battle
Politics
/
Spain
Oct 10, 2017 - 05:40 PM GMT


By Jacob L. Shapiro : Catalonia held its independence referendum on October 1.
Initial results show that of the 42 percent of Catalan voters who turned out, about 90 percent voted for independence. It's an impressive figure, but not exactly an overwhelming mandate for Catalonian independence.
No doubt a significant number of Catalans want independence, but we already knew that.
The 2014 referendum had a similar outcome; 81 percent voted for independence. That non-binding referendum didn't go anywhere, and neither will this one.
Here's why.
Catalans Knew It Was a Long Shot
Catalonia simply does not have the monopoly on force necessary to even vie for control of its territory, let alone win it.
Catalonia has a regional police force of about 17,000 officers. Spain's National Police Corps has more than 80,000 officers, and the Guardia Civil boasts another 75,000 Spaniards under arms. Catalonia has no army, no navy, and no air force; Spain has all three.
This was never going to be a replay of the Spanish Civil War.
Catalonia is not ready to fight a war, which will not change in the near future. Independence is rarely granted: Most of the recent centuries of political history show that independence usually has to be won with the sword after it has been declared with the pen.
The leaders of Catalonia's independence gambit knew as much and decided to take a long shot anyway.
Once the votes were cast, there were only two outcomes that could have resulted in independence: civil disobedience disruptive enough to Spanish life to force Madrid to compromise, or international intervention of some kind, whether political or more substantial.
Despite the recent strike, it is unlikely Catalonia can mount such a campaign, even with Spanish excesses during the voting.
A large number of Catalans prefer to remain part of Spain, their reticence for autonomy due in no small part to their own economic well-being, which in practical terms means it will be very difficult for the Catalans in the streets to reach a critical mass.
The Catalan Government Failed
The strategy of the Catalan government, it seems, was pinned on the hope of intervention: making the conflict an international issue. In turn, this would let Catalonia generate enough pressure on Spain's government to back down.
At this, Catalonia has already failed.
European countries rarely agree on anything, but they agree on not backing Catalan independence. The European Commission put it most plainly when it said that "this is an internal matter for Spain that has to be dealt with in line with the constitutional order of Spain."
A veritable chorus of assents followed the statement. Poland and the European Commission have been at each other's throats in recent weeks, but there is no daylight in their stances toward Catalan independence: Poland's Ministry of Foreign Affairs said the sovereignty, territorial integrity, and unity of Spain must be respected.
Countries with as varied interests as Germany, France, the UK, Croatia, and Serbia all see eye to eye on this score.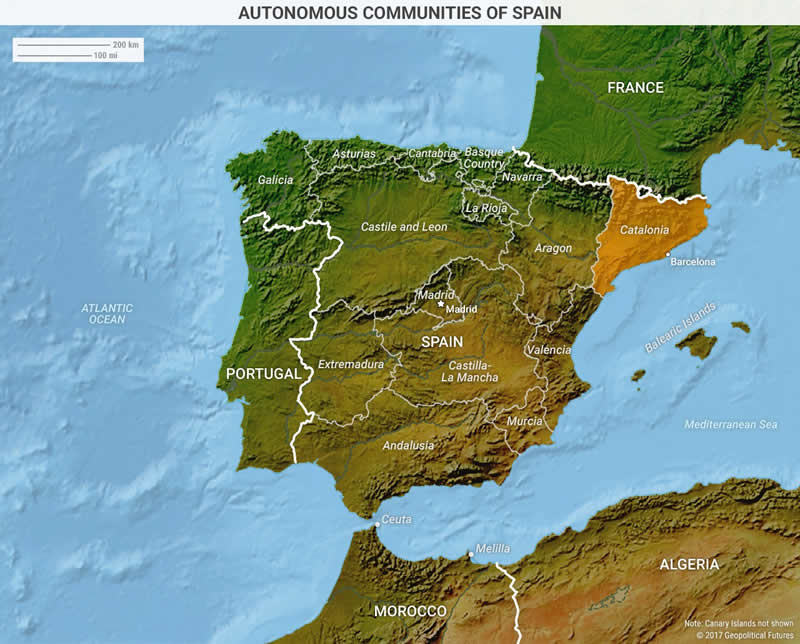 (Maps have long been a geopolitical cheat sheet for investors. Download an exclusive free e-book, The World Explained in Maps, from New York Times bestselling author George Friedman and learn to decode the lines of maps to reveal the future of people and their countries.)
Nor is support forthcoming from outside of the EU. On this, Russia is of one mind with the United States, and Japan is of one mind with China.
Despite the lack of international backing, Catalonia's regional president promised to declare Catalonia's independence within 48 hours of the publication of the official results of the referendum.
But then what?
This Is Nothing More Than an Internal Affair for Now
History is full of empty declarations of independence, many of which have failed.
Catalonia has lost this round. Without international backing or a revolutionary uprising, Spain will use its monopoly on force legitimized via the Spanish legal system to quash the threat that Catalonia poses to Spain's unity and territorial integrity.
On the flip side, Spain will sow the seeds of a much larger problem, because though it does not appear that there is a critical mass of Catalans willing to fight and die for independence right now, today's repression creates tomorrow's generation of young Catalans who will grow up to see Spain as an enemy.
In the meantime, Europe and the rest of the world are correct in their analysis: This has been and will remain an internal Spanish affair.
Grab George Friedman's Exclusive eBook, The World Explained in Maps
The World Explained in Maps reveals the panorama of geopolitical landscapes influencing today's governments and global financial systems. Don't miss this chance to prepare for the year ahead with the straight facts about every major country's and region's current geopolitical climate. You won't find political rhetoric or media hype here.
The World Explained in Maps is an essential guide for every investor as 2017 takes shape. Get your copy now—free!
This article was originally posted on Geopolitical Futures.
© 2005-2019 http://www.MarketOracle.co.uk - The Market Oracle is a FREE Daily Financial Markets Analysis & Forecasting online publication.

Only logged in users are allowed to post comments.
Register/ Log in