Global Stock Markets, Commodities, and the Economic Downturn
Stock-Markets
/
Global Stock Markets
Sep 06, 2008 - 10:01 PM GMT

Back in 2006 and 2007 everywhere we turned we heard about China and their enormous consumption of commodities and why the Chinese were largely responsible for fueling the commodity boom. During this same time, we were seeing one of the longest extensions of the 4-year cycle in US stock market history. Then, between July and October of 2007 we began to see a Dow theory non-confirmation occur. By November this non-confirmation had evolved into a full blown orthodox Dow theory bearish trend change.


I want to point out that Dow theory has nothing to do with cycles or the foreign markets, but that the Dow theory non-confirmation and trend change occurred in conjunction with the extended 4-year cycle as well as the top in the Chinese and other equity markets. In late 2007 commodities began yet another leg up that evolved into a parabolic advance into 2008. We are now on the right hand side of that parabolic commodity advance. This is also true in regard to the Chinese stock market as well.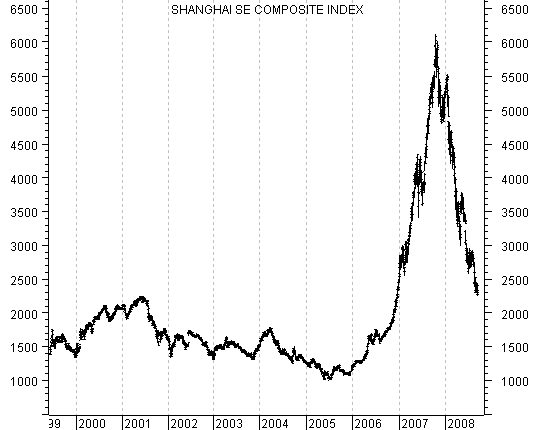 I have included a chart of the Shanghai Index in the chart above. The price action since the October 2007 peak is an excellent example of the unwinding of a parabolic price advance. In this case, price is down some 63% from its peak.
Next, I have included a chart of the Hang Seng. Here too, there was a parabolic move during 2007 that is now also beginning to unwind. In this case, price is, so far, down some 35%.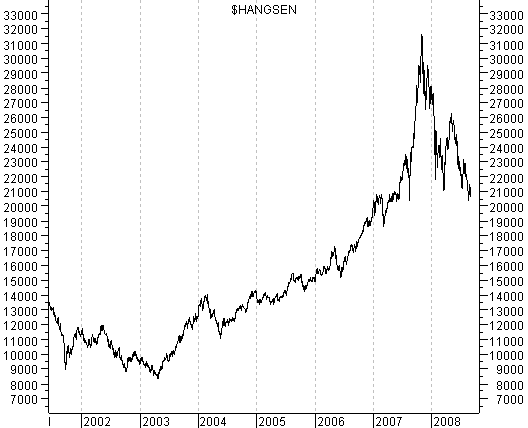 In the next chart below I have included the Dow Jones World Stock Index. This composite index does not have the straight up parabolic look of the Chinese indexes because of the fact that it also includes other indexes that were not parabolic. Nonetheless, the Dow Jones World Stock Index has moved below its July low.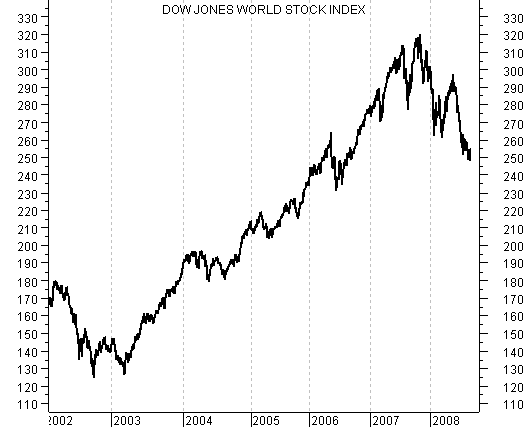 Next is a chart of the Philadelphia Housing Index. I first warned in the October 2005 that housing had potentially topped and I wrote several articles over the next several months confirming this top. Anyway, from the 2005 top into the recent low the HGX was down some 68%.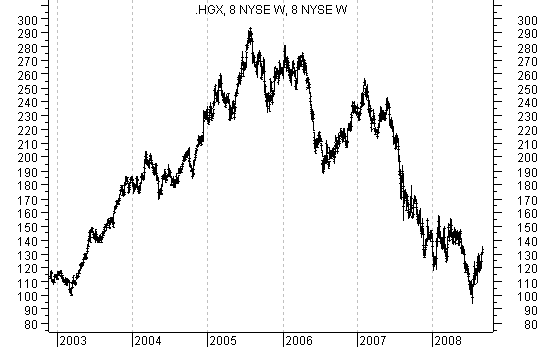 I have next included a chart of the CRB below, which was recently also in a parabolic blow off. Here too, it appears that we are now seeing that advance unwinding.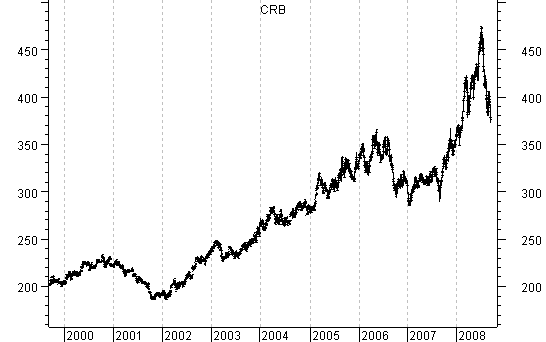 So, here we sit with a major top and decline out of an indisputable parabolic advance in the Chinese equity markets, which so many were saying just a year ago were leading the world higher. We also have the orthodox Dow theory bearish primary trend change from November 21, 2007 still in place. We have housing that is still in the toilet. We also have seen a major pull back in commodities and the technical evidence tells me that here too, we are on the right hand side of the parabolic advance much like occurred with the Chinese stock market and housing. Plus, we have the advancing dollar that has taken many by surprise.
What does this all mean? Well, it appears to be indicative of the deflationary forces of K-Wave winter. In David Knox Barker's book The K- Wave , is a brief list of the events that have historically marked the Winter season:
• "Global Stock Markets Enter Extended Bear Markets"
Given the performance of the Chinese, US, and other stock averages around the world there should be little doubt about this one.
• "Trends During Winter: Stocks Down, Bonds Up, Commodities Down"
I would say that this is occurring.
• "Interest Rates Spike In Early Winter Then Decline Throughout"
In June 2004 the Discount rate was at 2.00%. By June 2006 it was at 6.25% and since August 2007 the Fed has been forced to cut the Discount rate back to 2.25%. So, this too, seems to fit.
• "Economic Growth Slow or Negative During Much of Winter"
I doubt that many will argue that growth is now slow and in many cases negative.
• "Commercial and Residential Real Estate Prices Fall"
This obviously began back in 2006 and is still in a major slump.
• "Bankruptcies Accelerate and High Debt Eliminated by Bankruptcy"
This has obviously begun and is no doubt related to the housing and credit bubbles.
• "Social Upheaval and Society Becomes Negative"
We are only just beginning to see this.
• "Banking System Shaken and New One Introduced"
The banking system is now only beginning to be shaken. There should be much more to come.
• "Free Market System Blamed and Socialist Solutions Offered"
This has not yet happened, but just wait.
• "National Fascist Political Tendencies"
More to come.
• "Debt Level Very Low After Defaults and Bankruptcy"
This has not happened.
• "Trade Conflict Worsen"
This basically has not happened.
• "View of the Future at a Low Ebb"
This has not happened as everyone seems to be looking for the bottom.
• "New Work Ethics Develop Since Jobs are Scarce"
If I can assure you of one thing it is that this has not happened.
• "Greed is Purged from the System"
I can absolutely assure you that this has not happened yet.
• "Real Estate Prices Find Bottom"
This has not happened.
"There is a Clean Economic Slate to Build On"
Not happened yet.
• "Investors are Very Conservative and Risk Averse "
Again, this has absolutely not occurred.
• "Interest Rates and Prices Bottom"
Not happened.
• "A New Economy Begins to Emerge"
Has not happened
• "Stock Markets Reach Bottom and Begin New Bull Markets"
Again, we aren't there yet.
As I look at the overall cyclical/technical picture, I believe that there is indeed evidence to support the idea that we have moved into K-wave winter. At very least, these historical markers laid out by Mr. Barker should not be ignored. Until I see evidence to the contrary I also believe that it would be prudent to keep this list of events in mind as we watch the developments along the way. Then, if and only if, evidence to the contrary presents itself, at that time the assumption that we haven't moved into K-Wave winter would be warranted.
I have begun doing free Friday market commentary that is available at www.cyclesman.com/Articles.htm so please begin joining me there. Should you be interested in more in depth analysis that provides intermediate-term turn points utilizing the Cycle Turn Indicator, which has done a fabulous job, on stock market, the dollar, bonds, gold, silver, oil, gasoline, and more, those details are available in the newsletter and short-term updates. I will also be covering the details on the dollar and commodities in the coming months as these developments unfold. A subscription includes access to the monthly issues of Cycles News & Views covering the Dow theory, and very detailed statistical based analysis plus updates 3 times a week.
By Tim Wood
Cyclesman.com
© 2008 Cycles News & Views; All Rights Reserved
Tim Wood specialises in Dow Theory and Cycles Analysis - Should you be interested in analysis that provides intermediate-term turn points utilizing the Cycle Turn Indicator as well as coverage on the Dow theory, other price quantification methods and all the statistical data surrounding the 4-year cycle, then please visit www.cyclesman.com for more details. A subscription includes access to the monthly issues of Cycles News & Views covering the stock market, the dollar, bonds and gold. I also cover other areas of interest at important turn points such as gasoline, oil, silver, the XAU and recently I have even covered corn. I also provide updates 3 times a week plus additional weekend updates on the Cycle Turn Indicator on most all areas of concern. I also give specific expectations for turn points of the short, intermediate and longer-term cycles based on historical quantification.
© 2005-2019 http://www.MarketOracle.co.uk - The Market Oracle is a FREE Daily Financial Markets Analysis & Forecasting online publication.

Only logged in users are allowed to post comments.
Register/ Log in