Destroy America with Information Warfare
Politics
/
US Politics
Sep 24, 2018 - 02:38 PM GMT


The populace has been misled for decades by the information that comes from the establishment. Most people believe that foreign powers are the primary providers of disinformation. Few are willing to confront the reality that the most destructive culprits are the international monopolists who dominate the global economy. These plutocrats may be part of boards of public companies that are listed in the U.S. but their allegiance is with the globalist model of transnational economic hegemony. This commercial pattern supersedes any nationalistic obligation to accept President Trump's goal of making America great again.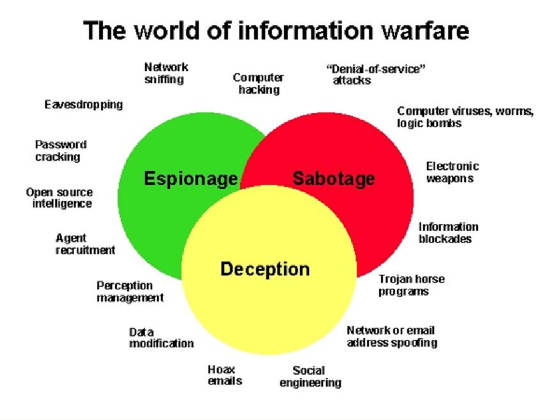 Within this context information warfare is used to strip domestic independence and supplant that infamous Trilateral Commission concept - interdependency. The net effect from this systematic betrayal has been a sellout of our standard of living for scores of years.
Steven Metz inquiries in the essay Why Is America Failing at Information Warfare? His answer follows:
"In reality, people often assess the credibility of information less by its observable evidence or logical consistency than by their affinity with the person or organization communicating the information. They believe things that fit their pre-existing beliefs and come from people or organizations they feel a bond with. Truth, for most people, does not exist separately from human perceptions, inclinations, preferences and prejudices.
Even domestically, the notion of an authoritatively defined ground truth is collapsing as the U.S. seems to have entered a "post-truth" or "post-fact" era, with political leaders, most of all President Donald Trump, telling the public not to believe what they see and hear. Demonstrably false claims and unsubstantiated explanations are taken as credible or legitimate by much of the public because they reflect existing biases and grievances, whether concocted or real, and are transmitted by new and skillful communicators as traditional authority mechanisms fade into obsolescence. In the broadest sense, salesmanship today matters more than authority.
These same broad trends undercut America's public diplomacy and strategic messaging abroad, weakening its capabilities in information warfare. The problem is not a failure to speak with a single voice or to stay on script. Instead, it is that external audiences, like many Americans, have access to a wealth of information too and can assign credibility not based on evidence, logic or the authoritativeness of the sources, but on their own various biases—and on their affinity with the person or source transmitting that information."
Mr. Metz's attempt to hold onto the misguided viewpoint that corporatist and governmental communicators are honest or reliable sources of information simply does not bear any resemblance with the truth. The definitive circumstance boils down to the fact that establishment organizations are behind the dissemination of false narratives that push their globalist control of worldwide finance and commerce.
Weaponizing fabrications has become an integral aspect of the business plan for transnational cartels. Yet the consumer pays little attention to these destructive practices and continues to purchase the products and services of the dissimulation manipulators.
Lone hackers or criminal gangs do not pose the primary threat from network intrusions. All the attention and focus on the disloyal high tech mega conglomerates, like Apple and Google, is certainly deserved. They pledge their fidelity to Red China with every keystroke or censored data they monitor. However, companies that hope to pass under the radar screen are continually dedicated to deconstruct our heritage and principled culture.
Nike's defiant Colin Kaepernick ad campaign epitomizes the subversive sentiment of a sweat shop swine that has always disrespected American values. Phil Knight runs his coolie facilities in the mold of a Jeff Bezos Amazon indentured human robots. The extraction of personal data is worrisome in and of itself, but a much more sinister aspect of financially supporting these revolting companies is the ultimate dismantling and destruction of our traditional American society.
Why would the public patronize such pirates who pillage our culture? If the abuses of corporate collectivists does not trigger your outrage, surely one should not ignore the hypocrisy or the behavior of the mod squad, whether libtards or pseudo conventionalists. Authentic conservative and principled advocates of European Historic Christian Civilization are the most endangered species in this totalitarian age of a godless beau monde social order.
Information warfare has replaced objective inquiry according to scholarship standards. The goal of eradicating American History and replacing it with a politically correct version has been a work in progress for as long as the most senior of our citizens. Today the demographics and the mindless dribble from the mass media leave little opportunity for the already brainwashed sheeple to master independent thinking and intellectual integrity.
The bogus Russiagate distraction is an insult to reason and political acumen. Foreign regimes are undoubtedly in the business of spying. But to list advocacies and supposed allies as waging a continual campaign to infiltrate secured networks is not exactly news. Nevertheless, the assertion that enemies are conducting information warfare against American culture would seem to be overkill. Domestic suicide has been in full swing for over a century.
What are far more lethal are the autocratic technology developments that the social engineers direct to expand their dominance in cyberspace. The internet has been systematically disassembled from a worldwide beacon of knowledge sharing and communication. Searching for unrestricted sources provided an opportunity to seek out relevant info and access. Now the web has become a castrated extension of a neutered progeny.
The information war is well underway. Look to the Facebook 'Zukerberg' banners to purge your digital footprint. Just remember that users of their platform are being sucked into a destructive environment. Encouraging a voluntary acquiescence, the Silicon Valley charlatans guarantee a future of regimentation and compliance.
Recognize the real enemy of the people. This info battle is home grown. The ethernet czars are modern day Maoists. Their love for the global Davos set is un-American to the core. Continual usage of their autocratic networks will only hasten the final capitulation of the Republic. Modify your habits and sever ties with the corporatist data collectors. Defend Free Speech and oppose tech censorship.
SARTRE
Source: http://www.batr.org/totalitariancollectivism/091818.html
Discuss or comment about this essay on the BATR Forum
"Many seek to become a Syndicated Columnist, while the few strive to be a Vindicated Publisher"

© 2018 Copyright BATR - All Rights Reserved
Disclaimer: The above is a matter of opinion provided for general information purposes only and is not intended as investment advice. Information and analysis above are derived from sources and utilising methods believed to be reliable, but we cannot accept responsibility for any losses you may incur as a result of this analysis. Individuals should consult with their personal financial advisors
© 2005-2019 http://www.MarketOracle.co.uk - The Market Oracle is a FREE Daily Financial Markets Analysis & Forecasting online publication.

Only logged in users are allowed to post comments.
Register/ Log in