If China Falls, so Will America
Economics
/
China US Conflict
Jan 24, 2019 - 07:02 AM GMT


The US and China are the world's largest and second-largest economies.

They are also entwined in so many ways that it's hard to tell where one ends and the other starts. Some call it "Chimerica." which is an apt description.

But that's not bad.

International trade promotes peace and prosperity for all. It's not always smooth, evenly distributed, or free of issues. But such is the nature of great affairs.
In the long run, China's growth has made the world better. Billions, and I mean
literally billions
, of people globally have been lifted out of poverty.
All that said, the US and China are also separate nations with separate interests. We compete as well as cooperate. So, conflicts inevitably arise.
They need to be resolved, but not in the way Trump has proposed.
He fails to grasp one thing. Impairing an economy so tied to our own weakens the US as well.
China Is on Shaky Ground
Trump demands China that respect intellectual property rights and compete fairly. Just as we let Chinese companies operate here.

It's a legit demand.

But China can't just flip a switch. Entire regions and industries are optimized for a model we want to change.

However necessary, the change will take time. It will cause problems if it's not managed well.

Worse, China's economy is already on shaky ground.

Its unique blend of communism, capitalism, and sheer size, has produced enviable growth. I think growth will keep up, but a slowdown is inevitable.

China is still subject to the law of large numbers. It can't maintain 6% or higher GDP growth indefinitely.

We've seen hints in data for some time now. And they're starting to add up.

For one, the gap between US and China GDP growth has been shrinking in the last decade.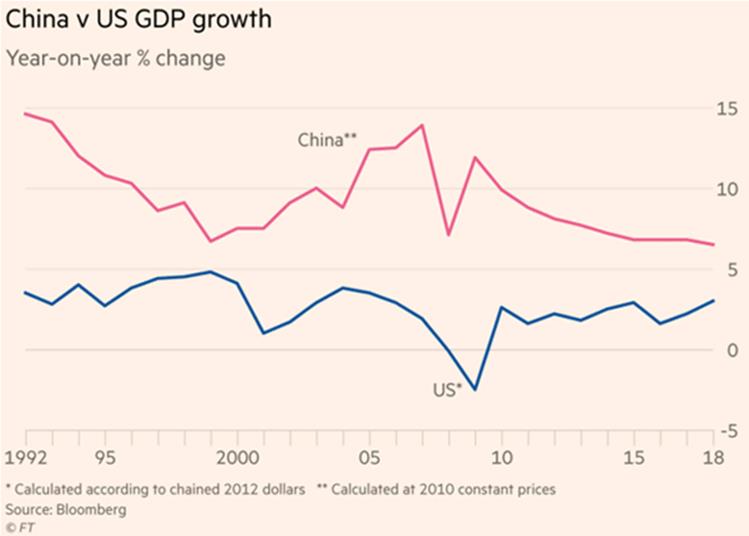 Source: Financial Times

Then automotive sales are rolling over.

That's partly due to the rise of ride-sharing services. But it also suggests the growth of Chinese middle-class prosperity has slowed.

It's also a result of "front-loading" auto sales for the previous few years. When you pull future demand forward, the future eventually demands repayment.
This Isn't Just a Chinese Problem
US and European automakers export vehicles to China and own factories in China.

China's slowdown is one reason General Motors closed several plants and laid off thousands of workers last year.

Then you probably heard Apple's revenue warning. It blamed weakening conditions in China.

Here's the uncomfortable truth.

A great deal of world growth is directly tied to Chinese growth. And not just absolute current growth, but expected future growth.

Businesses have built 6% Chinese growth into their models. And compounded forever. It's baked into the forecasts and expectations. Shareholders are happy.

And when that growth stutters, we get surprises. Apple is just the first of many.
The US Is More Dependent on China Than You think
Yes, the US has a trade deficit with China.

But that doesn't mean China buys nothing from us. They indeed do. And part of our economy depends heavily on Chinese customers.

Here's a chart that shows China's importance to top US semiconductor companies: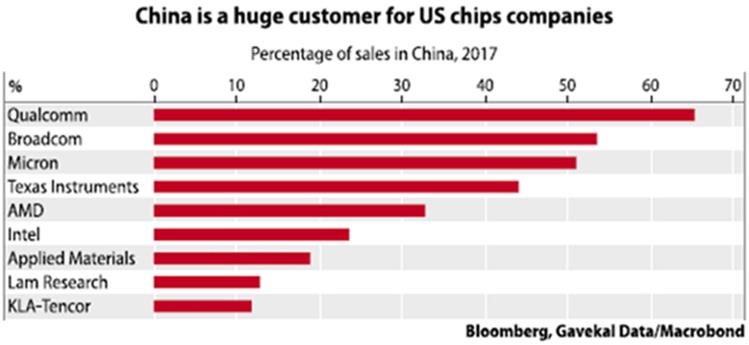 Five major public companies got a third or more of their 2017 sales from China. A little change could wipe out all or most of their profits.

Lots of smaller US companies also count on China for components that have no US alternatives. Rising costs, whether due to tariffs or anything else, hit their bottom lines, too.
US Growth That Wasn't
A significant part of US growth last year came from a rise in US inventories. For some arcane reason, building inventories, not actual sales, counts for GDP.

Many businesses that depend on Chinese materials built inventory ahead of the feared tariff at the end of 2018.

Those inventories are going to be sold in 2019 and often not replaced. So, a large part of the slowing economy in 2019 will simply be a reduction of inventories.

The apparent robust growth of the last half of 2018 was simply pulling production forward from 2019.

China has its own problems, like enormous debt and increasingly strapped consumers. But remember, a weak China is going to hurt the US. As well as Europe and especially Germany.
Get one of the world's most widely read investment newsletters… free
Sharp macroeconomic analysis, big market calls, and shrewd predictions are all in a week's work for visionary thinker and acclaimed financial expert John Mauldin. Since 2001, investors have turned to his Thoughts from the Frontline to be informed about what's really going on in the economy. Join hundreds of thousands of readers, and get it free in your inbox every week.
© 2005-2019 http://www.MarketOracle.co.uk - The Market Oracle is a FREE Daily Financial Markets Analysis & Forecasting online publication.

Only logged in users are allowed to post comments.
Register/ Log in