Financial Markets Crash Greatest Opportunity in History!
Stock-Markets
/
Global Stock Markets
Oct 13, 2008 - 05:55 AM GMT

Monetary Tsunami Unfolding
The Devil's Spawn
Marxism Descending on America
Bonds, er Bombs Away
Stock Market Cycles by Peter Eliades and Garret Jones
Things are unfolding in rapid-fire manner and it's hard to address all the issues you must keep in mind. But the one you must keep front and center is that this is the GREATEST opportunity in history for those that keep their wits about them, and an opportunity of historic proportions is on the table. In the early 1930's Joe Kennedy turned his personal net worth from $4 million to over $100,000,000 in a matter of a few short years. YOU can do this yourself if you are NIMBLE, PREPARED and DO NOT succumb to FEAR (false evidence appearing real). You cannot be a deer in the headlights and become roadkill, as most investors are about to do. The mainstream and financial media are attempting to lead you to your demise.
Don't miss Ty, LIVE on Mark Maxon's call-in Radio/Internet Talk Show where he will continue discussion of the Crack-up Boom and the Greatest Transfer of Wealth in History, aka Wind Shear. The show airs this Monday, October 13 th on K-Talk radio at www.k-talk.com (click the Listen Now link ), right after the news at approximately 11:06 am Eastern Time (10 Central, 9 Mountain and 8 Pacific.) Listeners will be able to call in to: 801.670.5855, 801.470.5855 or 801.254.5855
If you miss the show, listen to Audio Archives at www.TraderView.com - look for the Audio Archives link on the right.
THIS IS THE GREATEST OPPORTUNITY IN HISTORY! Markets are completely mis-priced to REFLECT a false reality, so when they do price in reality you will be offered VOLATILITY and "Volatility is Opportunity " for the prepared investor. Do your homework or find someone who does and set your investing sails to catch the trends which will emerge. Do not be afraid, fear is your enemy . This is not DOOM and GLOOM it is opportunity as the BIGGEST, dumbest money in the world is sitting on the buffet table as their financial advisors are ILL prepared to guide them. Delicious Irony!
I hope my letters have helped you better avoid these unfortunate turns in events; unfortunately, in order to protect you and myself, clear examination of the FACTS is essential to survival and prosperity in the unfolding maelstroms. When the facts change so must our opinions. The markets are in LQUIDATION mode, stampedes abound in all markets as FIRE has been yelled in the proverbial theatre. Blind panic is driving many markets to extremes which will soon offer you HUGE opportunities "long and short". Asset values are FALLING to their REAL value from their NOMINAL nonsensical values.
Like I said several weeks ago, wait like a cat and pounce as your cash will NEVER again have the purchasing power you are about to see EVER again in your lifetime. Contrary to some DOOM and GLOOMERS, the end of the world is NOT AT HAND, but immense change is. Of course it may be for those of you who have conducted your affairs in an imprudent manner and to those I say: What were you thinking?
Monetary Tsunami Unfolding!
Since the newsletter of September 15 th , entitled " Monetary Flooding Anticipated" , approximately 7 trillion dollars worth of G7 currencies have been manufactured "out of thin air" to underpin the morally and fiscally BANKRUPT financial enterprises and G7 governments. It is but a down payment on the ultimate price. Bernanke's helicopter has been REPLACED with C130 cargo planes and B1 bombers to rain cash down on the economy and banking system. It is but the beginning of the greatest reflation exercise in history and it will DWARF the previous reflation by Alan Greenscam, er Greenspan in 2001 through 2003, as it will be WORLDWIDE in scope. Everyone knows of the recent bankruptcy of the banking system in Iceland . It is but the first domino of many yet to fall. The next up will surprise you as some of them that are viewed as SAFE HAVENS are actually irretrievably impaired as you will soon see.
Several editions ago I also spoke about the ENORMOUS amounts of short term debt within the banking and financial systems which CANNOT roll over, it is far more then I estimated at that time. I have seen this chart twice in the last two weeks and it illustrates the enormity of the amount of money individual governments will have to create to GUARANTEE their banking systems as a percentage of GDP and as a percentage of GOVERNMENT debt. The following is from Saturday's New York Times and, by extension, Bridgewater Associates: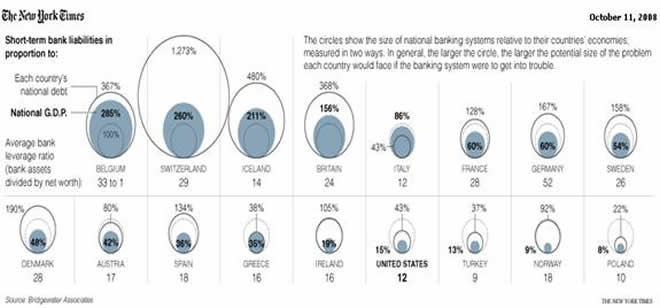 What you are viewing here is the coming BANANA republics of the G7, as a major portion of those trillions and trillions of short term debt will have to be provided via printing press or you can say arriva derci to their national banking systems. In many cases, as you can see, the amounts required are significant fractions or MULTIPLES of the entire size of their economies. The shaded areas represent the short term debt which MUST roll. It will roll right onto the government's balance sheets. Also illustrated are the LEVERAGE ratios of the individual banking systems. Now you know one of the reasons the DOLLAR can rally, as the debasement is really quite small in comparison to the other developed economies. The dollar's rise is temporary and its ultimate demise is still firmly in place due to OTHER factors of debasement which will be covered in future missives from yours truly.
As you can see why MANY in the EU governments and central banks are loath to guarantee deposits like those made by Ireland and Greece . This week the British government INJECTED 400 Million Pounds (approximately 700 Billion Dollars) as a down payment on soon-to-arrive NEW requirements.
Note: tiny little Switzerland, home to banking behemoths UBS ag and Credit Swiss, is not above the looming disaster as those holding Swiss Francs are in the FALSE belief that they are immune to the coming debasement and reflation of the developed world's banking and financial systems. These numbers are INESCAPABLE and unless these countries and their public servants are suicidal they will rise to meet the challenge. Gold!
The Devil's Spawn!
As regular readers know, the biggest elephant in the room is NAKED CDS's (credit default swaps). These credit default swaps are INSURANCE contracts on various types of over-the-counter securities that include: car loans, construction loans, credit cards and receivables of all stripes.
This week we were given a brief glimpse of the reason AIG was rescued. Initially, a "short term loan" (as you can see in the previous subject) was arranged by the Federal Reserve and US treasury. AIG's Financial Services unit in London wrote and guaranteed over $400 billion worth of CDO's (Collateralized debt obligations) to various banks around the world, and the banking rules in many countries disallow banks from reserving for these assets if they are covered by CDS's. They borrowed $85 billion, and the number was extended by approximately $35 billion this week. AIG ultimately will pay out somewhere near $400 billion on these obligations.
Late last week, auctions were held to determine the amount of money that was OWED by the providers of Credit Default Swaps on Lehman Brother's debt. It went off for approximately 91 cents on the dollar, meaning that only 8 cents of value was recoverable from the bonds themselves. I don't know if the CDS's are due and payable now or over the term of the original bonds, but in any event the holders of the insurance will get only small fractions of these amounts.
There are trillions and trillions of dollars of these NAKED and covered (meaning it is a CDS on bonds someone actually holds) CDS swaps on General Motors, Ford, GMAC, Morgan Stanley, Goldman Sachs, Citigroup, Barclays, Soc Gen, Deutchsbank, Fortis, Banco Santander, Unicredit and many more borrowers and banking behemoths. THE NAKED CDS's MUST BE OUTLAWED IMMEDIATELY AND THOSE CURRENTLY COVERED MUST BE REGULATED AS TO COUNTERPARTY RISKS (ABILITY OF THE PROVIDER TO PAY.) WRITE YOU'RE PUBLIC SERVANTS!
Marxism Descending On America
As we near the US Presidential and Congressional elections, the unfolding economic calamity is taking its toll on the McCain and Republican tickets. All public serpents have a hand in this debacle, but the Democrats in particular are the party that has PUSHED for the extension of credit to people that have NO ABILITY to repay. The policies of Barack Obama are right out of the CARL MARX handbook: Destruction of the most productive and support of the people on the dole.
Obama was on the front lines of encouraging lending to and borrowing from unqualified people. Now it is BLOWING up as these people are DEFAULTING on their obligations. No money down and liar loans (loans to people who did not have to prove they were qualified) where PUSHED by Obama as a community organizer and senator. We have not yet seen the true bill for Fannie and Freddie making and insuring these types of loans; it will be hundreds of billions, if not a trillion. Yes Obama has ideas, terrible ideas as these events illustrate. He believes in supporting people who CONSUME more then they produce and in taking the money from those that produce more then they consume. These are recipes for BANKRUPTCY -- moral and fiscal!
Trade protectionism, higher taxes, straight jacket regulations of industries about which the public servants KNOW nothing. NO government or public servant can properly allocate capital where it is most productive and creates wealth.
If elected, Obama will spread misery in ever-widening circles as George Bush has done; the misery is courtesy of the printing press, endless government expansion and deficit spending. More for them and less for you, the public and private sectors. Downward mobility for all. One of the reasons the stock markets are screaming lower is to price in the HORRIBLE policies of the SOCIALISTS who call themselves democrats. Because the Democrats already control the legislature, there is no denying that the policies of the last two years are a collaboration of Pinocchio and the Democrats. On both sides of the aisle are closet socialists and wannabe dictators.
Nancy Pelosi is now heading a rescue policy for the bankrupt states and municipalities, proposing a $150 billion printing party; FURTHERING THE DESTRUCTION of wealth and your money.
Generations of socialism taught in the "Democrat-controlled" public schools are now paying off for the Democratic party as now a majority of people don't know that government is the source of the problems rather then the solution to them. The private sectors provide the solutions and wealth creation and the government sectors destroy it. George "Pinocchio" Bush calls himself a republican but he is a democrat in the finest tradition.
Obama talks about deregulation as the problem when in fact regulations in the last 8 years have almost DOUBLED. Spending has almost doubled and future OBLIGATIONS have expanded from $20 trillion, when he came to office, to over $50 trillion today. When Obama says you have to end the policies of George Bush, in actuality the policies of the two men are the same: More regulations, more taxes and more government control of more parts of your life to save protect and you! People are absolutely incapable of understanding truth from fiction. DO YOU REALLY THINK MORE GOVERNMENT WILL SOLVE YOUR PROBLEMS? It is the cause of them…
Bonds, er Bombs Away!
This orgy of fiat currencies and credit creation is about to get a lot more expensive as the ten- and thirty-year bonds are about to join the CRASH party. Outside down weeks on the charts signal the coming tsunami of IOU's from government. Take a look at these weekly charts of the ten- and thirty-year bonds: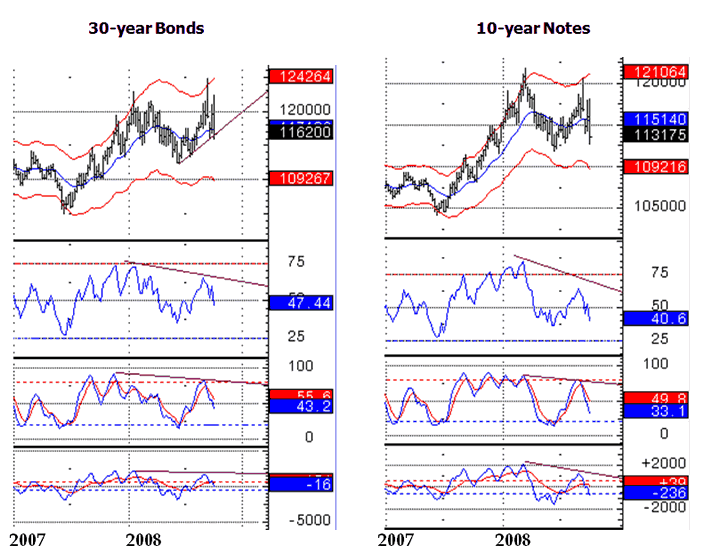 In looking at these two long-term Interest Rate Markets, they are singing a powerful chorus; one of sharply higher rates looming in the near future. Those are powerful DOUBLE tops with outside down weeks on both of them, internals of RSI (relative strength index), slow stochastics and MACD all confirm internal BEARISH divergences on highs made 3 weeks ago. Everything has crossed and turned lower, signaling the momentum shift LOWER. This is signaling the coming UNAVOIDABLE debasement. It's now bonds, er bombs away. Upon careful inspection of 10-year German Bunds and 10-year UK Guilts they paint the same picture as you see above. Look for a crash on the long end of the bond market…
Stock Market Cycles by Peter Eliades and Garret Jones
My good friends, Peter Eliades ( www.stockmarketcycles.com ) and Garret Jones ( garrett111@comcast.net ) have combined on some interesting analysis which would suggest that a powerful bounce in the stock market may unfold soon. Let's take a look at Peter's latest analysis of the Stock Market after Friday's close:
To say, "Wow! What a week!" would be an understatement. It was certainly one of the most dramatic weeks in market history. What the implications of this week really mean may not become clear for quite some time, but in some way (perhaps subtle, but probably not) it was a week that could affect the lives of us all.
Yesterday we noted a study of ours concerning the historical distance that prices had closed below their one year moving average (252 trading days). Today, the S&P cash closed 33.4% below its one year moving average while the Dow Jones Industrial Average closed 31.3% below its respective one-year average. It was the furthest excursion below one year moving averages that has been seen in over 70 years. That is how historic this week's action was. As to the significance of that for the market's short-term prognosis, it could be good or bad. The bad side is that throughout the September 1931 to July 1932 final decline in what was the greatest overall decline in the history of the Dow, the S&P index was closing almost continuously below its one year moving average minus 33.4%.
The potential positive is that it is characteristic of a much oversold market and when the S&P closed below today's extreme 33.4% close below the moving average in 1938, it marked the beginning of a good rally. More accurately, the S&P closed below those parameters in October and November 1937 for just a few days but those closes did not mark a final low. The final low occurred in March 1938 with four consecutive closes more than 33.4% below the one year moving average and, although the market went on to even lower lows a few years later in 1942, the 1938 bottom lead to an impressive 58% rally in only eight months.
Our own New 10 TRIN closed above 2.00, an historically oversold reading, for the second consecutive day and that has not occurred since October 1979, almost 30 years ago.
For those of you who are technically oriented, here is a fascinating technical pattern that gives encouragement to the bulls that we may have seen a market bottom of at least intermediate-term importance. Our hedge fund partner, Garrett Jones, discovered on a long-term chart of the Dow Jones Industrial Average that a trend line drawn from the October 1990 low through the November 1994 low almost exactly stopped the Dow in its tracks at today's low. How close do we mean by "almost exactly"? Well, we can actually figure the exact location of the trend line today by using simple mathematics.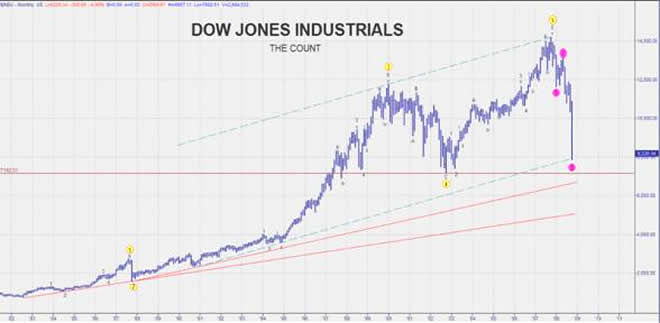 We should note that this trend line is drawn on a linear or arithmetically scaled chart. We usually prefer to use a semi-log scale when we draw trend lines over such a long period of time, but in this case the linear scale works almost magically. The exact price for the trend line today was 7,881.12. The low print for the Dow today was 7,882.51!
But that's not all. If you draw an upper parallel channel, parallel to that trend line and moved it to the top in January 2000, it almost pinpoints the final high in October 2007. By "almost" in this case, we mean within 0.4%. The trend line itself is strong evidence of support but is validated very strongly by the upper parallel channel. The evidence is strong enough to argue that a low could well have been seen today. We should know very quickly early next week whether that is true.
The McClellan Oscillator closed today at -389.1 with the McClellan Summation index at -3,314.6. The ratio adjusted McClellan Oscillator closed at -119.2 with its Summation index at -1,322.9.
Thank you Peter and Garret, I urge you all to subscribe to Stock Market Cycles by Peter Eliades ( www.stockmarketcycles.com ) as it is one of the best resources I have for viewing market action in stocks. Peter's three decades of experience and insights are PRICELESS.
I can't recall the McClellan Oscillator that low in my memory., and as he outlines the divergence from the mean is historical in nature. As regular readers know, I called for a crash in my last Tedbits and what a doozy it has been as stocks have had the greatest decline in two weeks since the 1930's. Its BREATHTAKING in comparison to the last thirty years as you can see the 1987 crash. We are not done on the downside, but a rally is long overdue, if bonds fall as suspected that money will probably migrate to the stock markets.
In conclusion, The G7 governments are just now getting the picture of the enormity of the problems their policies have fostered. Decades of easy money, deficit spending, deindustrialization, rising taxes and misreported inflation are now being paid for. It is not over by a long shot and the money printing will go to another level from here as outlined above. The Governments of the G7 on all levels are bankrupt "morally and fiscally", as are so many of their citizens and it is set to continue.
Things may seem bad now but they are about to get a "whole lot worse", higher taxes, deflation followed by inflation, employment is about to skyrocket -- look for 300,000 job losses in the next month or two and rising from there. Analysts who have told you for YEARS that budget and trade deficits mean nothing are about to get a lesson in history. They lied to you. And the only way to FILL the gap will be as all banana republics have: They will print the money!
The short term funding problems will have to be met by the governments as will the RECAPITALIZATION of the financial systems. THERE IS NO SHORTAGE OF MONEY, as over 10 trillion dollars of passive deposits is in the U.S. , and if you look globally you find at least another $20 to 30 trillion. What will someday be known as "The Great Reflation" has begun. Tedbits has told you about this for almost two years and it only now is kicking into a higher gear. The amounts necessary to underpin the developed world's financial systems will boggle your mind. But keep in mind that public servants and central bankers have survival instincts and when a gun is pointed at there collective heads: They will duck, and let YOU take the bullet for their actions.
Then they will turn around with their main stream media collaborators and socialists and point at everybody but themselves, so look for a WITCH hunt to unfold soon. Hedge funds, speculators, sovereign wealth funds, foreign devils and competitors in wealth-producing countries and more will be fingered to deflect blame from the REAL culprits: G7 public servants and the banking cartels.
You are witnessing the last deflation you will ever see as the public stampedes into the burning house represented by CASH and government bonds. Holding wealth in paper is a FOOL'S errand and will work only for a short while longer. Remember, for a short time cash will be king and actually INCREASE in purchasing power as we are witnessing, then, like Cinderella, it will descend into the trash it actually has become since the world was converted to fiat currencies after Bretton Woods II.
Opportunities are abundant for the prepared investor, of which there are very few. Most are headed towards their demise as the greatest transfer of wealth in history from those who hold their wealth in paper to those that DON'T continues to unfold. As you run into cash and government bonds you are running into a BURNING house, and the public servants and central bankers are about to pour gasoline on the flames. They really have NO choice, as given the choice of an inflationary depression versus a deflationary depression is quite simple.
General Electric and Goldman Sachs were injected with cash in a thinly disguised bailout. The G7 is throwing EVERYTHING into the battle and the Federal Reserve is now moving to GUARANTEE interbank lending and enter the commercial paper markets; states and municipalities careen towards bankruptcy, General Motors, Ford and Chrysler will soon be WARDS of the STATE and YOU will pay for it all through unpayable debt thrust upon you and your children, new taxes on everyone and the greatest tax of them all, theft of purchasing power while your money sits in the bank. From where will it come? From money borrowed into existence by your public servants and banking masters. Money out of THIN air, with interest payments attached as a gift from them to you.
Obama and the democratically-controlled congress are about to become the dictators they have always aspired to be. Income, wealth creation and economic growth will wither under their steel fists and misallocation of precious capital to unproductive uses, so wealth creation will crumble further as small businessmen are ground under their BOOT HEELS. Obama has ideas, ideas right from CARL MARX'S FAILED POLICY BOOK. IDIOTS
The something for nothing portion of the public is about to ascend to power along with their handmaidens: attorneys, unions and environmentalists who will descend on ANYTHING that actually creates or has wealth. The something for nothing personalities never take responsibility for themselves and they believe government HAS the answer for their problems. Capital and investment will be tortured and in substitute for the wealth they no longer produce they will, what else but "print the money" to replace it. Another new stealth tax on the poorest among us who actually elected them as the money they save or hold loses value: "while it sits in the bank." FOOLS
Energy independence and development will suffer withering new blows on the future of America as they become pipe dreams of people looking for practical and affordable solutions. Nuclear, clean coal, new natural gas and oil wells? Will become OUT OF THE QUESTION as public servants will pass bills with the promise of this as the title and bury these hopes in the body of them. Benedict Arnolds
The banking rescue was passed 5 days after it was defeated in the house and an initially-estimated $700 billion bloated out by $150 billion of "sweeteners", thinly disguised pork barrel to garner votes, payback CAMPAIGN contributors and the bill was sent to you, with interest. Think of it as 150,000 million dollars tacked on to the bill. The recapitalization of the banks was mandatory, as not to do so spells DOOM, but the pork is DESPICABLE. Here is a piece from You Tube entitled BUBBLE MAN and its SOOO true:
There is no such thing as a free lunch. Americans who elect public servants expecting a delivery from the tooth fairy will be getting a visit from the Grinch, as they soon shall see….
Wait and then pounce on these lifetime values before the hyperinflation begins. You will know when this occurs as the velocity of money will TURN UP and the libor (London Interbank Overnight Rate) will come down HARD signaling the move off the sidelines. If you hesitate you may get whip lash. The "indirect exchange", as outlined by Ludvig Von Mises, is your path to salvation and prosperity. The Crack-up Boom looms a little closer on the horizon…stay tuned
Don't miss Ty, LIVE on Mark Maxon's call-in Radio/Internet Talk Show where he will continue discussion of the Crack-up Boom and the Greatest Transfer of Wealth in History, aka Wind Shear. The show airs this Monday, October 13 th on K-Talk radio at www.k-talk.com (click the Listen Now link ), right after the news at approximately 11:06 am Eastern Time (10 Central, 9 Mountain and 8 Pacific.) Listeners will be able to call in to: 801.670.5855, 801.470.5855 or 801.254.5855
Please remember that subscribers receive Tedbits two to three days before it is posted on the web. Subscribers will also start receiving guest essays from leading economic pundits, and a blog looms soon. So if you want it early and the added features SUBSCRIBE NOW it's FREE!
Thank you for reading Tedbits if you enjoyed it send it to a friend and subscribe its free at www.TraderView.com don't miss the next edition of Tedbits.
If you enjoyed this edition of Tedbits then subscribe – it's free , and we ask you to send it to a friend and visit our archives for additional insights from previous editions, lively thoughts, and our guest commentaries. Tedbits is a weekly publication.
By Ty Andros
TraderView
Copyright © 2008 Ty Andros
Hi, my name is Ty Andros and I would like the chance to show you how to capture the opportunities discussed in this commentary. Click here and I will prepare a complimentary, no-obligation, custom-tailored set of portfolio recommendations designed to specifically meet your investment needs . Thank you. Ty can be reached at: tyandros@TraderView.com or at +1.312.338.7800
Tedbits is authored by Theodore "Ty" Andros , and is registered with TraderView, a registered CTA (Commodity Trading Advisor) and Global Asset Advisors (Introducing Broker). TraderView is a managed futures and alternative investment boutique. Mr. Andros began his commodity career in the early 1980's and became a managed futures specialist beginning in 1985. Mr. Andros duties include marketing, sales, and portfolio selection and monitoring, customer relations and all aspects required in building a successful managed futures and alternative investment brokerage service. Mr. Andros attended the University of San Di ego , and the University of Miami , majoring in Marketing, Economics and Business Administration. He began his career as a broker in 1983, and has worked his way to the creation of TraderView. Mr. Andros is active in Economic analysis and brings this information and analysis to his clients on a regular basis, creating investment portfolios designed to capture these unfolding opportunities as the emerge. Ty prides himself on his personal preparation for the markets as they unfold and his ability to take this information and build professionally managed portfolios. Developing a loyal clientele.
Disclaimer - This report may include information obtained from sources believed to be reliable and accurate as of the date of this publication, but no independent verification has been made to ensure its accuracy or completeness. Opinions expressed are subject to change without notice. This report is not a request to engage in any transaction involving the purchase or sale of futures contracts or options on futures. There is a substantial risk of loss associated with trading futures, foreign exchange, and options on futures. This letter is not intended as investment advice, and its use in any respect is entirely the responsibility of the user. Past performance is never a guarantee of future results.
© 2005-2019 http://www.MarketOracle.co.uk - The Market Oracle is a FREE Daily Financial Markets Analysis & Forecasting online publication.

Only logged in users are allowed to post comments.
Register/ Log in