U.S. Housing Market Forecast 2009
Housing-Market
/
US Housing
Dec 26, 2008 - 09:59 AM GMT


Mark Larson writes: I don't know about you, but I had a great time watching my little girls open their presents on Christmas morning. You should have seen the smiles on their faces! I sincerely hope that you and your family are relaxing and enjoying this holiday season as much as I am.
But soon, thoughts are going to turn from relaxation to reality. Investors are going to focus once again on the wounded real estate market. And millions of homeowners and commercial property owners are going to ask that all-important question: Will 2009 be "it" — the year when things finally start turning around?
I wish I could say I was optimistic.
But the evidence I'm weighing points to another disappointing year. Indeed, I expect 2009 to be marked by lackluster sales and falling prices in the residential arena, and a deepening crisis on the commercial side of the ledger.
Housing Bottom?
Not That I Can See …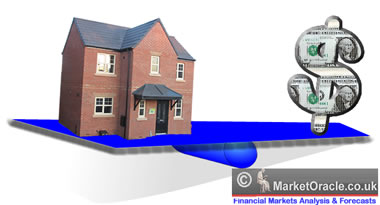 Despite government intervention and despite cutbacks in new construction, the fact remains that supply far exceeds demand.
The Treasury Department and the Federal Reserve are doing all they can to lower mortgage rates and stem foreclosures. There's just one problem: All the government money and manipulation in the world can't repeal the law of supply and demand.
The overall housing market remains dramatically oversupplied, despite very sharp cutbacks in new home construction. Moreover, demand remains weak due to slumping consumer confidence, tighter lending standards, and rising unemployment. That means anyone looking to Washington for a quick fix to this downturn is going to be disappointed.
Just consider the latest numbers …
New home sales dropped 2.9% in November to a seasonally adjusted annual rate of 407,000. That was the worst sales rate since January 1991 , and down more than 35% from a year earlier. Existing home sales plunged 8.6% for the month, with single family sales hitting the lowest level in more than 11 years.
While dramatic cutbacks in housing starts have led to a decline in the raw number of new homes on the market, sales have dropped so much that we're seeing little net progress overall. Case in point: There were 11.5 months worth of new homes on the market based on the November sales pace. That was only slightly below October's 11.8 months, which itself was the worst reading ever (Census data goes back to 1963).
On the existing side, we have more than 4.2 million homes on the market — far above the 2 million to 2.5 million considered normal. That's good for 11.2 months of supply, tying April's record high.
As far as pricing is concerned, you won't find any solace in the latest figures. New home prices were down 11.5% from a year earlier, the second-biggest decline ever. Existing home prices dropped 13.2%, the most on record . The median price of a used home is now hovering around $181,300, meaning we have wiped out every penny of gains generated since February 2004 .
Don't be surprised to see the government get even more aggressive next year. We could get tax credits designed to stimulate home buying on top of the direct manipulation of the mortgage backed securities market we're already seeing.
But until fundamental equilibrium is restored in the housing market — until we work through the vast inventory overhang of houses — home prices aren't going to stop falling. In fact, I'm expecting further declines throughout 2009.
Commercial R.E. Joining Residential In the Penalty Box …
The residential real estate business started slowing in 2006, and then really fell out of bed in 2007. But commercial real estate continued chugging along for a while. That's all changing — and 2009 will likely be even worse for landlords and investors in warehouse, office, or retail property and related securities.
Just consider …
Construction activity is starting to tank as commercial mortgage credit dries up and the economy slumps. An American Institute of Architects (AIA) index, which serves as a great leading indicator for commercial construction since you need to design a building before you build it, just plunged to a record low of 34.7.
With credit tighter, commercial real estate sales and prices are now following home prices lower. The final numbers haven't been added up yet. But it appears that commercial sales plunged by about 70% between 2007 and 2008.
Meanwhile, the Moody's/REAL Commercial Property Price Index dropped 2.4% in October, the tenth month out of the last 14 where it declined. Prices are now down more than 11% from their late 2007 peak.
Finally, sublease space is flooding the office market as companies fire workers. And mall vacancies are surging as retailers like Circuit City and Linens 'N Things go broke. Even the perennially optimistic National Association of Realtors just forecast that office vacancy rates will rise to 16.4% by late 2009, from 12.5% in 2007, while retail rents will drop by 7.3%.
Commercial real estate representatives are heading to Washington in search of a handout.
If you own commercial property, you're probably already feeling the heat from the slumping economy. Expect further increases in vacancy rates in 2009, and additional pressure on rents when leases come up for negotiation. Lenders are also a lot stingier with credit that they've been in the past, meaning it should be tougher to refinance your loans.
Of course, commercial real estate representatives aren't just sitting idly by. They're doing what all their other … er … capitalist brethren are doing. They're going to Washington begging for spare change!
As The Wall Street Journal recently recounted in a story called "Developers ask U.S. for Bailout as Massive Debt Looms":
"With a record amount of commercial real-estate debt coming due, some of the country's biggest property developers have become the latest to go hat-in-hand to the government for assistance.
"They're warning policymakers that thousands of office complexes, hotels, shopping centers and other commercial buildings are headed into defaults, foreclosures and bankruptcies. The reason: according to research firm Foresight Analytics LCC, $530 billion of commercial mortgages will be coming due for refinancing in the next three years — with about $160 billion maturing in the next year. Credit, meanwhile, is practically nonexistent and cash flows from commercial property are siphoning off."
Do I think THAT will make a difference? It might loosen credit a bit, sure. But the lesson from the residential industry is that all these bailouts merely ease the symptoms of this crisis somewhat, without curing the underlying disease.
In other words, I expect commercial real estate fundamentals to weaken in 2009, loan defaults and foreclosures to climb, and prices to fall no matter what Bernanke & Co. do in Washington.
The Good News?
I hate to leave you on such a gloomy note, what with New Year's festivities right around the corner. So let me wrap up with this: Falling asset prices will eventually restore TRUE, intrinsic value to real estate.
This decline will get home prices back to levels that make sense when compared against incomes and rents.
It will make it so home buyers can purchase affordable homes at reasonable debt-to-income ratios, using traditional 30-year mortgages instead of all the junk loans that proliferated during the bubble.
It will make it so you can invest in rental property, or strip malls, or an office building and generate attractive returns again, without relying on pie-in-the-sky projections about future growth.
And most of all, I believe this painful decline will remind us all that we can't build an economy based on flipping assets back and forth to each other at ever more inflated prices with ever increased leverage. Instead, we'll save more. We'll invest more in productive ventures. And the U.S. will once again be the great country it can be.
Have a happy and healthy New Year. I look forward to helping make 2009 your most profitable year ever.
Until next time,
Mike
This investment news is brought to you by Money and Markets . Money and Markets is a free daily investment newsletter from Martin D. Weiss and Weiss Research analysts offering the latest investing news and financial insights for the stock market, including tips and advice on investing in gold, energy and oil. Dr. Weiss is a leader in the fields of investing, interest rates, financial safety and economic forecasting. To view archives or subscribe, visit http://www.moneyandmarkets.com .
© 2005-2019 http://www.MarketOracle.co.uk - The Market Oracle is a FREE Daily Financial Markets Analysis & Forecasting online publication.
Comments
AL
28 Dec 08, 17:33
Housing Speculator Flippers


In 2004 in the southwest there were more flippers than all the locust in africa.they were dishonest,mean beyond words and 100 percent in my opinion unethical.i lost the condo i was trying to buy and my deposit.i hope the housing market never ever gets to the point again where such evil human beings-the speculator flippers can resort to canabalism.i would try to climb mt everest even though i would probably die if this country would make sure that no speculator flipper could ever flip again once the housing market recovers.i am not good on words but what i went through and saw makes a poe horror story minor-thanks



Emilia
14 Feb 09, 22:19
overpriced homes


There is a home near where I live that is on the market for half a million dollars. That same home sold five years ago for less than half that amount. There are a lot of homes like that around here. Prices going through the roof. People are greedy. Salaries have not doubled, the price of a house should not double either.




Only logged in users are allowed to post comments.
Register/ Log in