Financial Scams Go Global, Here's How to Avoid Being Stung
InvestorEducation
/
Scams
Mar 19, 2009 - 08:25 AM GMT


Mike Caggeso writes: Madoff's guilty plea to a decades-long $50 billion-plus Ponzi scheme pretty much guarantees the 70-year-old will have his likeness immortalized on the Mt. Rushmore of scammers.


The former NASDAQ chairman's December arrest - with collapsing U.S. and overseas stock markets as a backdrop - kicked up a firestorm that has forced investors to take a much-closer look at who was managing their investments. Scores of investors have lost their life savings, retirees found their nest eggs gone and countless charities discovered that they were essentially out of business; the cash that they once handed out to worthy causes had disappeared.
The scandal whipped up a flurry of investigations, and within three months, more than half a dozen others accused scammers found themselves in handcuffs, as guests of the state.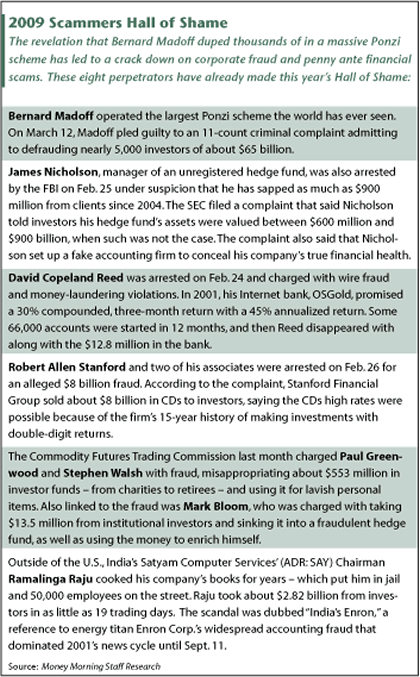 Through it all, the victims of Madoff and these other schemers have repeatedly come to one realization: This didn't have to happen - not even to the scores of individual investors who were among the hardest-hit victims.
The best way to combat financial scams is to understand how the scammers think and to be aware of the schemes taking place.
So let's take a look.
Scams Go Global
Scammers typically prey on the greedy, desperate and gullible. And right now, as job losses mount, retirement funds drain and the stock market falls to levels not seen in 12 years , many consumers truly are desperate right now, making them perfect targets for financial scams.
Claire Rosenzweig, president and CEO of the Better Business Bureau of Metropolitan New York told Money Morning that her NYC metro office received 60,000 complaints last year alone - many of them involving mail-order schemes or check-cashing scams.
Scams were already a worldwide problem, but have proliferated as the global financial crisis has spread , says Peter Kell, chairman of the Australasian Consumer Fraud Taskforce and deputy chairman of the Australian Competition and Consumer Commission (ACCC). In fact, the first week of this month was named "National Consumer Fraud Week" in Australia.
"One in 20 Australians will fall victim to a scam this year, costing the community a total of more than a billion dollars," Kell said. "Over 12 months, the ACCC has seen an alarming 60% increase in the number of complaints and inquires about scams, with a 67% increase in people reporting money lost."
Globalization has caused the number of financial scams from overseas to multiply at a stunning rate, the U.S. State Department said in a 2007 report . And the financial gambits have literally run the gamut, ranging from Internet dating to "overpayments" for purchased products - and including such long-running standbys as inheritances from long-lost relatives, bogus fees for work permits and even money-laundering schemes.
Advances in technology - especially the Internet, and such developments as online auctions - have enabled new types of scams . Money lost in Internet crimes topped $240 million in 2007 - a $40 million increase over 2006, and a new high - the FBI and the National White Collar Crime Center reported, citing the most recent figures available.
The Most Prominent Scams Out There
By far, the No. 1 type of investor scam is the Ponzi scheme, Rosenzweig said. But scammers are running a plethora of scams out there right now. In fact, the Better Business Bureau has compiled a comprehensive list of common scams consumers need to watch out for, including:
Ponzi or Pyramid Schemes: A promoter usually makes an unrealistic promise of future returns to get investors on board. Using their money, the promoter pays off earlier investors. The illusion continues so long as the promoter can keep bringing new investors on board. The lesson : If it sounds too good to be true, it probably is .
Boiler Rooms: Scammers call from telephone banks ("boiler rooms") to pitch worthless investments such as penny stocks, which are cheap to buy and that can be manipulated using the cash flows the boiler-room players are able to raise from their victims. The Lesson : Beware of cold callers .
"Pump-and-Dump" Penny Stocks: The scammer buys up a mass of penny stocks, and then launches an all-out promoting campaign, pitching the stock to investors over the phone, Internet, and e-mail. As investors pour in and the stock price moves up, the scammer dumps his shares and collects his profit. Those sales deflate the share price, often leaving the victims with shares in a worthless shell company. (For more information, Money Morning recently published a guide to penny stock pitfalls and profits ). The Lesson : See Boiler Rooms .
Promissory Notes: Promissory notes are investments that offer above-market, fixed returns. Some are legitimate, and some are fraudulent and worthless. The Lesson : Do your homework before you buy.
Fraudulent Bank or Currency Investments: Investors are promised very high returns - typically well above the prevailing market returns - for investing in fraudulent bank or currency-related investments. The BBB notes that scammers used to call this a "prime bank" investment and often mentioned foreign banks that actually might not even exist. But recently, banks aren't mentioned as often; scammers instead float the term "risk-free guaranteed high yield investment" or some variation. The Lesson : Don't invest in something you don't understand .
Fake Promises of Initial Public Offerings (IPOs): With the economy sinking, IPOs are very rare. So if the chance to invest in one is offered, even the smallest bit of research will help verify if the company in question actually exists and, if it does, whether there are really plans for it to go public. The Lesson : A little "due diligence" goes a long way.
"IRA-Approved or IRS-Approved" Investments: Bottom line, there is no such thing as IRA-approved or Internal Revenue Service (IRS)-approved investments, so avoid any and all. The Lesson : Make the phone call . If an investment is supposedly "IRS-Approved," it would take but one phone call to the IRS (which has a " scams " section on its Web site) to discover that this is a product that doesn't really exist.
Investments in Fraudulent Businesses: The BBB notes these offers often involve work-at-home businesses, or the sale of vending machines, pay phones, or ATMs.
Protecting Yourself From Scams
The most at danger are new investors and seniors. Inexperienced investors are usually the most eager and open to taking risks, and scammers use that to their advantage. Many of their older counterparts have seen their life savings eviscerated and are desperately searching for an investment that will help recoup their losses.
While there are many different scams out there, nearly all can be avoided by following Rosenzweig's advice: "If it seems too good to be true, it could be a scam."
That's the guiding principal of many of the following tips from the Securities and Exchange Commission (SEC), the Better Business Bureau (BBB) and the Internal Revenue Service (IRS) to avoid being the victim of an investment scam.
From the SEC and IRS:
Use the SEC's EDGAR Database : The SEC's EDGAR Database is a free service where anyone can access and download audited financial statements from all U.S. companies with more than 500 investors and $10 million in net assets.
Ask Questions : The SEC also compiled a list of 10 questions to ask both yourself and whoever is seeking your money under the guise of investment purposes. The IRS has posted an entire page of scam gambits, questions to ask, warning signals to watch for, ways to report scams, and even additional resources to check out. It's definitely worth a look.
Get Background on the Seller : The Financial Industry Regulatory Authority (FINRA) set up a Web site and hotline (1-800-289-9999) to check the disciplinary history of a broker or firm.
From Investment U:
Investment U , an investment newsletter that reaches hundreds of thousands of readers daily, offers " Six Simple Steps to Protect Yourself From Financial Fraud ." Consider them part of a "sniff test" to tell if something is legitimate.
Sounds Familiar: Does it look like anything you've ever heard of or seen before? It's amazing how many versions of pyramid schemes or Nigerian scams there are out there.
Trusted Sources: Does this investment come from a trusted source? This is the hardest hurdle for most to get by. Bernie Madoff seemed to have an impeccable resume and background, and that's why his fraud was able to remain undetected for so long (even after some folks warned that something wasn't quite right). Do your own reference checks.
The Pudding: As the old adage says, "the proof is in the pudding." If you ask for performance results or documentation to back up claims, they should easily provide the information. Information should be available on a quarterly basis. Any protests or delays should serve as a red flag.
Information Demands: If someone were to walk up to you and ask for your credit card number, you'd say no. But you'd be surprised to find out the number of people who give up sensitive information - like bank account numbers, Social Security numbers and all ors of other personal data - for an "opportunity" to collect untold millions. When someone requires something like this without a reasonable expectation, view it as a warning sign.
Your Uncle: Imagine you had a skeptical uncle (some of us don't have to imagine it). If you presented the opportunity to him, what would his response be? If your uncle doesn't approve, then neither should you.
Embarrassment: Would you have any qualms about sharing this investment with your friends and family? What about if it went badly and you suffered a major loss? Would you be embarrassed to tell others what you'd done? If that's the case, that should tell you something.
From the Better Business Bureau:
Buy only from licensed or credentialed financial professionals. Avoid buying investments from people who aren't licensed to sell stocks, bonds and mutual funds.
Review your account statements: Make sure the name of the company cashing your check matches the name on your statements. If something seems incorrect, ask questions immediately. If questions aren't answered and complaints aren't addressed, notify authorities.
Make sure you are buying registered investment products: Most legitimate products have to be registered with the SEC and with the state in which they are sold. Check these both out before you buy.
Ignore spam e-mail: E-mail filters are already sending many of these spurious "investment opportunities" to your junk/spam folder. But that doesn't mean the ones that reach your inbox are legit. It's best to just avoid all of these, as many link to fake Web sites and blogs set up specifically to provide false information - and to separate you from your hard-earned savings.
Never make an investment payable to the salesperson: Always make your payment to the investment company.
Rosenzweig, the Metro New York BBB president, says "I don't care what age you are, educate yourself about investments," says the BBB's Rosenzweig. "Don't be afraid of it. I won't say it's easy, but there's enough info out there that's written for you and me - easy to digest and puts you in the position of control. Why not make good decisions?"
And if you've seen or been the victim of an investment scam, click here to learn how to report it to the SEC and local authorities.
[ Editor's Note : So far, Money Morning 's "Financial Crisis Investing" series has covered 401(K) plan rescue strategies , low-minimum mutual funds , dividend-investment strategies , and tax-planning moves related to the Obama administration recovery plan.
In the midst of a financial crisis that's eradicated more than $6 trillion in shareholder wealth, the profit search facing U.S. investors is tougher than ever. As part of a new offer for our monthly newsletter, The Money Map Report , Money Morning is offering insights on the financial threats being created by the ongoing federal bailout payouts and the stimulus outlays that are slated to follow.
As part of this offer, new subscribers can obtain a complimentary copy of The New York Times best seller, " Crash Proof ," in which author Peter D. Schiff actually predicted both the housing bubble and the crash of financial-asset prices long before they happened. The book also outlines strategies investors can use both to avoid further losses and to ring up profits . To find out more about this offer, please click here . ]
Money Morning/The Money Map Report
©2009 Monument Street Publishing. All Rights Reserved. Protected by copyright laws of the United States and international treaties. Any reproduction, copying, or redistribution (electronic or otherwise, including on the world wide web), of content from this website, in whole or in part, is strictly prohibited without the express written permission of Monument Street Publishing. 105 West Monument Street, Baltimore MD 21201, Email: customerservice@moneymorning.com
Disclaimer: Nothing published by Money Morning should be considered personalized investment advice. Although our employees may answer your general customer service questions, they are not licensed under securities laws to address your particular investment situation. No communication by our employees to you should be deemed as personalized investment advice. We expressly forbid our writers from having a financial interest in any security recommended to our readers. All of our employees and agents must wait 24 hours after on-line publication, or 72 hours after the mailing of printed-only publication prior to following an initial recommendation. Any investments recommended by Money Morning should be made only after consulting with your investment advisor and only after reviewing the prospectus or financial statements of the company.
© 2005-2019 http://www.MarketOracle.co.uk - The Market Oracle is a FREE Daily Financial Markets Analysis & Forecasting online publication.

Only logged in users are allowed to post comments.
Register/ Log in