Mining Merger Mania : Say it Three Times Fast
Commodities
/
Metals & Mining
May 09, 2007 - 07:38 PM GMT

I was shocked last week when I read a report from Merrill Lynch stating that BHP Billiton could possibly be a target of a private equity bid. BHP Billiton is the largest mining company in the world. I have always envisioned it as the acquirer not the acquiree. However, with so much money at stake - anything is possible.


According to Forbes , "China is moving at a pace that amounts to building a city the size of Houston every month. There are more sky cranes in the city of Shanghai alone than in the rest of the world. They are pouring a lot of concrete, stringing a lot of wire, plumbing a lot of pipe and pounding a lot of nails." China is not alone in its thirst for industrialization. "India's year-on-year growth rate could well hit double figures at some point in 2007, and the country may even grow faster than China for at least one quarter," per the Economist. In BHP's most recent half-year report, it reported revenue of $22 billion an increase of 22% over 2006. Supplying resources to the emerging markets is clearly a high-stakes game.
In my previous life, I worked for a software company. When a sale was completed, the customer was given a security code and access to our ftp site. The customer would download the software and live happily ever after. The numbers of sales were immaterial from a supply perspective.
It doesn't quite work that way in the mining world. Doug Casey sums it up quite nicely, "cranking up supply in the short term is usually impossible; the process of prospecting, exploring and developing a mine takes many years, sometimes decades. The scale of most base metal mines is huge—they take an enormous amount of financing, require endless environmental permissions and need extensive infrastructure. These factors make it very difficult to balance supply with demand in the short term (meaning, up to a few years), creating frequent cycles of price increases when supplies tighten, followed by corrections when new supplies come online."
Therein is the crux of the matter. The demand by China, India and others is simply outstripping demand and supply can't come on-line fast enough. This is especially evident in the case of Nickel.
"We are confident that global demand for nickel will continue to grow strongly …. In the circumstances, when a number of sizable projects in the industry are delayed, we do not see enough supply to cover the expected demand," said Dmitry Usanov of the world's largest Nickel producer, Norilsk Nickel.
These dynamics motivated Xstrata on March 26 to launch a bid to acquire Canadian based Nickel producer Lion Ore Mining. However, Xstrata left the door open for competing bids by only offering a 5.8% premium over the closing price.
Norilsk stepped up and delivered a superior offer on Monday – topping Xstrata's bid by 16%. More than likely this is far from over. Last year Nickel producers Falconbridge and Inco had four companies clamoring over them.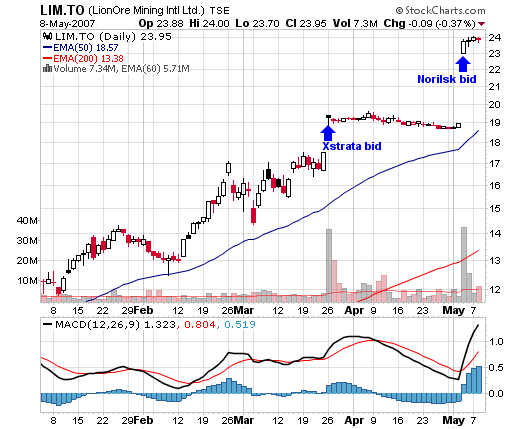 Mondays aren't called Merger Monday for no reason. Alcoa, the world's second largest aluminum producer, rocked the mining world with its hostile bid to acquire its Canadian rival Alcan for $27 billion. Its cash and stock bid offer represented a 32% premium. This surprised many since Alcoa has been rumored as a take over target and has been selling off underperforming units to make itself more attractive.
Once again this is in the early innings. Alcan closed higher than the offer price signifying that investors believe that a better bid is in the making. There is so much liquidity around that most of the big mining companies are being seen as possible suitors. BHP Billiton and Rio Tinto were reportedly eying Alcan last year.
This brings us full circle to BHP Billiton the hunter being the hunted. In Casey's analysis of the supply and demand, he highlighted the cyclicality of the mining business. Historically, private equity has avoided cyclical businesses. In the Merrill Lynch note authored by Vicky Binns and Duncan Hay, it stated, "We are believers in the 'super cycle' and expect commodity prices to stay above historic averages for years to come."
The day a private equity firm buys a mining company will signify to me that we are in phase two of a bull market in mining stocks. Bull markets run in three phases. Phase one is when smart money accumulates their positions. Anyone who has been buying mining stocks since 2001 could be considered – smart money. Phase two is when the institutional money such as private equity starts buying. Phase three is John Q. Public.
Once we enter phase two, the computer goes off and I am going fishing. Each day I will hire a taxi to take me to my favorite fishing hole. When the taxi driver starts talking about mining stocks - I will know that we are in phase three and it is time to sell.
Note:
Since anyone and everyone is a target, the best strategy is to buy a basket containing a mix of large, mid and small cap mining companies. My Big Build-Out (BBO) basket is a great example. After your basket is in place, sit back and enjoy the fireworks. I suspected that there would be several mergers and acquisitions over the years, but not to this extent. The BBO is up over 25% this year.
By Michael K Dawson
http://www.thetimeandmoneygroup.com/
Copyright © 2007 Michael K Dawson
Michael K Dawson founded the Time and Money Group with the aim of educating and sharing 20 years of experience on how to reach financial freedom. "Financial Freedom is freedom to focus on what is truly important to you and your family without having to trade time for a wage. It is enabled by a portfolio of income producing assets, managed by you, which generates sufficient income to cover your yearly expenses on an ongoing basis. It provides both time and money". The intent of his website is to become a repository of information to put you on the fast track to becoming financially free. For further infromation visit http://www.thetimeandmoneygroup.com/
© 2005-2019 http://www.MarketOracle.co.uk - The Market Oracle is a FREE Daily Financial Markets Analysis & Forecasting online publication.

Only logged in users are allowed to post comments.
Register/ Log in