Bank Bailouts Financial Terrorism and You
Politics
/
Credit Crisis Bailouts
Apr 01, 2009 - 05:18 AM GMT

Sean Brodrick writes: Can we just drop the pretense and start calling the bank bailout what it is: Financial terrorism. Terrorism can be defined as achieving one's aims through fear. And it sure seems to me that bankers and their friends in government are extorting money from the taxpayers (you and me) with a threatening "or else" that goes something like this: "Give us the money or the entire financial system will implode."


And as we fork over the extortion money, these corporate gangsters put us on the hook for trillions of dollars MORE .
Obama's bailout of AIG is just one example of Washington robbing you of your hard-earned money under the pretext of "fixing" the problem.
For example, AIG posted the largest quarterly loss in American corporate history — $61.7 billion — for the final three months of last year. That means the company lost more than $27 million every hour . That's $465,000 a minute, or $7,750 a second.
As a result of its losses, AIG has been awarded hundreds of billions of taxpayer dollars. Otherwise, we're told, the company's collapse could devastate the economy.
And that's just ONE of the companies robbing you of your hard-earned money under the pretext of "fixing" the problem.
In fact, one of the ways we know this is financial terrorism is that the steps being taken to "fix" the problem aren't fixing a single thing.
The Roots of the Crisis Go Back to 1999
Glass-Steagall was passed after the Great Depression, the last time outrageous financial chicanery brought our country to its knees economically. This law placed a barrier between everyday banking, such as lending and deposit-taking, and riskier areas, such as derivatives trading.
But the law was repealed in 1999, thanks to lobbying by the very companies we're bailing out now. And the effort was midwifed by Phil Gramm, a laissez-faire-lovin' Republican senator from Texas who co-authored the Gramm-Leach-Bliley Act that repealed many key provisions of Glass-Steagall.
Gramm quit the Senate to go work for UBS AG, one of the beneficiaries of the repeal. I believe that kind of thing — passing a law to help a future employer — should be illegal. We can only be thankful that Gramm didn't go on to higher office — he was an advisor to McCain's Presidential campaign and probably would have ended up as Treasury Secretary had McCain won.
But this isn't just a Republican problem. Oh, if it were only that simple. You see, there were shady characters on both sides of the political aisle in this terrorism caper.
Instead of Gramm, we got Tim Geithner as Treasury Secretary. He's a protégé of Robert Rubin, former co-CEO of Goldman Sachs and one-time Treasury secretary in the Clinton administration, who went on to work for Citigroup after whole-heartedly supporting the Glass-Steagall repeal. Due to the current financial crisis, Citigroup lost $27.7 billion last year and has needed $45 billion in government funds to stay afloat.
But Wait, It Gets Better!
Clinton had more than one Treasury Secretary. And the last one was Lawrence Summers. At the time Glass-Steagall was repealed, Summers said:
"Today Congress voted to update the rules that have governed financial services since the Great Depression and replace them with a system for the 21st century. This historic legislation will better enable American companies to compete in the new economy."
Good thing Summers isn't around anymore, eh? After making such a colossal mistake, he wouldn't dare to show his face. Oh wait — would you believe he is now the Director of the White House's National Economic Council?
In other words, one of the persons who got us into this mess is now in charge of fixing it! Isn't that like hiring an arsonist to put out your house fire?
And people wonder why I'm pessimistic.
You may have heard Washington officials say on TV: "No one could have foreseen what would happen."
Except that someone did foresee EXACTLY what was going to happen. When Glass-Steagall was up for discussion, Senator Byron Dorgan (D-North Dakota) made an impassioned speech on the floor of the Senate, asking his colleagues NOT to repeal the regulation. He said:
"I think we will look back in 10 years' time and say we should not have done this but we did because we forgot the lessons of the past, and that which is true in the 1930's is true in 2010. I wasn't around during the 1930's or the debate over Glass-Steagall. But I was here in the early 1980's when it was decided to allow the expansion of savings and loans. We have now decided in the name of modernization to forget the lessons of the past, of safety and of soundness."
Only eight senators opposed the Gramm-Leach-Bliley repeal of Glass-Steagall:
Richard Shelby (R-AL)
Barbara Boxer (D-CA)
Richard Bryan (D-NV)
Byron Dorgan (D-ND)
Russell Feingold (D-WI)
Tom Harkin (D-IA)
Barbara Mikulski (D-MD)
Paul Wellstone (D-MN)
If your senator was around in 1999, and he or she isn't on that list, you can be fairly certain that your senator does the bidding of the Wall Street banksters, not you.
While Wellstone is dead, I find it interesting that none of these other, prescient senators have been tapped by President Obama to fix the crisis. Instead, all roads to high-level White House financial appointments seem to lead through Goldman Sachs.
The Goldman Fix Is in …
The original plan to bail out AIG was dreamed up last fall at a meeting run by then-Treasury Secretary Hank Paulson. Paulson had been CEO of Goldman Sachs before becoming Treasury Secretary. Also attending the meeting was Lloyd Blankenfein, the current CEO of Goldman Sachs and Tim Geithner, then head of the New York Fed.
Paulson and Geithner set the stage for Goldman: AIG was not going to fail.
AIG was not allowed to fail — remember Geithner has taken both bankruptcy and nationalization off the table. So AIG's trading counterparties are being paid 100 cents on the dollar.
Much of the $170 billion bailout AIG has received has gone to pay off obligations to Wall Street banks, such as Goldman Sachs. Goldman has maintained that it got no bailout money from the Treasury, apart from the $25 billion it was "forced" to take. But in fact, it received at least $13 billion through AIG!
It's almost as if Goldman knew that the money would be coming.
Along with Goldman, Bank of America, Merrill Lynch, UBS, JPMorgan Chase, Morgan Stanley, Deutsche Bank and Barclays are all recipients of AIG's payments to its former trading partners.
Former New York Attorney General Elliot Spitzer — who knows a thing about financial shenanigans — recently wrote:
"The appearance that this was all an inside job is overwhelming. AIG was nothing more than a conduit for huge capital flows to the same old suspects, with no reason or explanation."
You can read Spitzer's two articles on the AIG fiasco HERE and HERE .
So here's where an administration's spokesperson says on TV: "Well, it's a mess, but we're doing our best to fix it."
Are they? Let's look at the track record (in both the Bush and Obama administrations) …
* No serious attempt at re-regulation. You'd think the first order of business would be to reinstate Glass-Steagall. The Obama Administration hasn't done that. In fact, while Secretary Geithner recently proposed "sweeping" changes to Federal regulation of the financial system, Glass-Steagall wasn't part of the package.
* Goldman Sachs' unprecedented access to the corridors of power in D.C. continues . Another former Goldman Sachs employee, Gary Gensler, has been nominated to head the Commodity Futures Trading Commission.
* Not even a token attempt at justice. Where are the indictments? Why aren't we seeing Wall Street executives frog-marched to the paddy wagons? And don't tell me about Bernie Madoff — he was a rogue operator who turned himself in, not the head of one of the major Wall Street banks that have ripped us off through systematic pillaging. Indeed, everything I see tells me that our government is a willing co-conspirator with the robber barons.
* The looting continues . In just one example, Citibank and Bank of America are now using the TARP funds they received not to extend more loans as they were supposed to, but to buy up more of the toxic debt they're supposed to be getting rid of! Why? Because they know that, under Geithner's plan, they will be able to sell the toxic debt at a substantial profit as the government props up the market for those troubled assets. These banksters are speculating with the same taxpayer money that was supposed to pull them back from the abyss.
* The threats continue . In the Bush administration, Treasury Secretary Paulson was able to get his original bailout package passed by Congress in a very simple manner. According to Representative Paul Kanjorski, the Capital Markets Subcommittee Chair, Paulson told them, with a great sense of urgency, that there was an electronic run on the banks. And if Congress didn't go along with Paulson's rescue plan, Kanjorski recalled being told, "It would have been the end of our economic system and our political system as we know it."
Well, it's déjà vu all over again. Geithner recently told the House Committee on Financial Services: "The U.S. Government does not have the legal means today to manage the orderly restructuring of a large, complex, non-bank financial institution that poses a threat to the stability of our financial system."
Geithner could be sincere, in which case, we are in a very dire situation indeed. I'm just not sure he's the right man to reform the system, because I can't tell whose side he's on.
After all, last week, the Obama administration urged the U.S. Supreme Court to stop New York and other states from enforcing their fair-lending and other consumer-protection laws against federally chartered banks, including JPMorgan Chase and Wells Fargo & Co. This is the same position that the Bush administration had and a slap in the face for consumer and civil-rights groups.
Our government is going to have to choose whose side it is on. It's a choice that — if not correct — could bring this country to the brink of anarchy.
Could We Go the Way of Argentina?
Desmond Lachman — former chief strategist for emerging markets at Salomon Smith Barney and a long-time official with the IMF — recently wrote in The Washington Post that comparing the economic crisis in the U.S. to Japan's "lost decade" was wrong. Instead, he said a better comparison is to Argentina, Russia, Thailand, and other countries that collapsed both economically and politically, weighed down by their own corruption.
He wrote: "Watching Goldman Sachs's seeming lock on high-level U.S. Treasury jobs as well as the way that Republicans and Democrats alike tiptoed around reforming Freddie Mac and Fannie Mae — among the largest campaign contributors to Congress — made me wonder if the differences between the United States and the Asian economies were only a matter of degree."
From what we've seen so far, the only response to the catastrophic collapse of major American financial institutions is to try and reinflate the balloon with our tax dollars. There is no serious attempt at reform. And without that, there can be no real recovery. And Lachman's words could come back to haunt us.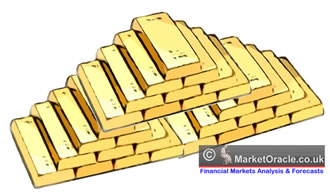 Physical gold can be a good investment for economic hard times. But it isn't the only investment you might consider.
What to Consider Investing in When Your Government Is in Danger of Collapsing …
Physical gold and silver are good investments for economic hard times. But they aren't the only investments you might consider. Cash is king, at least in the short run. And I've spoken to people from Argentina who said what saved them during their country's collapse was getting their money out of the country — in other words, investing abroad.
The trouble is, this time around, the entire world seems to be going down together.
Land is also a good investment, at least if you think the markets are approaching a bottom. My crystal ball is cloudy on that one.
As for the market, I think certain commodities, especially precious-metals related issues, still have a lot of promise. And if the markets tank, you can always play that move with inverse ETFs.
I think the best lesson is to be diversified. Spread your assets out. You can hope for a speedy recovery, but be prepared for a long-term downturn. When the government isn't seriously addressing the problems we face, that's probably the best you can do.
All the best,
Sean
P.S. For daily updates on gold and more, check out my new blog at http://blogs.uncommonwisdomdaily.com/red-hot-energy-and-gold/
This investment news is brought to you by Money and Markets . Money and Markets is a free daily investment newsletter from Martin D. Weiss and Weiss Research analysts offering the latest investing news and financial insights for the stock market, including tips and advice on investing in gold, energy and oil. Dr. Weiss is a leader in the fields of investing, interest rates, financial safety and economic forecasting. To view archives or subscribe, visit http://www.moneyandmarkets.com .
© 2005-2019 http://www.MarketOracle.co.uk - The Market Oracle is a FREE Daily Financial Markets Analysis & Forecasting online publication.

Only logged in users are allowed to post comments.
Register/ Log in