Analysis Topic: Commodity Markets - Metals, Softs & Oils
The analysis published under this topic are as follows.

Monday, June 04, 2007
Well, the U.S. reported this past week data on economic performance in the first quarter of 2007. Real growth was 0.6% and the GDP deflator, or inflation, was 3.6%. Speculative fund managers took this as good news, somehow. Inflation during the first quarter was running six times that of inflation. In short, most of what is going on in the U.S. economy has been inflation. Then on Friday came the report on employment in the U.S. Someday the truth will be told on the employment report, but not this week. About 1/3 of the workers added in May were jobs at bars, restaurants, and hotels. Is that economic growth, or laid off construction and factory workers taking any job they can find?
Basic Trend: $Gold Up. Investors should focus on Buy signals. Strategy: Positive, per Investment Policy of Oct 2004.
Investment Policy: Act on buy signals. Hold long-term core position.
Read full article...

Read full article...
---

Monday, June 04, 2007
"...The supply of cheap gold looks to be nearing its end. The supply of cheap money, on the other hand, only grows greater..."
ONCE UPON A TIME in the market place, says Economics 101, money had three primary functions.
A medium of exchange for buying and selling, money was also a unit of account for pricing those deals. Thirdly, it had to act as a store of value – a way of freezing wealth, ready to spend at some point in the future.
Read full article...

Read full article...
---

Sunday, June 03, 2007
Joe Nicholson writes : "With the market all but giving up on rate cut relief this week, the proliferation of leveraged buyouts and junk bond issuance, and the steady surge in bank loans and global liquidity, give every indication that real interest rates might be too low." ~ Precious Points: No Lack of Support , May 27, 2007
Weeks ago this update said that what gold needs to get back its shine is a rebound in the U.S. economy. As you know, this is exactly what recent data has suggested, and the metals have acted accordingly. The focus for some time here has been on the Fed's open market activity, and specifically the "sloshing" repo funds. After breaking the streak of reverses two weeks ago with a modest $3 billion net addition, last week concluded with a net add of $6.75 billion. In a rate-targeting regime, this reflects perception of a stronger economy driving demand for more base money, and the overall liquidity is an ideal environment for appreciation of precious metal.
Read full article...

Read full article...
---

Sunday, June 03, 2007
A bounce off the long term moving average line and it looks like more smiles ahead. What could go wrong? We'll soon know if anything.
GOLD: LONG TERM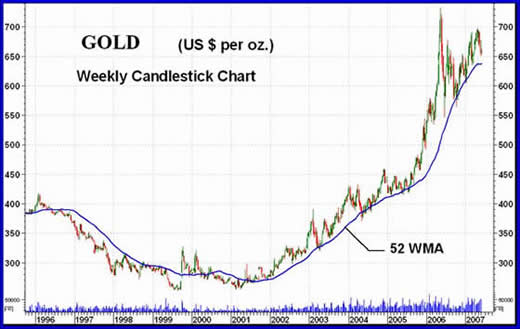 Read full article...

Read full article...
---

Saturday, June 02, 2007
Earlier this past week I had intermediate-term sell signals on both crude oil and unleaded gasoline. Given that we are just now approaching the hurricane and summer driving seasons, I have to wonder if these signals are going to be brief or if they are discounting the season ahead and if lower energy prices truly lie ahead.
Read full article...

Read full article...
---

Saturday, June 02, 2007
Back in the depression year of 1932 silver was suffering. It had hit a low price of 24 cents per troy ounce as the forces of deflation assaulted commodities across the board. Could things get any worse as no end seemed in sight to the widespread massacre of assets across America and the world?
As it turned out, this was the nadir year for silver as prices began an upturn that led to a zenith as yet unparalleled. Between 1932 and 1980 silver advanced from 24 cents to 50 dollars an ounce. That is a 200-fold increase over 48 years!
Read full article...

Read full article...
---

Saturday, June 02, 2007
Vive La France !
France remains a key global leader in the use of nuclear power, garnering more than 80 percent of its electricity from nuclear plants. The recent election of Nicolas Sarkozy as president of France has bullish implications for the future of nuclear power.
Read full article...

Read full article...
---

Friday, June 01, 2007
Last year the Chinese government decided to change its policy on the composition of its reserves to reflect the composition of its trading partners. This was an effort to hold currencies sufficient to cover 'rainy days' with these partners. But as reserves are at levels way above those needed for a 'rainy day', the Chinese government finds itself holding well over a $ trillion more than it needs and this amount is rising by $250 billion a year and sure to rise.
Read full article...

Read full article...
---

Friday, June 01, 2007
Scott Wright writes : Five years into its amazing bull market, the king of the base metals continues to hold strong through a renewed onslaught of adversity. After an exciting 2006 that saw copper shatter all-time highs, this red metal continues to trade at levels that most thought improbable several years ago.
Copper's success has given it quality time in the spotlight which has ultimately garnered it increasing mainstream attention. Even on CNBC when headline metals quotes are periodically displayed, copper now shares real estate with gold and silver. But is the fame and fortune that copper had thrust upon it sustainable?
Read full article...

Read full article...
---

Thursday, May 31, 2007
The fundamental outlook for silver continues to be extremely bullish!
In 2003 I remember reading an article by Douglas Kanarowski titled: " 70 Approaching Forces for Higher Silver prices ". If Mr. Kanarowski were to re-write the article today, he could add several more reasons! [*]
Silver is being utilized more and more in nanotechnology applications. According to a recent report from NanoMarkets, a leading industry analyst firm based in California, the market for silver conductive inks is expected to rise from the current 176 million dollars per annum to 1.2 billion dollars during next 7 years. A seven-fold increase!
Read full article...

Read full article...
---

Thursday, May 31, 2007
"...Gold just closed out its fourth best month ever. Its monetary opponents, meantime, continue scrapping over which currency can sink the lowest, the fastest..."
OIL DOWN, gold up – and still the mass of investors, led by Wall Street, can't figure out what's driving this six-year bull market in bullion.
Read full article...

Read full article...
---

Thursday, May 31, 2007
Sean Brodrick writes: Last week, while at the U2007 Global Uranium Symposium, I visited three uranium projects. Two were on the conference agenda, one I was lucky to attend on a smaller, private tour. These tours taught me a lot about a particular type of uranium mining — one that will likely become the future face of uranium mining in the U.S.
Is there profit potential in this? You bet!
All three projects I visited use In-Situ Recovery (ISR). Basically, ISR uses water pumped under high pressure to extract uranium from rocks. At the Texas sites, the water is injected with a mix of either oxygen or carbon dioxide to dissolve the uranium from the surrounding rock.
It sounds weird, but it works. Oh, man, does it work! Using basically carbonated water, you can recover about 75% of a uranium resource and never dig a pit. Let me tell you why this technology is so important here in America …
Read full article...

Read full article...
---

Thursday, May 31, 2007
I know this subject probably gets boring to hear about, but it is still at the top of the charts so it deserves coverage.
We are talking about uranium of course. But what about gold? Everyone is panicking over gold and I can tell by the emails I receive that many are wringing their hands in worry and anxiety. Do I know what gold will do tomorrow? Yes, I do. It will do what it wishes to do regardless of projections from optimists or the dooms day club.
Read full article...

Read full article...
---

Wednesday, May 30, 2007
Gold and the HUI have been trending down. I hear various reasons proffered about why – central banks are selling – that is why gold is down – etc. Indeed, the Spanish central bank has sold 80 tons of gold in the last two months because they are seriously low on foreign reserves. That is another story.
But, I see very good macroeconomic reasons for gold to be tepid and down now. In fact, things like what the USD does are far more weighty to gold, than temporal central bank selling of gold. True, 40 tons is a lot, but compared to the financial mass of the USD for instance, that is literally a drop in the bucket.
Read full article...

Read full article...
---

Wednesday, May 30, 2007
Part One of a New Series Gold Standard University : Gold Vanishing into Private Hoards
Introduction. While doing research in the Library of the University of Chicago in the early 1980's I came across the unfinished manuscript of a book with the title: The Dollar: An Agonizing Reappraisal . It was written in the year 1965. It has never been published (although it has received private circulation). The author, monetary scientist Melchior Palyi, a native of Hungary, died before he could finish it. Monetary events started to spin out of control in 1965, culminating in the default on the international gold obligations of the United States of America six years later in August,1971. Palyi had correctly prophesied that event which occurred after he died.
Read full article...

Read full article...
---

Wednesday, May 30, 2007
These guys should take this comedy routine on the road. It was just 10 days ago that I penned a piece called,
Derivative Disaster: Deriving the Truth
, where I commented,
Read full article...

Read full article...
---

Monday, May 28, 2007
Oroborean writes: This week saw a full cycle in the 60-min gold trend cycle chart and, as warned, the move up did not see a dramatic increase in price. This, of course became it's own warning signal. Stocks and metals both saw a pullback on Thursday that had most major indices breaking through long-standing trendlines and the 60-min gold chart racing back towards the bottom.
Read full article...

Read full article...
---

Sunday, May 27, 2007
Gold just keeps moving one day up and another day down, but in the end, mostly down. Is there an end?
GOLD : LONG TERM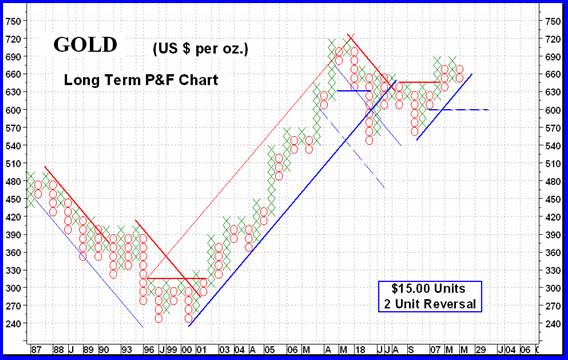 Read full article...

Read full article...
---

Friday, May 25, 2007
While we await silver to press onto new highs, what is the current situation with silver mining stocks? If you go to Yahoo! Finance, you will find various indices to represent various mining companies with an emphasis on gold such as the HUI and the XAU. You will of course be able to check up on your favourite silver stock but there is no silver stock index one can consult. For that reason, I formulated my own Silver Analyst Stock Composite index or the SASC index for short. Its chart for the last 5 years is shown below being a composite of 14 well known stocks with a silver background. The 50 day and 200 day moving averages are also shown in red and green.
Read full article...

Read full article...
---

Friday, May 25, 2007
Adam Hamilton writes: I have loved reading my entire life, so when I am not studying the financial markets one of my favorite pastimes is reading great fiction. My favorite genre these days is the rich adventure/action stories spun out by brilliant authors like Clive Cussler, Jack Du Brul, and James Rollins. A good book makes even the very best movies seem like shallow grade-school plays by comparison.
Adventure stories often have history woven in as the heroes chase after some priceless artifact. Usually some ancient priest-type caste existed that hid the artifact away to protect it from a calamity in the past so our heroes can unlock its secrets in the present. These historical priests often used special knowledge that only they had, usually scientific in nature, to cement their power in the society.
Read full article...

Read full article...
---