U.S. Dollar Fool's Gold Rally, Protect Yourself Against Worthless Fiat Paper
Currencies
/
US Dollar
Feb 21, 2010 - 06:24 AM GMT

Although in truth, it is valueless paper; in our collective reality, it is real and has legal purchasing powers. Despite such enslavement by government decree, it does not stop us from trading it, and hedging against its true intrinsic value.
The fool's gold to which we refer is none other than the world's reserve currency, the $USD.
Let us go back in time a month and share with you our thoughts on how this sorry example of a king fiat currency (world reserve no less) had been behaving.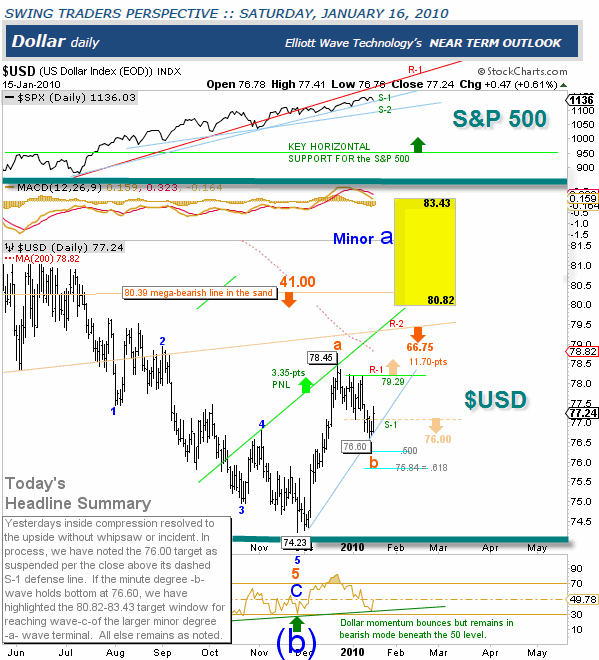 In late November of 2009, with gold breaking past the 1220 level, we posited that the $USD was putting in its long awaited intermediate (b) wave base at the 74.23 handle.
We had also been observing the beneficiary effects that the weak dollar was having on the S&P 500, and keenly monitoring three critical S&P uptrend lines established from its low.
In the upper panel of our $USD chart, we insert a daily line chart of the S&P 500 to observe the dollars inverse relationship to equities, and to monitor the S&P's status relative to key uptrend support lines.
In the January 16 Near Term Outlook, from its 74.23 base, we illustrated the sharp rise in the $USD to the 78.45 level as a minute degree -a- wave, and the consolidation low of 76.60 as its intervening -b- wave.
In that issues "Headline Summary" we highlighted an upside price projection window for the minute -c- of the larger minor-degree -a- wave in the 80.32-83.43 window.
A month later...
Each of our illustrated wave terminals shared a month in advance had proved accurate.
On Friday the 19th following the fed's surprise rate hike, the dollar achieved brief access into our upside price projection window with a gap-higher open at 81.25. Reaching a print high of 81.34 early in the session, the dollar reversed to the downside for the remainder of the day and closed the session back beneath our capture windows 80.82 threshold.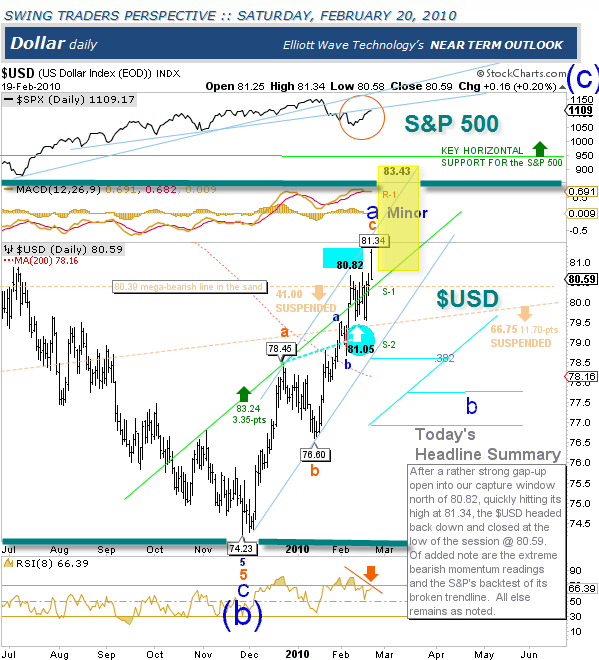 Whether accessed through our (NTO) Near Term Outlook, (PTP) Position Traders Perspective, or Platinum service, members following our $USD charts gain clear forward-looking insight as to the intermediate and longer-term paths of valuation the dollar is destined to take.
Protect yourself:
Hedging against worthless fiat paper by owning physical gold is not a complicated endeavor.
The simple hedging strategy becomes clear if one compares owning physical to owning an insurance policy.
How much coverage one needs is contingent upon the amount of protection they desire relative to their net worth. A minimum of somewhere between 10-20% is generally fitting.
Once one acquires their desired level of protection, consider the permanent portfolio hedge as a dynamic insurance policy, which requires periodic long-term review for renewal and rebalancing.
Each year or two, one would then evaluate ones current net worth relative to the current value of gold held and determine where that value resides relative to the 10-20% protection one wishes to maintain.
If the gold value is way up past 10-20% of current net worth, one could opt to renew/rewrite coverage by selling a portion of their physical for cash to maintain the desired ratio.
If the gold value is way down beneath 10% of current net worth, one could opt to renew/rewrite coverage by purchasing enough additional physical at the lower price to bring their coverage back into the desired protection ratio.
No speculation, no trading, just a simple self-underwritten lifelong insurance program. It's that simple.
By Joseph Russo
Chief Publisher and Technical Analyst
Elliott Wave Technology
Email Author
Copyright © 2010 Elliott Wave Technology. All Rights Reserved.
Joseph Russo, presently the Publisher and Chief Market analyst for Elliott Wave Technology, has been studying Elliott Wave Theory, and the Technical Analysis of Financial Markets since 1991 and currently maintains active member status in the "Market Technicians Association." Joe continues to expand his body of knowledge through the MTA's accredited CMT program.
© 2005-2019 http://www.MarketOracle.co.uk - The Market Oracle is a FREE Daily Financial Markets Analysis & Forecasting online publication.

Only logged in users are allowed to post comments.
Register/ Log in