Profit From the Global Thirst for Clean Water
Stock-Markets
/
Water Sector
Jul 28, 2010 - 08:29 AM GMT


About the same time I was traipsing around Singapore last month, around 14,000 of the world's top business, academic, and government experts from 85 countries gathered in Singapore to learn the newest water-technology developments at the Singapore International Water Week 2010 conference.
The global economy may be filled with uncertainly, but the world's thirst for water is growing like mad. FACT: A total of $2.8 BILLION worth of water infrastructure deals were concluded at the Singapore conference.
All those billions are being spent for one reason: Clean drinking water is in short supply. It is estimated that the lack of pure water is the single greatest killer in the world: Four children die each minute from illness caused by a lack of drinking water.
The problem is not that the world is running out of water. There is exactly the same amount of water today as there was a million years ago, but a soaring global population and groundwater pollution is creating an acute shortage.
Only 2.5% of the world's water is fit for human consumption and two-thirds of that is locked away in icecaps and glaciers. This percentage has been fixed since the last ice age.
Water is not like gold or oil where a new discovery will suddenly increase the supply and there is no substitute for water.
Clean drinking water is in short supply, thus a potentially valuable commodity.
According to the International Water Management Institute (IWMI), one-third of the world's population is short of water. In fact, water is expected to become so scarce in the future that the vice president of the World Bank warned that "the wars of the next century will be about water."
Yikes!
Clearly, there is some investment opportunity buried in that need for clean drinking water. The easiest way, as usual, is through exchange traded funds. There are four that specialize in water-related stocks.
First Trust ISE Water Index Fund (FIW) has a 61.9% weighting in industrials; 22.4% in utilities.
Claymore S&P Global Water Index ETF (CGW) has a 43.9% weighting in industrials; 32.5% in utilities.
PowerShares Water Resources Portfolio (PHO) is the largest water ETF, with $1.04 billion in assets; 84.8% industrials; 12.3% utilities.
PowerShares Global Water (PIO) has a 50.5% weighting in industrials; 32.7% weighting in utilities.
All have similar goals, so it pretty much depends on whether you want to invest in the water delivery companies (utilities) themselves or companies that are creating the hardware and technology to clean up the water.
Seven Unsettling Water Factoids:
The average American lets eight liters of water go down the sink while brushing their teeth. Americans use 25 times the amount of water on a daily basis than emerging country counterparts. Two-thirds of the world's fresh water is used to irrigate crops. Americans drench their gardens with seven billion gallons of water a day. 80% of China's rivers are too polluted to support fish life. 1.1 billion people globally have no access to clean water.
China has 21% of the world's population, but only 7% of the water.
If you're more of an individual stock investor, you should take a look at Singapore-based Hyflux, one of the most exciting (but high-risk) water companies that I've found. Hyflux has developed advanced membrane technology that has modernized the water purification industry and is recognized as one of the world's leading water treatment companies with operations in Singapore, China, India, and Dubai.
Hyflux was the first water treatment company to be listed on the Singapore stock exchange in 2001 and was added to the Straits Times Index — the Singapore equivalent of the Dow Jones — in March of 2005.
Hyflux's secret weapon is its revolutionary seawater desalination technology. Desalination is the process that removes salt, minerals, and impurities from seawater to produce potable drinking water.
Hyflux's patented reverse osmosis system uses permeable membranes to filter out dissolved material or fine solids.
Hyflux's SingSpring desalination plant is Singapore's first seawater desalination plant and delivers 10% of Singapore's water needs. The plant produces 136,380 meters of clean drinking water a day and was recently awarded the Desalination Plant of the Year by Global Water Intelligence for its contribution to the international desalination industry.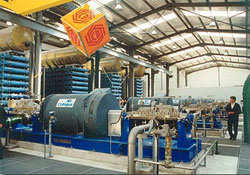 Water purification and treatment facilities are the wave of the future.
In fact, the Singapore government is so enamored with the SingSpring plant that its government investment arm, Temasek Holdings, recently purchased a 50% stake in it. That tells you volumes about how central desalinization is to the future of Singapore.
Hyflux isn't the only company in Singapore working on new water purification technologies. Singapore is already home to more than 50 water-engineering companies with an emphasis on innovation, research and development. They include GE, Siemens and Black & Veatch Corp. of the U.S.; Delft Hydraulics of the Netherlands; and Nitto Denko of Japan.
At least as important, Singapore has two world-class research universities and 12 research institutes dedicated to water engineering, employing hundreds of scientists.
It also touts its strategic location in Asia where India, China and Vietnam invest heavily. "A lack of clean water and the destruction of the environment are acute problems in Asia, a region home to almost three billion people," according to Singapore's Economic Development Board. "This presents vast opportunities."
Hyflux does trade on the over-the-counter U.S. pink sheets market under the ticker HYFXF.PK and has very thin trading volume, but is actively traded on the Singapore stock exchange as 600.SI.
Don't rush out and buy Hyflux tomorrow. The desalinization opportunity is a long, multi-decade story, so you will have plenty of time to wait for it to go on sale.
But make no mistake, water is going to be one of the most powerful and most lucrative investment trends you will see in your lifetime and Asian water companies, like Hyflux, should be some of the biggest winners.
Best wishes,
Tony
This investment news is brought to you by Uncommon Wisdom. Uncommon Wisdom is a free daily investment newsletter from Weiss Research analysts offering the latest investing news and financial insights for the stock market, precious metals, natural resources, Asian and South American markets. From time to time, the authors of Uncommon Wisdom also cover other topics they feel can contribute to making you healthy, wealthy and wise. To view archives or subscribe, visit http://www.uncommonwisdomdaily.com.
© 2005-2019 http://www.MarketOracle.co.uk - The Market Oracle is a FREE Daily Financial Markets Analysis & Forecasting online publication.

Only logged in users are allowed to post comments.
Register/ Log in