Making the U.S. Dollar Safer: Return ON Your Money
Currencies
/
US Dollar
Jul 20, 2011 - 11:03 AM GMT

Today's debate may be focused on whether the debt ceiling will be raised, but it's tomorrow's debate that really concerns us. Last week, Standard & Poors made it clear that raising the debt ceiling would be one thing, but in order to withhold a downgrade to the U.S. credit rating, the U.S. must show that it is not "maxed out." In other words, show that it would be able to manage another crisis, or a potential war. What would be the implications of a credit downgrade? And what policies would need to be engaged in, in order to avert a downgrade and strengthen the U.S. dollar over the long-term?
Just recently, investors shrugged off the notion that ratings agencies might downgrade U.S. debt. After all, just about all U.S. debt is denominated in U.S. dollars, thus making an outright default more of a theoretical possibility, given that the Federal Reserve (Fed) is capable of simply printing money as the lender of last resort. However, that view has been weakened of late:
The debt ceiling mandated by Congress may lead to an actual default. While raising the ceiling mostly appears to be a game of political chicken, the fallout from the subprime debacle has meant that ratings agencies do not want to be caught late in downgrading anyone these days.
Presently, ratings agencies appear to be more closely scrutinizing inflation, as a result of printing money, as a form of default.
Even if the Fed were to print money to cover any shortfalls not financed by private and foreign lenders, the math simply does not add up. In the absence of entitlement reform, mandatory spending will be so overwhelming down the road that a default may be inevitable. Not today, not tomorrow, but in the decades to come.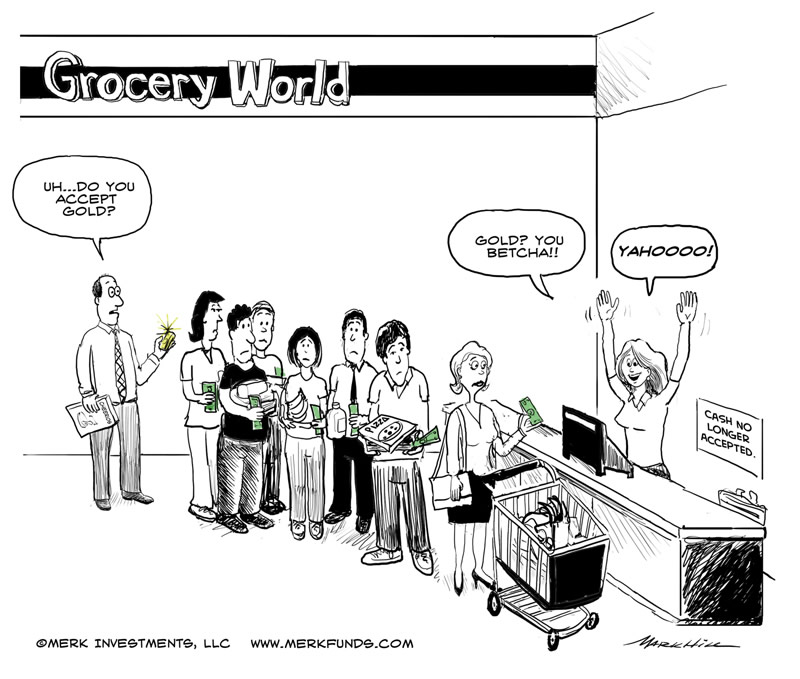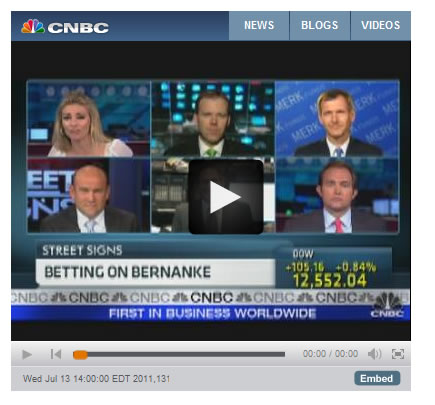 Unfortunately, we have seen in Europe that the only language policy makers understand is that of the bond market; it is rather astounding how weak European governments, at times minority governments, have engaged in substantial reform and austerity measures. In our assessment, because the government and Fed came to the rescue of everyone, the will for true reform was lost in the U.S.; it may require a derailment of the U.S. bond market for policy makers to take reform seriously here. Unlike the Eurozone, however, the U.S. has a substantial current account deficit, which potentially makes the U.S. dollar far more vulnerable to a misbehaving bond market than the euro.
What are the implications for the U.S. dollar if ratings agencies downgrade the U.S.'s credit rating? Two forces would play out: on the one hand, the cost of borrowing for the U.S. might climb, making it all the more difficult to attract money to finance the current account deficit. This downward pressure on the U.S. dollar may be offset by a general de-leveraging that may ensue: as U.S. debt is downgraded, anyone using U.S. government debt as collateral for leveraged transactions may need to provide more collateral. As an example, in the futures markets, 90% of the face value of Treasury Bills is typically counted as collateral towards potential losses of open positions. In face of a lower credit rating, more collateral may be required for the same positions. Differently said: we may see another wave of global de-leveraging. Lehman Brothers is a stark example of what can happen when leveraged players are unable to de-leverage. Different from 2008 is that we now know the playbook of policy makers; except, of course, that Congress (and parliaments around the world) might not come to the rescue of the markets because of the political risks associated with further bailouts. That then puts the pressure on central banks; in this context, the Fed has been the most willing to keep the U.S. and global monetary system lubricated. If nothing else, heightened volatility may result (which in itself causes de-leveraging, making it all the more difficult for monetary policy to stem against market forces to reflate the financial system).
Looking beyond those challenges, what would it take for the U.S. dollar to reverse its long-term decline, so that investors not only get a return of their money, but a return on their money? Higher interest rates won't necessarily do it: historically, when rates go up in the U.S., the bond market experiences a bear market. Because foreigners tend to hold a lot of U.S. bonds, the U.S. dollar may come under pressure when bond holdings are liquidated. The U.S. dollar may only benefit in the late stages of a rate hiking cycle, as a new bond bull market is anticipated.
What we are looking for, plain and simple, are policies that foster increases in savings and investment. In contrast, U.S. policies appear to promote growth at any cost and, if anything, act as a disincentive to saving. Policy makers talk about increasing savings and investment, but typically prefer that to happen once they are out of office: promoting near-term growth via ongoing spending programs and misguided policies aimed at propping the consumer up are perceived to resonate better with voters. With regards to investments, allowing companies to write off their entire investment immediately would go a long way; instead, proposals on the table in the budget debate suggest exactly the opposite, further extending the time over which investments need to be amortized. If businesses were given the choice to buy new machinery or pay Uncle Sam, many businesses would choose to invest. Did I mention machinery? Indeed, such a simple change in policy would support investment in capital-intensive industries, rather than push such industries overseas.
Savings may be promoted through higher interest rates. But there's also a controversial fiscal tool, namely a consumption tax. A national sales tax or an energy (carbon) tax may provide an incentive to save. However, politically, such taxes are non-starters.
To get the U.S. budget on a sustainable footing, mandatory spending must be addressed. Cutting discretionary spending to zero and taxing the "wealthy" at 100% simply won't do the trick in the long-run. Mandatory spending, i.e. spending on Social Security, Medicare, Medicaid and other health programs must be reformed. When social security was introduced in 1935, the average life expectancy was less than 62 years; currently, it is over 78 years. Countries are increasingly linking pension benefits to life expectancy (see OECD report); the U.S. must follow suit to keep social security solvent. Similarly, policy makers must find ways to get the cost of health care under control. "Eliminating inefficiencies" and price controls won't do. Proposals to have benefits means-tested and to have beneficiaries take a more direct stake in the cost, such as through co-pays, are possible avenues.
At its heart, it is an issue of credibility. In the early '80s, former Fed Chair Paul Volcker had to raise interest rates dramatically to "beat" inflation, to show the markets that the Fed meant business. Today, Congress will need to show it is serious about a sustainable budget and go far beyond the "spend now, save later" approach promoted by current Fed Chairman Bernanke. As radical as some of the proposals on the table sound, they don't even scratch the surface if long-term sustainability issues are not addressed.
We have argued for years that there may be no such thing anymore as a safe asset and investors may want to take a diversified approach to something as mundane as cash. Please join us for a Webinar on Thursday, July 21 and sign up to our newsletter to be in the loop as this discussion evolves. We manage the Merk Absolute Return Currency Fund, the Merk Asian Currency Fund, and the Merk Hard Currency Fund; transparent no-load currency mutual funds that do not typically employ leverage. To learn more about the Funds, please visit www.merkfunds.com.
By Axel Merk

Manager of the Merk Hard, Asian and Absolute Return Currency Funds, www.merkfunds.com

Axel Merk, President & CIO of Merk Investments, LLC, is an expert on hard money, macro trends and international investing. He is considered an authority on currencies. Axel Merk wrote the book on Sustainable Wealth; order your copy today.
The Merk Absolute Return Currency Fund seeks to generate positive absolute returns by investing in currencies. The Fund is a pure-play on currencies, aiming to profit regardless of the direction of the U.S. dollar or traditional asset classes.
The Merk Asian Currency Fund seeks to profit from a rise in Asian currencies versus the U.S. dollar. The Fund typically invests in a basket of Asian currencies that may include, but are not limited to, the currencies of China, Hong Kong, Japan, India, Indonesia, Malaysia, the Philippines, Singapore, South Korea, Taiwan and Thailand.
The Merk Hard Currency Fund seeks to profit from a rise in hard currencies versus the U.S. dollar. Hard currencies are currencies backed by sound monetary policy; sound monetary policy focuses on price stability.
The Funds may be appropriate for you if you are pursuing a long-term goal with a currency component to your portfolio; are willing to tolerate the risks associated with investments in foreign currencies; or are looking for a way to potentially mitigate downside risk in or profit from a secular bear market. For more information on the Funds and to download a prospectus, please visit www.merkfunds.com.
Investors should consider the investment objectives, risks and charges and expenses of the Merk Funds carefully before investing. This and other information is in the prospectus, a copy of which may be obtained by visiting the Funds' website at www.merkfunds.com or calling 866-MERK FUND. Please read the prospectus carefully before you invest.
The Funds primarily invest in foreign currencies and as such, changes in currency exchange rates will affect the value of what the Funds own and the price of the Funds' shares. Investing in foreign instruments bears a greater risk than investing in domestic instruments for reasons such as volatility of currency exchange rates and, in some cases, limited geographic focus, political and economic instability, and relatively illiquid markets. The Funds are subject to interest rate risk which is the risk that debt securities in the Funds' portfolio will decline in value because of increases in market interest rates. The Funds may also invest in derivative securities which can be volatile and involve various types and degrees of risk. As a non-diversified fund, the Merk Hard Currency Fund will be subject to more investment risk and potential for volatility than a diversified fund because its portfolio may, at times, focus on a limited number of issuers. For a more complete discussion of these and other Fund risks please refer to the Funds' prospectuses.
This report was prepared by Merk Investments LLC, and reflects the current opinion of the authors. It is based upon sources and data believed to be accurate and reliable. Opinions and forward-looking statements expressed are subject to change without notice. This information does not constitute investment advice. Foreside Fund Services, LLC, distributor.
© 2005-2019 http://www.MarketOracle.co.uk - The Market Oracle is a FREE Daily Financial Markets Analysis & Forecasting online publication.

Only logged in users are allowed to post comments.
Register/ Log in