U.S. Dollar: Don't worry, be happy
Currencies
/
US Dollar
Sep 13, 2012 - 10:24 AM GMT
May we suggest a Twitter version of today's FOMC statement: "Don't worry, be happy! " – No, the economic outlook hasn't improved. In fact, the Fed may want you to take a valium to stomach the ride ahead. Alternatively, if you don't get mollified by the Fed's "communication strategy", you may want to consider taking action to protect the purchasing power of your hard earned dollars.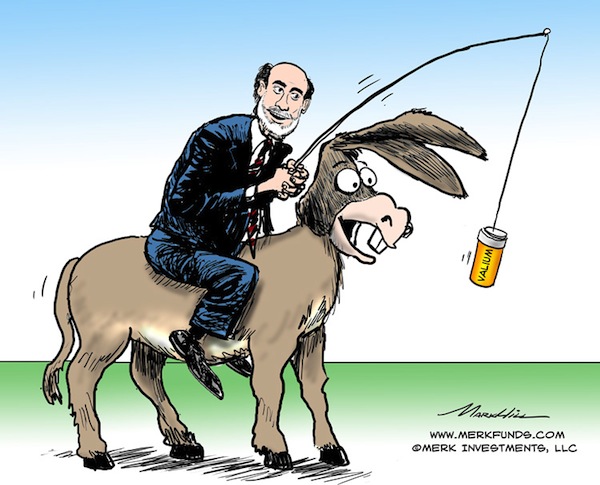 Here's the challenge: the Federal Reserve (Fed) wants to keep interest rates low across the yield curve (from short-term to long-term rates) to aid the economic recovery. But good economic data might send the bond market into a tailspin, i.e. raise long-term rates and thus cause massive headwinds to the economic recovery. We got a taste of how quickly the bond market can sell off earlier this year when the economy appeared to pick up some steam. Higher interest rates would further encourage the major deleveraging that market forces still warrant, not a desirable scenario from our understanding of Fed Chairman Bernanke's thinking.
Engaging in further rounds of asset purchases ("Quantitative Easing", "QE3", "QEn+1") may alleviate some of those upward pressures on interest rates, but the moment a program is announced, the market prices it in and looks ahead, threatening to mitigate any lasting impact of QEn+1. Picture the Fed as trying to hold a carrot in front of the donkey, well, market, to make us believe another stimulus is coming, without actually giving it. That way, the Fed can print less money to achieve its goals. The Fed calls it communication strategy.
Some have suggested a more open-ended approach to asset purchases. But that would likely come with some sort of guidance as to when to stop it, such as when a certain level of unemployment or nominal growth is reached. Given that everything Bernanke has done has been signaled well ahead of time (the blogosphere is full of the "best kept secret", the likelihood of more QE), introducing a completely new concept is rather un-Bernanke-ish. You may not agree with Bernanke, but as an investor please don't act surprised.
In recently released FOMC minutes, the Fed tells us that it might communicate to the market that rates may remain low even as the economy recovers. Bingo! We have long argued that Bernanke considered the early monetary tightening during the Great Depression as a grave mistake, as it undid all the "progress" that had been achieved. But more to the point, the Fed needs to get our attention away from the economy. By keeping the link to the economy, the Fed will always struggle to keep the upper hand on the bond market. So forget about the carrot: we need valium, not carrots. By communicating with the market that rates will remain low independent of how the economy might perform, the bond market just might not be selling off as aggressively as economic growth picks up.
That's exactly the path we believe the Fed is going to go down. It will be interesting, however, to see what the Fed's explanation will be. We doubt they will use the valium analogy. Some Fed watchers would like to see a nominal GDP target or something similar, but don't bet your donkey on Bernanke going that far.
The basic challenge is – and we are interpreting here as we don't think the Fed or any central banker in office would ever frame it this way: the Fed wants to have inflation, wants to move the price level higher to bail out home owners, wants to push up nominal wages, and wants to push up nominal GDP to make the debt burden more bearable. But the Fed doesn't want the market to price in inflation, as that would push interest rates up.
That's why we may be heading ever more into the "Land of Make-Believe." But as investors enjoy their valium, the U.S. dollar is at risk of melting away under their feet. Drugged up, we are too busy laughing at Greece and doling out advice to Europe to notice that our "don't worry, be happy" approach might lead to rather unhappy purchasing power. If you think you are above the fray, let me just ask whether you have watched the euro in recent months? As of late, that perceived weakling of a currency appears to be giving the greenback a run for its money. We are not suggesting that investors dump their U.S. dollars and exchange them all for euros. However, we would like to encourage investors to consider embracing currency risk, for example through a managed basket of currencies, as a way to manage the risk posed to the purchasing power of the U.S. dollar. Adding currency exposure to a portfolio may have valuable diversification benefits.
Some sympathize with the ever greater complexity of monetary activism around the world. But it's really rather simple: there's too much debt in the world. To deal with the debt, countries may deflate, default or inflate. In the US, we have what both Bernanke and his predecessor Greenspan have called the printing press; as such, so their argument goes, the U.S. dollar is safe - in nominal terms at least. Greece is not capable of procuring valium, which creates a different set of challenges. But stop pitying Greece and consider taking action to protect your purchasing power at home.
Please sign up to our newsletter to be informed as we discuss global dynamics and their impact on currencies. Please also follow me on Twitter to receive real-time updates on the economy, currencies, and global dynamics.

Manager of the Merk Hard, Asian and Absolute Return Currency Funds, www.merkfunds.com

Axel Merk, President & CIO of Merk Investments, LLC, is an expert on hard money, macro trends and international investing. He is considered an authority on currencies. Axel Merk wrote the book on Sustainable Wealth; order your copy today.
The Merk Absolute Return Currency Fund seeks to generate positive absolute returns by investing in currencies. The Fund is a pure-play on currencies, aiming to profit regardless of the direction of the U.S. dollar or traditional asset classes.
The Merk Asian Currency Fund seeks to profit from a rise in Asian currencies versus the U.S. dollar. The Fund typically invests in a basket of Asian currencies that may include, but are not limited to, the currencies of China, Hong Kong, Japan, India, Indonesia, Malaysia, the Philippines, Singapore, South Korea, Taiwan and Thailand.
The Merk Hard Currency Fund seeks to profit from a rise in hard currencies versus the U.S. dollar. Hard currencies are currencies backed by sound monetary policy; sound monetary policy focuses on price stability.
The Funds may be appropriate for you if you are pursuing a long-term goal with a currency component to your portfolio; are willing to tolerate the risks associated with investments in foreign currencies; or are looking for a way to potentially mitigate downside risk in or profit from a secular bear market. For more information on the Funds and to download a prospectus, please visit www.merkfunds.com.
Investors should consider the investment objectives, risks and charges and expenses of the Merk Funds carefully before investing. This and other information is in the prospectus, a copy of which may be obtained by visiting the Funds' website at www.merkfunds.com or calling 866-MERK FUND. Please read the prospectus carefully before you invest.
The Funds primarily invest in foreign currencies and as such, changes in currency exchange rates will affect the value of what the Funds own and the price of the Funds' shares. Investing in foreign instruments bears a greater risk than investing in domestic instruments for reasons such as volatility of currency exchange rates and, in some cases, limited geographic focus, political and economic instability, and relatively illiquid markets. The Funds are subject to interest rate risk which is the risk that debt securities in the Funds' portfolio will decline in value because of increases in market interest rates. The Funds may also invest in derivative securities which can be volatile and involve various types and degrees of risk. As a non-diversified fund, the Merk Hard Currency Fund will be subject to more investment risk and potential for volatility than a diversified fund because its portfolio may, at times, focus on a limited number of issuers. For a more complete discussion of these and other Fund risks please refer to the Funds' prospectuses.
This report was prepared by Merk Investments LLC, and reflects the current opinion of the authors. It is based upon sources and data believed to be accurate and reliable. Opinions and forward-looking statements expressed are subject to change without notice. This information does not constitute investment advice. Foreside Fund Services, LLC, distributor.
© 2005-2019 http://www.MarketOracle.co.uk - The Market Oracle is a FREE Daily Financial Markets Analysis & Forecasting online publication.

Only logged in users are allowed to post comments.
Register/ Log in