Agri-Food's impact of Indian Drought and Contracting U.S. Farmland Acreage
Commodities
/
Agricultural Commodities
Aug 24, 2009 - 07:15 PM GMT


Years have passed since investors seemed to pay attention to anything other than the latest short-term, but irrelevant, number of the day. Perhaps the ESPN approach being applied to business news is part of the reason for that. What might happen next week or next year seems of little concern. However, next week and next year have a habit of becoming today over time.
Sometimes though, short-term events, being largely ignored, unveil longer term developments. One of those might be the drought currently ravaging India's farmers. Summer monsoons provide more than half of the rainfall in much of India. Indian Agri-Food production is uniquely dependent on those annual rains. This year those rains have not come as expected. Rainfall is about a third less than normal. Agri-Food production will suffer in India as the summer rains are critical to India's Agri-Food production. Rice production, a major staple, will fall by more than 10%.
With only a little more than a month of rice consumption in storage, food shortages are likely in India. The Indian government, in typical denial of reality, says that they will simply buy what is needed in global markets. Global Agri-Food markets are seen by many governments as a pantry to be opened any time the need arises. Those inevitable purchases of Agri-Foods by India can only increase the global prices of Agri-Foods.
India's reliance on imported Agri-Foods due to this year's poor monsoons is part of a longer term problem. India's system of providing water to agriculture is inadequate to insure sufficient future Agri-Food production to feed a growing population. India simply will not be able to feed its future population with today's water management system.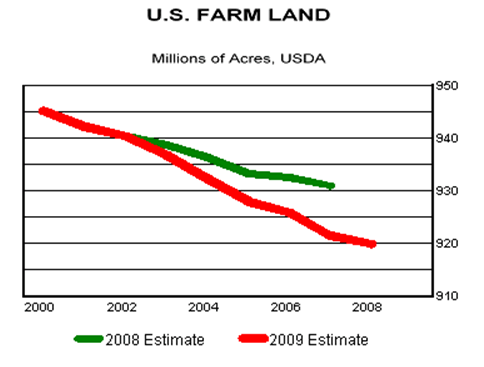 Source: 3rd Annual U.S. Agricultural Land As An Investment Portfolio Consideration 2009
Water is a long term problem for global Agri-Food production not just in India, but in China and elsewhere. Everyone's solution to an inadequate Agri-Food harvest is imports. A goodly part of Agri-Food imports come from North America. However, as our first chart shows, a longer term problem may be developing in North America. U.S. farm land is disappearing.
In that chart, the red line is the latest USDA estimate for the size of U.S. farm land. In the last eight years, about 25 million acres have disappeared. Of perhaps equal concern is the size of the revisions evident in the 2009 estimate. That green line is the 2008 estimate. A significant amount of U.S. farm land simply disappeared in the new estimate.
American farmers have offset this macro problem through higher uses of fertilizer and improved seeds. However, limitations exist for nature just as they do elsewhere. Contrary to common beliefs, biological limits exist. Were that not true, we could grow food without any land or water. Agri-Foods are not produced in a factory.
The loss of productive farm land along with a growing shortage of fresh water has not yet caused an Agri-Food crisis. It is, however, a component in the biological brick wall of the future that cannot be overcome. Agri-Foods are not produced in factories like televisions. Those firms and investors positioned between the dirt and water production base and global consumers have benefitted and will benefit from the biological brick wall of the future.
The number of countries relying on Agri-Food imports is large, and will grow over time. China will soon become a net importer not only due to population and income growth. Considerable doubt exists on whether or not China has the water to feed itself. India's fragile water system will force it to ultimately be a net importer of Agri-Foods on a continuing basis. Bidders will be pitted against each other for the Agri-Food production of the world, with high bidder winning.
Our second chart, above, portrays how a partial list of important Agri-Food stocks have performed thus far in 2009. While the business media continues to dwell on drivel such as cash for clunkers and outdated technology stocks, Agri-Food investors have been doing nicely.
Beneficiaries of the biological brick wall of the future can be identified. Farmers, farm land, seed producers, providers of plant protection systems, machinery producers, and animal breeders are just a partial list of those beneficiaries. The technology play of tomorrow is Agri-Technology, not music players. One can live without music, but not without food.
The important technology themes of tomorrow will focus on how companies such as YUII can produce more day old broilers, or what new seeds SEED will introduce into China's consolidating Agri-Food seed market. Included in the technologies that will matter will be those that Agri-Technology companies such as DE, AGCO, and CNH will be installing on future generations of agricultural machinery. Are you reading about the Agri-Technology of tomorrow, or dwelling on historical technology anecdotes?
Most astute investors have already moved to protect their wealth with Gold. Given the size of the Obama Regime's deficit to be monetized by the U.S. Federal Reserve, the value of the dollar can only deteriorate. The flip side of a falling U.S. dollar is a rising value for Gold. That same tsunami of dollars will push up the prices for Agri-Foods as the world moves toward the biological brick wall. Most Agri-Foods are priced in dollars. Now that you have your defensive investments in Gold, the time may have arrived for an offensive component, Agri-Food investments. Read more at http://home.att.net/~nwschmidt/Order_AgriValueRECENT.html
By Ned W Schmidt CFA, CEBS
AGRI-FOOD THOUGHTS is from Ned W. Schmidt,CFA,CEBS, publisher of The Agri-Food Value View , a monthly exploration of the Agri-Food grand cycle being created by China, India, and Eco-energy. To receive the most recent issue of this publication, use this link: http://home.att.net/~nwschmidt/Order_AgriValueRECENT.html
Copyright © 2009 Ned W. Schmidt - All Rights Reserved
© 2005-2019 http://www.MarketOracle.co.uk - The Market Oracle is a FREE Daily Financial Markets Analysis & Forecasting online publication.

Only logged in users are allowed to post comments.
Register/ Log in