Agriculture Investing, Everybody Has to Eat
Commodities
/
Agricultural Commodities
Dec 13, 2009 - 10:28 AM GMT


"If you can tell me something else where the fundamentals are so attractive…I'd be happy to put my money there, but I don't know of any other place" – JIM ROGERS ON AGRICULTURE
It sure seems like gold and oil have stolen the limelight when it comes to commodities lately.
I wonder though, if we are not overlooking an even greater opportunity to make money and hedge against future inflation in the longer run.
Unlike other asset classes commodity prices can rise from increased demand over current supply, but they can also rise if supplies fall below stable demand. It is always interesting to see both in motion, where demand is increasing and supplies are diminishing. This becomes even more attractive if prices are in a corrective mode.
Let's take a look at some developments in the Agriculture market.
According to several sources, the world's population has more than doubled since 1950 – from about 2.5 billion to 6.7 billion and is expected to hit 9 billion by 2050. If as expected, most of this growth occurs in China and India and some underdeveloped economies, it only stands to reason that we will need more meat, fruits and vegetables.
The United Nations Food and Agriculture Organization (FAO) predicts that worldwide food production will "have to rise by a staggering 70 per cent by the middle of this century if food riots are not to become commonplace…Almost 400 million people will face famine unless food production is dramatically and urgently increased."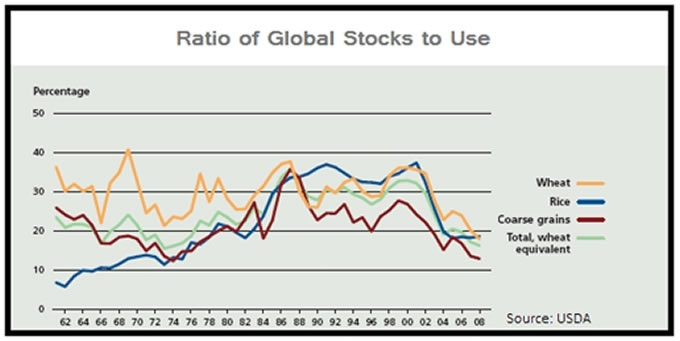 According to Andrew Mickey at IStockAnalyst.com, "world agriculture production has increased a paltry 12% in the past two decades. That's an annualized growth rate of 0.56% per year. That's just not going to cut it. In order to meet the Food and Agriculture Organizations statement, agriculture production must grow by 70% in the next 30 years and would require an annualized growth rate of 1.6% – almost three times faster than the rate over the past 20 years."
So, I guess over the longer term we can conclude that demand will out run the current production if we don't increase it dramatically.
In addition to long term demand growing, we have seen supplies eroding. Stockpiles of grains have been steadily falling since 2002 or so. In fact, wheat, rice and coarse grains are at record low supplies.
What I find interesting is grain prices are not rising when compared to other commodities like copper, gold or energy. As a matter of fact the grains haven't moved at all lately compared to other commodities. Wheat (-20%) and corn (-17%) are substantially lower in 2009. The chart below shows food prices compared to energy prices since 1972.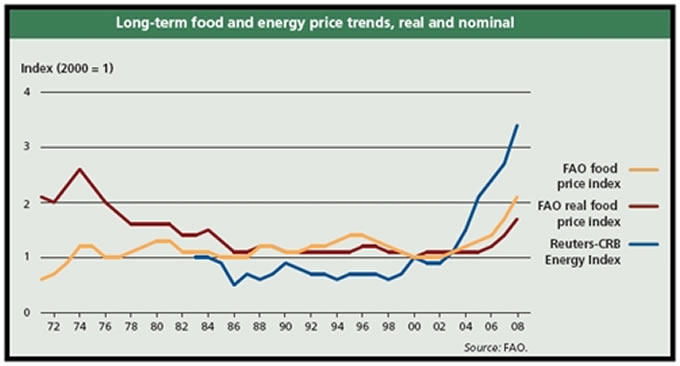 Perhaps we are setting up a good buying opportunity in the grains.
Stay tuned for part two where I will further elaborate on the Agricultural market and the challenges that we face in the attempt to increase production and build stockpiles.
Enjoy this article? Like to receive more like it each day? Simply click here and enter your email address in the box below to join them.

Email addresses are only used for mailing articles, and you may unsubscribe any time by clicking the link provided in the footer of each email.
Charles Maley
www.viewpointsofacommoditytrader.com
Charles has been in the financial arena since 1980. Charles is a Partner of Angus Jackson Partners, Inc. where he is currently building a track record trading the concepts that has taken thirty years to learn. He uses multiple trading systems to trade over 65 markets with multiple risk management strategies. More importantly he manages the programs in the "Real World", adjusting for the surprises of inevitable change and random events. Charles keeps a Blog on the concepts, observations, and intuitions that can help all traders become better traders.
© 2005-2019 http://www.MarketOracle.co.uk - The Market Oracle is a FREE Daily Financial Markets Analysis & Forecasting online publication.
Comments
Aly-Khan Satchu
14 Dec 09, 05:31
Food and Soft Commodities have inflected


I have a Supreme Conviction re the Softs. The Breakfast Commodities are leading [Cocoa is at 25 Year Highs, Sugar not far off and Tea has exploded 94% this Year] and I believe represent the best insurance and a Pure Play on Global Warming. We have begun to trip over the Tipping Point.

Aly-Khan Satchu

www.rich.co.ke



David Garner
14 Jul 10, 09:42
Excellent Post


This is an excellent article that clearly demonstrates the sounf fundamentals underpinning agriculture investment, i recentlay read the agriculture investment guide at www.dgc-ai.com and this article reiterates some of the points made. Thank you for the information.




Only logged in users are allowed to post comments.
Register/ Log in