Agri-Food's and the Global Warming Research Dollars Ponzi Scam
Commodities
/
Agricultural Commodities
Dec 14, 2009 - 03:34 PM GMT


The Global Warming Scam may finally be on its way to well-deserved oblivion. Take your pick of discrediting events, the snow storms that hit the Midwestern U.S., snow at the start of the Australian Summer, -40 degree temps in Western Canada, or Climategate. The Global Warming Scam appears now to have been nothing more than a giant research dollar Ponzi-like scheme.
Researchers would take research dollars, cook some numbers, discard other data, and exchange dubious research for more funding from other sources. Rather than useful research that might help us understand what effect tomorrow's climate might have on global Agri-Food production, we got subterfuge and intimidation of nonbelievers.
Across the Midwestern U.S. snow storms have wreaked havoc with the corn harvest. Iowa was hit with the worst snow storm since the 1950s. Estimates of that corn remaining in the U.S. fields, now awaiting Spring to be harvested, varies from 6% to 25% to 40%, depending on location. Estimated losses of that corn remaining in the field till Spring range from 25% to 40%. Thus far this situation has not caused stress on Agri-Food prices as the new U.S. corn crop was indeed large, and had just arrived.
However, as Spring unfolds, we will know more fully how much of the U.S. corn crop has been damaged. A fair bet would be that the real economic U.S. corn crop, including the light weight of the harvested crop and that not already damaged by wet conditions or lost due to still being in the field, will be a lot less than the forecast numbers suggest. The real economic value of corn is not the volume in bushels, but the usable food content of the corn. And do remember, corn is not produced in a factory. A new crop of corn will not arrive in North America till Fall of 2010.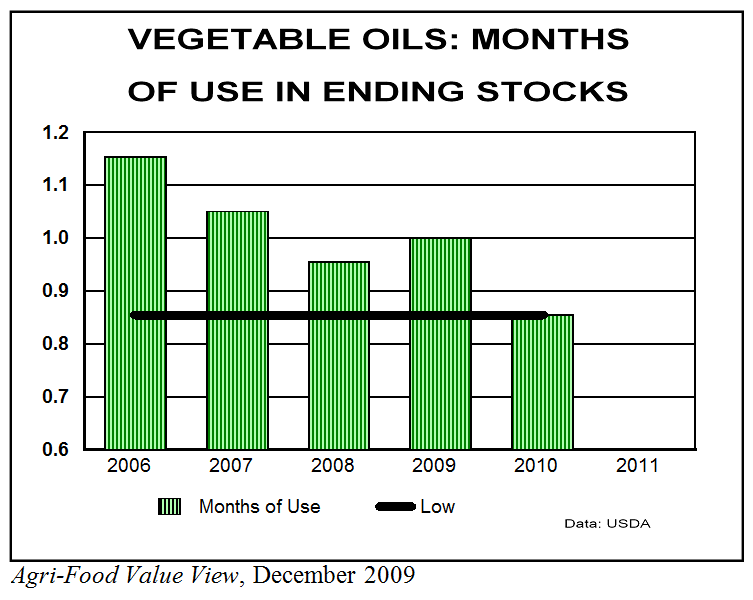 One of the many uses of grains like corn is portrayed in the chart above. Plotted in that chart is months of vegetable oil consumption, or usage, represented by stocks at the end of the relevant crop year. Vegetable oil is a critical component of Agri-Food consumption. As is readily apparent in that graph the world's inventory of vegetable oil, in terms of months of consumption, has been declining for years. The USDA forecasts that the world is moving toward having less than one month of vegetable oil in inventory. As that is somewhat of an average, some parts of the world have less than one month of vegetable oil available. Largest components of global vegetable oil production are palm oil at 33%, and soybean of about 27%.
While not suggesting that we start hoarding vegetable oil, not much would be required to push the world toward such a situation. Vegetable oil is produced by crushing grain, or palm fruit in the case of palm oil. Since some basic working inventory is required to "oil" the supply system, the current low level of inventories would suggest that inventory building may be necessary. In order to build more inventories, producers would have to crush more grain or palm fruits. Oil producers would have to bid against others for grain in an already tight Agri-Food supply world. Some in the world will pay higher prices for their vegetable oil, while others reap the benefits of those higher prices.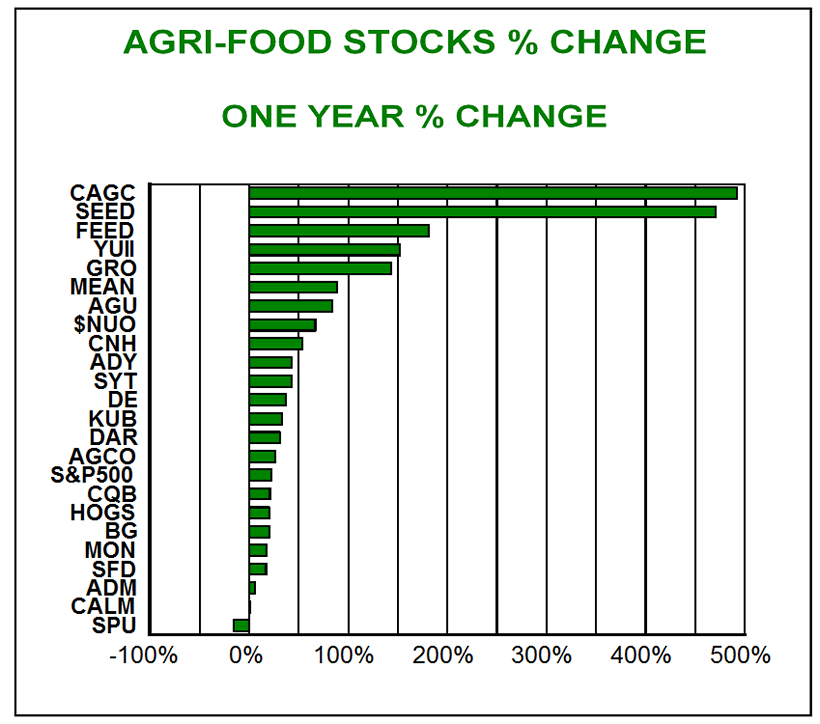 As shown in our second chart, above, some companies have indeed been benefitting from the new world of Agri-Food. These results were accomplished without shortages, but simply because demand continues to expand. And we add, vegetable oil will not be the only Agri-Food component that will be in short supply in the years ahead. The sample of Agri-Food companies, as shown in the graph, have had a bountiful year in 2009. While the next year will likely not be as good, the future for these companies should be rewarding.
Over the coming decade the global population will expand faster than the world's ability to feed that population. A world short of Agri-Food is more likely than any time in a century. Investors might be well served to begin exploring the future for Agri-Food. To start that effort use this link: http://home.att.net/~nwschmidt/Order_AgriValueRECENT.html
The response to the release of 3rd Annual U.S. Agricultural Land As An Investment Portfolio Consideration, 2009 is much appreciated. This work is the definitive annual study of the role of U.S. agricultural land in an investment portfolio. It is a rigorous statistical analysis suitable for the sophisticated investor. The 60 page PDF file is delivered via email, and is available at the following link: http://home.att.net/~nwschmidt/OrderAgriLand2009.html
By Ned W Schmidt CFA, CEBS
AGRI-FOOD THOUGHTS is from Ned W. Schmidt,CFA,CEBS, publisher of The Agri-Food Value View , a monthly exploration of the Agri-Food grand cycle being created by China, India, and Eco-energy. To receive the most recent issue of this publication, use this link: http://home.att.net/~nwschmidt/Order_AgriValue.html
Copyright © 2009 Ned W. Schmidt - All Rights Reserved
© 2005-2019 http://www.MarketOracle.co.uk - The Market Oracle is a FREE Daily Financial Markets Analysis & Forecasting online publication.

Only logged in users are allowed to post comments.
Register/ Log in