Terrorism Fuels Nationalism and Deglobalization of the World
Politics
/
GeoPolitics
Jul 25, 2016 - 03:19 PM GMT

BY PATRICK WATSON : The weaponized truck attack in Nice, France has terrorism fear on the rise once again. The incidents seem to be more frequent, and the death tolls are rising. People are afraid, and they want it to stop.
Don't hold your breath, says George Friedman of Geopolitical Futures. The top geopolitics expert says all the options are bad. And, the wrong responses could make the problem even worse.
Speaking in a recent Mauldin Economics video, Friedman said policymakers must admit their solutions haven't worked. The public wants an answer and will embrace those who claim to have one.
By the way, subscribe to George Friedman's free weekly column, This Week in Geopolitics, at Mauldin Economics.
"Fear Not" vs. "Do Something"
Friedman sees two different factions forming in the West, with sharply opposing attitudes on terrorism and what to do about it.
The "No Fear" coalition looks at numbers and sees terrorism as a minor risk compared to many other social issues. They say, with some justification, we can save more lives by reducing traffic accidents or curing cancer. To them, being killed by a terrorist is a risk like being struck by lightning. We should take precautions, like not climbing trees during thunderstorms, but otherwise go on with normal life.
The "Do Something" side argues that radical Islamic terrorists are still attacking us 15 years after 9/11, so the solutions thus far are obviously not working. People don't want to be afraid, but they are, and they are ready to try something new.
New ideas like Donald Trump's Muslim travel ban may be unworkable, but a significant part of the public is ready to try them anyway. Pressure is growing.
Pressure to Deglobalize
Asked about Salman Rushdie's argument that globalization will continue despite terrorism, Friedman had a different view. The international institutions that drive globalization, like the European Union, have lost their credibility.
Eight years after the financial crisis, the EU is still struggling to restore economic growth and stabilize its banking system. People see this and don't believe the EU and its leading members have the capacity to solve terrorism.
Meanwhile, loud voices in the US are asking why Europe can't defend itself instead of leaning on the US-dominated NATO alliance. Americans see Europe bringing little to the table.
Now, add terrorism on top of all these other problems. Friedman calls the result a "potent mix of nationalism" that won't go away easily.
Preposterous Solutions
The demands to "do something" lead into another debate: do what? The elite argument that we should simply live with the risk isn't a solution. People want action.
Unfortunately, headline ideas like banning Muslims from the US will do nothing to solve the problem and will likely create new ones. But the do-nothing camp is largely the same people who presided over years of economic weakness and social breakdown. They have no credibility.
Sooner or later, frightened people will elect those who promise to relieve those fears. Whether they actually can is beside the point. Leaders in both Europe and the US are under pressure to take action, or at least the appearance of action. Whatever they do is unlikely to solve the problem, so the attacks will continue. This is one of those times when all the options are bad.
Watch the full interview (8:50) below or on the Mauldin Economics site.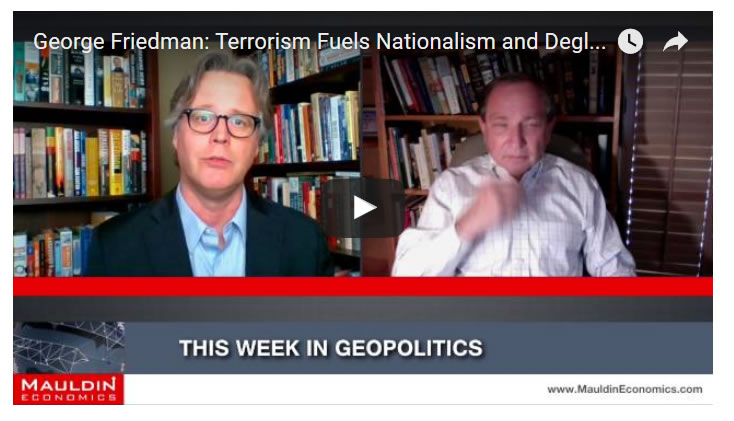 George Friedman writes the free weekly column This Week in Geopolitics for Mauldin Economics. Subscribe now and get an in-depth view of the forces that will drive events and investors in the next year, decade, or even a century from now.
© 2005-2019 http://www.MarketOracle.co.uk - The Market Oracle is a FREE Daily Financial Markets Analysis & Forecasting online publication.

Only logged in users are allowed to post comments.
Register/ Log in