Analysis Topic: Investor & Trader Education
The analysis published under this topic are as follows.

Tuesday, October 23, 2007


Editor's Note: This article is Part IV in a four-part series.
Expanding the Analysis to Other Asset Classes
In Part III of this four-part series, I concluded the periods following the first Fed rate cut in July 1995, September 1998, and January of 2001 were most similar to today's economic landscape. We can use the information from Part III as one of many factors when determining our asset allocation for the coming year. The next logical step is to explore how different asset classes performed relative to each other in each of the three respective historical periods (1995-1996, 1998-1999, 2001-2002).
Read full article...

Read full article...
---

Monday, October 22, 2007

To recap the main points :
Wall Street places a strong emphasis on the impact of the Fed's actions on asset prices.
Lower interest rates help fuel inflation and hurt the U.S. dollar.
The current Fed is not afraid to make significant interest rate cuts and we can expect them to act swiftly in the face of any continued deterioration in housing, financial markets, or the general economy.
Read full article...

Read full article...
---

Wednesday, October 17, 2007

What stock market sector have you been in lately? The sectors that are beating the market or the ones that are trailing behind? Being in the right sectors will make a significant difference in the performance of your portfolio. However, finding the right sector can be a difficult proposition. In part one I introduced the basic theory behind sector rotation as described by Stan Stovell in
Standard & Poor's Guide to Sector Investing 1995
.
Read full article...

Read full article...
---

Tuesday, October 16, 2007

This week in Outside the Box, good friend and London business partner Niels C. Jensen further expands upon the fat tail dilemma I recently discussed in my "Black Swan" e-letter and why many of the risk metrics we use while in theory are useful, in application are woefully misleading. Niels does an excellent job of making the topic understandable and enjoyable to read.
Read full article...

Read full article...
---

Wednesday, October 10, 2007
While the futures industry's regulatory rules provide clear guidance as to the presentation of managed account composite performance reporting, there are pitfalls in making investment decisions based on a track record's outward appearance without considering the potential for internal distortions.
Read full article...

Read full article...
---

Sunday, September 30, 2007

Good businesses are what I like to buy. That means stocks, bonds, preferred shares and other securities backed by healthy, growing companies, which are becoming more valuable over time.
Even buying good businesses won't save you entirely from bear markets. The best companies can and do occasionally stumble. And no matter how well you research something, you're going to get it wrong sometimes—with the result that you're stuck with a dog.
Read full article...

Read full article...
---

Sunday, September 30, 2007
... and Why the Stock Market P/E is Declining to 10
It is generally agreed that the most elegant equation in physics is E = mc 2 . In mathematics, it is e π
i
+1 = 0, which most simply connects the five most important numbers in mathematics. It is always and everywhere exact and even its most esoteric components -- the transcendental number, e, and its imaginary number, i -- are regularly used in physics and the other sciences, as well as many important fields today, including energy, computers and even valuing specialized securities.
[i]
Read full article...

Read full article...
---

Saturday, September 29, 2007
Be a kid and play follow the Leader for stock market profits ... Remember when you were a kid and played "follow the leader"? The leader would jump, run, and often do body contortions that you were supposed to repeat or get knocked out of the game.
Read full article...

Read full article...
---

Tuesday, September 25, 2007

Misinformation regarding the origin and genesis of the OTC Interest Rate Derivatives complex abound in the market.
During the 1970's – after President Nixon took the world off the gold standard - the dramatic increase in the price of crude oil led to burgeoning balances of petro dollars [Euro-dollars] in the treasuries of banks involved in international trade. This immediately led to banks bolstering their treasury operations to deal with the influx of 'inflated dollars'.
Read full article...

Read full article...
---

Monday, September 24, 2007
Let us begin with the much neglected Kennedy tax cuts and then follow through with other tax measures. We shall then finish with a diagrammatic explanation of how cuts in capital gains taxes expand both the economy and tax revenues.
Kennedy declared that "it is a paradoxical that tax rates are too high and tax revenues too low". In other words, high taxes were depressing output. Acting on this belief — what so many today sneeringly call supply-side economics — he cut taxes in 1963 and investment surged ahead. In the four years preceding the Kennedy cuts only 27.8 per cent of what is termed investment went to business and 38.5 per cent to real estate.


Read full article...

Read full article...
---

Monday, September 17, 2007

Recently, I've been reading in the financial press about how today's popular gurus are split on whether we're in the middle of a long-term bull market or bear market.
How do you know what to believe or what to do? I suggest you don't subscribe to either the bull or the bear side. As Jesse Livermore once said, "I prefer to be on the right side."
Read full article...

Read full article...
---

Saturday, September 15, 2007
In the 1930s,
Ralph Nelson Elliott
, a corporate accountant by profession, studied price movements in the financial markets and observed that certain patterns repeat themselves. He offered proof of his discovery by making astonishingly accurate stock market forecasts. What appears random and unrelated, Elliott said, will actually trace out a recognizable pattern once you learn what to look for. Elliott called his discovery "The Elliott Wave Principle," and its implications were huge. He had identified the common link that drives the trends in human affairs, from financial markets to fashion, from politics to popular culture.
Read full article...

Read full article...
---

Tuesday, September 11, 2007
Based on the recent action in the price of gold we have to believe that it has once again broken out to the upside and ready to run. Last week, Richard Russell presented us an excerpt from his service titled, The Box, in which he is using the point and figure method of plotting gold. The basis of the article was that if gold could close at $690 an ounce, it would be a bullish breakout. Well, guess what? It did, it has and no doubt (in our mind) will continue much higher in the coming weeks and months eventually taking out the old highs in the upper $800's. The question always for investors is what do we do? How to maximize our gains and should we use leverage?
Read full article...

Read full article...
---

Sunday, September 09, 2007

I know a few people who know when to double down in Blackjack. A lot more, however, lose their shirts in an emotional attempt to make back losses.
Even those who usually succeed will freely admit doubling down isn't a risk-reduction technique. On the contrary, you've got twice the money at stake, betting on the same situation. You may recoup your losses in one fell swoop. But the penalty for failure is twice what it was before, and it's hard not to get a little emotional.
Read full article...

Read full article...
---

Thursday, September 06, 2007
I've been coming across and reading a fair amount of material on the rise of data-driven decision making lately.
Read full article...

Read full article...
---

Tuesday, August 07, 2007
Knowing whether the PE ratio is going to expand or contract is an important factor when trying to beat the market . This is the first of a four part series on which direction the PE ratio for the S&P 500 will go over the next couple of years. First, let's briefly go over how to use the PE ratio and then we will look at ways to get the underlying PE ratio for the S&P 500. It is not as easy as one might first think. In the later parts we will examine the potential for the S&P 500 PE ratio to expand, contract and then provide an opinion on what investors should do.
Read full article...

Read full article...
---

Saturday, August 04, 2007
Did you hear about the woodsman who, when asked by a friend how long it had been since he had his axe sharpened replied: "I just don't have the time for that".
No matter how good a trader we may have become, we're still not perfect. Yet, perfection must always be our aim, and we must never be too busy to improve.
Read full article...

Read full article...
---

Monday, July 23, 2007
Nikita Laukhin of PFSoft writes:
1. Introduction
Today, using information and trading platforms has become a de facto requirement for successful trading in the financial markets. Their advantages as compared to conventional trading schemes include, for example, an unprecedented speed of processing and delivery of information to end users, the level of integration with data providers, and a wide array of built-in technical analysis instruments.
Read full article...

Read full article...
---

Wednesday, July 18, 2007
"Could we look into the head of a Chess player, we should see there a whole world of feelings, images, ideas, emotion and passion." -- Alfred Binet (French Physiologist, 1857-1911)
One of my favorite pastimes is playing chess, which unfortunately I have not had the time to indulge as of late. To experience the full brunt and emotional psychology of the game try a five minute speed match against a chess hustler in Washington Square Park NYC, a mecca in the chess world. Some of those guys are FIDE rated 2200+ and you will likely walk away feeling beat-up.
Read full article...

Read full article...
---

Sunday, July 15, 2007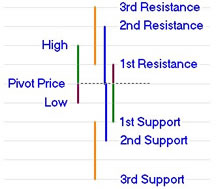 The heart and soul of trading is neurobehavioral. There is no way to deny this, as evidence continues to build that traders bring themselves and their brains into every aspect of trading. With this comes irrationality and neuropsychological biases.
The only way for a trader to succeed, i.e., perform in a consistently profitable fashion, is to have an edge. Those of you who have coached or mentored with me for any period of time will recognize immediately that I continually stress three critical elements of trading: risk control, money management and edge. What is an edge?
Read full article...

Read full article...
---