Your Next Big Profits from Gold, Agricultural, OIl Water Stocks
Commodities
/
Agricultural Commodities
Oct 04, 2007 - 09:27 AM GMT

Larry Edelson writes: On July 26, I told you the dollar's demise was going to dramatically affect you in myriad ways, not the least of which would be soaring commodity prices — especially gold — and falling stock prices.
Then, on August 23, I said the second phase of the inflationary commodity boom was about to explode higher, as the subprime mortgage crisis hit the U.S. economy hard, and that Fed Chairman Ben Bernanke would flood the economy with paper money.
And two more times, on August 30 and September 6, I warned you that the government would sacrifice the dollar to help stave off the subprime and debt crises in this country.
I told you, in no uncertain terms, to take out more insurance by increasing your gold holdings to 10% of your total net worth. Gold was trading at roughly $682 an ounce then.
To me, all of this has been as predictable as the seasons of the year … as black and white as the markets can ever be … and loaded with profit opportunities for all who were paying attention.
If you haven't taken advantage of these massive opportunities yet, don't worry. There will be more ahead. In a moment, I'll tell you what to expect next. Before I get to that …
Here's What Has Happened Since My First Warning Back in July …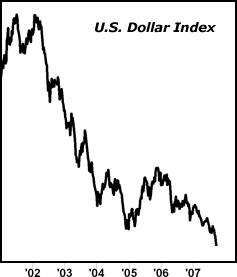 First, the U.S. dollar has shed another 3.6% — on top of a multi-year 30% decline … hammering the greenback down to all-time RECORD LOWS .
Second, gold has soared to 26-year highs, jumping $75 an ounce to as high as $752 on the December delivery contract.
Third, the bond market has experienced one of its worst swoons ever, falling nearly two full points in value, even as the Fed slashed rates and pumped liquidity in the markets.
The reason for the bond swoon: Traders and investors are waking up to what I've been telling you all along — that no central bank in any corner of the globe would opt for restrictive monetary policies in the kind of environment we have today. Instead, they will inflate away the problems.
Fourth, U.S. stocks had their worst decline in more than four years, plummeting 1,400-points from their high, before recovering again.
The recovery since then has been surprising. But I would not yet get into any stocks other than those commodity-based companies recommended in Real Wealth Report . There are simply too many risks on the horizon for most stocks.
Fifth, China's Shanghai market has EXPLODED higher, and is now up 107% for the year and 361% since I first started recommending the region's shares back in 2004.
Sixth, other commodities have also exploded higher, from grains and agricultural commodities to palm oil to exotic metals such as cobalt and uranium. The bull market in commodities has just had its biggest monthly gain in 32 years.
All of this begs the following questions …
What's Next for the Markets? And Where Is the Biggest Money Going to Be Made?
I'll answer the first question very directly: If you think the decline in the dollar — or the rise in commodity prices — is something to behold, you ain't seen anything yet!
By my measures, the U.S. dollar can fall as much as another 20% in value, perhaps even 30%. The reasons are simple, and the same ones I've been telling you all along.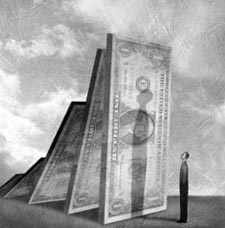 The falling dollar will crush a lot of investors' portfolios …
For the U.S. economy to survive the debt levels it is drowning in — both public and private — the dollar must keep falling, and inflation must rise way above today's levels.
Ultimately, we will see inflation levels in this country that no one dares mention today. I'm talking about inflation of 20% … 25% … even 30%. Yes, it is going to happen. It's already starting to happen. The average consumer is experiencing inflation of nearly 10% — even though the government is acknowledging only 2% or 3%.
When will this all stop? When will the dollar decline abate … and inflation level off or start to decline?
Not until 2009 at the earliest, and more likely, not until 2011. That's what my historical models indicate, and they have yet to prove themselves wrong in the nearly twenty-seven years since I first developed them.
So, on to the second question, where is the biggest money to be made?
Gold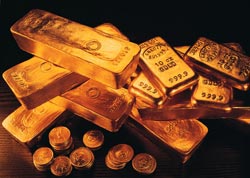 Gold is a great way to protect yourself and profit from a falling greenback.
I expect the yellow metal to soar to new record highs — above $850 an ounce … then $1,000 an ounce … and eventually above $2,100 an ounce before this cycle is over.
My suggestion: Buy every pullback you see in the gold market.
Buy the best gold shares, including emerging gold stocks. But be careful. The higher gold goes, the more selective you have to be.
For some more information on specific types of gold investments, see my article from last week .
Oil
In my view, oil will hit $100 a barrel … then $120 … then as high as $150. Gas prices will also soar to more than $6 a gallon.
My suggestion: Look into select oil and gas shares.
Not all oil and gas companies are going to participate in the further price surges of oil and gas. You will need to be very selective, scrutinizing companies' balance sheets and hedging policies, as well as their upstream (drilling and exploration) and downstream (refining) revenues and profit margins.
However, the best-positioned firms stand to reap a major windfall. Do a little digging, it will be worth your while!
Agricultural Companies and Commodities
Food prices, too, have been exploding higher. The price of wheat has more than DOUBLED in just six months. Corn prices are up 50% since July of last year. Soybean prices have also almost DOUBLED in a year! And I expect that trend to continue for a long time.
My suggestion: Buy select agricultural and food-related companies.
There are lots of opportunities here, in all kinds of companies. I like farming conglomerates, food processors, and more.
Water
This is another one of my favorite investing areas because there is a brewing crisis that most of the investment community continues to ignore.
My suggestion: Buy companies that are attempting to solve the water shortage.
For more on some of the firms I've targeted in Real Wealth Report , see my article " Global water problems explode into the public eye! "
Foreign Investments
This is another no-brainer, in my opinion. A declining dollar makes both foreign currencies and foreign shares more attractive (and profitable) to U.S.-based investors. They not only offer your portfolio protection from the greenback's shrinking value, they allow you to profit from it.
My suggestion: Invest in foreign currencies and foreign stock markets, especially those in Asia.
One caveat though: Timing your buys and sells is critical, as it is in any market.
Best wishes,
Larry
By Larry Edelson
This investment news is brought to you by Money and Markets . Money and Markets is a free daily investment newsletter from Martin D. Weiss and Weiss Research analysts offering the latest investing news and financial insights for the stock market, including tips and advice on investing in gold, energy and oil. Dr. Weiss is a leader in the fields of investing, interest rates, financial safety and economic forecasting. To view archives or subscribe, visit http://www.moneyandmarkets.com .
© 2005-2019 http://www.MarketOracle.co.uk - The Market Oracle is a FREE Daily Financial Markets Analysis & Forecasting online publication.

Only logged in users are allowed to post comments.
Register/ Log in