Analysis Topic: Stock & Financial Markets
The analysis published under this topic are as follows.

Thursday, April 26, 2007
After over four years of near uninterrupted advancing, the stock markets have now pushed through into all-time highs. The question for most investors is centred on the probability of the continuation of this current trend. Recent fundamental data points to the risk of a cooling economy in the second half of 2007 accompanied with lower interest rates.
Concern for the U.S. housing market and its potential impact also looms over the gradually expanding North American economies. Yet in spite of these challenges, equity markets trade higher month after month. This report is the first in a two part series reviewing the key leading indicators of the stock markets and their implications.
Read full article...

Read full article...
---

Wednesday, April 25, 2007
Investors who want to beat the market need to be aware of the key trends that will impact their portfolios. To some this year looks like a classic sell in May and go away. The theory is that the market goes into hibernation for up to six months from May to November, and during the other six months it gets back into gear and makes its move up. Part of this idea comes from the larger traders taking time off for their summer vacations.
I am not so sure we will see this happen this year, as I expect many traders and investors will be looking to react quickly to any further signs of market weaknesses. I also believe we are likely to see much more volatility in the months ahead, which should present some good buying opportunities for some quicker trades.
Read full article...

Read full article...
---

Wednesday, April 25, 2007
Sean Brodrick writes . Right now, there's a major disconnect in the markets — the U.S. dollar is going down while U.S. stocks are going up .
Look at my weekly chart of the dollar. If this were a stock, we'd be talking about a potential bankruptcy!
Read full article...

Read full article...
---

Tuesday, April 24, 2007
For a few tumultuous hours on April 19th, it seemed like deja 'vu all over again. Global commodity and stock market operators held their collective breathe, as the Shanghai Stock Index tumbled as much as 7.2% to the 3,400 level, reviving fears of yet another gut wrenching global shake-out. Beijing had delayed the release of two key economic statistics until after the close of trading, heightening fears of bearish news that could derail the Shanghai freight train.
After the close of trading, Beijing said consumer inflation had hit 3.3% in March, its highest in more than two years, and far above 2.7% in February. China's economy is overheating, expanding at an 11.1% annualized clip in Q'1, and factory output is 18.5% higher from a year ago. The news of above target inflation, jolted China's 5-year bond yields upward by 50 basis points to 5.25%, to its highest in two years, on fears the People's Bank of China (PBoC) might actually tighten liquidity.
Read full article...

Read full article...
---

Tuesday, April 24, 2007
What scared the markets just a month ago now is merely a blip on the computer screen. China's economic growth rate far surpassed economists' guesses and the markets looked to be taking a tumble on the news, however earnings reports were better than the "low ball" estimates from the street and after a brief decline, the markets put on a show to new all-time highs for the Dow.
While the other markets are tracking a bit lower, the gains are nonetheless significant. China and Japan have both indicated that they would be raising interest rates (as they did a month ago) to stem their rampant markets, however after being fooled last month, investors took the cue to add to existing positions. The housing market remains weak and much of the economic data out recently failed to meet initial estimates, but the equity markets continued their march to a different drummer.
Read full article...

Read full article...
---

Tuesday, April 24, 2007
We've been measuring and reporting
Demand Power
and
Supply Pressure
for the Blue Chip indices each night for several years. This week we present them graphically, and show you how they offer highly correlative buy and sell signals. But even more exciting, for those of you who have been wanting some guidance on exit signals, these indicators also offer an option for exiting an established position.
Read full article...

Read full article...
---

Tuesday, April 24, 2007
Tony Sagami writes : The Wall Street crowd is treating the Dow's march to 13,000 like a New Year's Eve countdown. And I'm sure they'll break out lots of bubbly when it happens. But although 13,000 is a nice, round number, it's just 4.3% higher than where the Dow started 2007.
A 4.3% gain in the Dow is nothing to sneeze at. However, over the same timeframe, investors could have gotten double or triple that return from other markets around the globe.
In fact, I can think of three Asian exchange-traded funds that have already jumped by double-digits this year (through April 21) — the iShares Singapore (+10.4%), the iShares Malaysia (+19%), and the iShares Australia (+10.4%).
Read full article...

Read full article...
---

Monday, April 23, 2007
The scene is being set for the next anticipated stock market tumble to begin sometime over the coming two weeks, as we draw nearer to traditionally the weakest period for the stock markets, May to July.
The Stock markets have all rallied, the Dow hitting a new all time high, the FTSE hitting a new multi-year high and China's Shanghai index off again on another parabolic run. The dollar took another tumble on weakening economic activity and interest rates across the world are on the rise on the back of soaring inflation. The update to the summary of financial market forecasts (22nd April), illustrates the intermarket relationships that that are building up to the next sell off primed to occur as we go into May 07.
Read full article...

Read full article...
---

Monday, April 23, 2007
Somewhere between May 2nd. and June 14th, the Shanghai is going to do something very unusual in the realm of stock market indexes.
The Shanghai Composite Index has catapulted up in a parabolic trajectory that took it from 1180.96 in January of 2006 to 3710.88 this morning. That hefty 214.23% rise resulted in a hyper-parabolic rise that has the index going straight up ... and many think that there is no end in sight.
Read full article...

Read full article...
---

Monday, April 23, 2007
Economy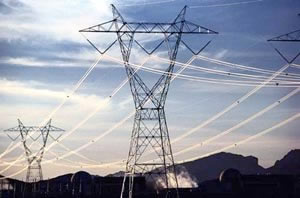 The Labor Department reported that on a seasonally adjusted basis, the CPI advanced 0.6% in March, following a 0.4% increase in February.
Overall energy costs increased 5.9% in March, with the index for petroleum-based energy up 10.1% and the index for natural gas and electricity up 1.3%. Healthcare was up 3.96%.
Electric Rates on the Rise
Read full article...

Read full article...
---

Monday, April 23, 2007
A 3-dimensional approach to technical analysis
Cycles - Breadth - Price projections
"By the Law of Periodical Repetition, everything which has happened once must happen again, and again, and again -- and not capriciously, but at regular periods, and each thing in its own period, not another's, and each obeying its own law... The same Nature which delights in periodical repetition in the sky is the Nature which orders the affairs of the earth. Let us not underrate the value of that hint." -- Mark Twain
Current Position of the Market.
SPX: Long-Term Trend - The 12-year and 10-year cycles are still in their up-phases but their influence will be reduced in the weeks ahead as intermediate and long term cycles bear down into year-end.
Read full article...

Read full article...
---

Monday, April 23, 2007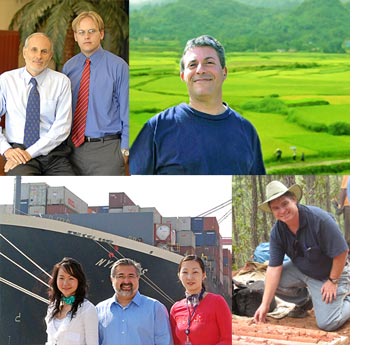 Martin Weiss writes: The U.S. dollar is falling so quickly …
And so many of our favorite investments are moving up so broadly …
I've gathered the wisdom of our entire team this morning to give you a full run-down on the six giants of global profits.
I won't keep you guessing as to who the giants are.
They're China, India, Japan, Brazil, Australia … and Canada.
There is nothing, I repeat nothing, that you do every day that is not connected to, or dependent upon, these six countries.
Read full article...

Read full article...
---

Monday, April 23, 2007
The following represent the Editor of the Market Oracle, Nadeem Walayat's summary forecasts of the most probable outcomes, as derived from technical analysis, intermarket analysis and research of fundementals, much of which are published as in-depth articles on this site. Updates and New forecasts are added on an on-going basis.
Gold

21st Jan 07 - $636 - Gold Bull Market set to resume, targeting a rally to initially $847 and then $900 by the end of this year.

19th April 07 - $688 - A Word of Caution to Gold Bulls, Elliott Wave suggests possible weak 5th Wave Peak, implies sharp sell of on failure to clear the $733 prev peak.
Read full article...

Read full article...
---

Sunday, April 22, 2007
I'm sure by now many traders have noticed what's really been going on. It sure does feel as though the capitulation phase I've been waiting to see may be upon us, as this was a brutal week for anyone stuck in a short position from the February top. Or from any of the inviting diversions along the rally from the March lows.
That's just the market doing what it's done ever since its doors opened – it'll get every bear to cover and stop shorting, while getting the late bulls long, as the train appears to be leaving.
Read full article...

Read full article...
---

Saturday, April 21, 2007
Both the Industrials and the Transports pushed into all time new territory this week. As a result it is indisputable that the advance is still alive. But, I still do not believe that the advance is well. Given the relentless resilience of the market, there are times that even I question the data surrounding the 4-year cycle. However, when I remove the emotion and simply look at the raw data it continues to suggest that there is still an unwinding into the 4-year cycle low somewhere ahead.
Read full article...

Read full article...
---

Saturday, April 21, 2007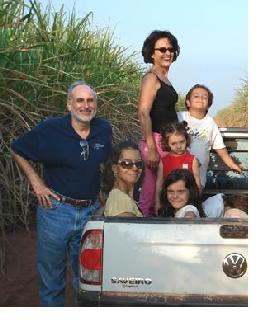 No matter where I am in the world — even while driving our farm's little pick-up in the sugar cane fields of Brazil — I'm always connecting the dots —
To the rising price of sugar …
To the surging demand for cane-based ethanol …
To China's voracious appetite for energy …
To the dramatic growth in China's economy, and …
To the very nice profits average U.S. investors can make in both Brazil and China!
Read full article...

Read full article...
---

Friday, April 20, 2007
Mike Larson writes Picture this: You're a U.K. fund manager sitting in an office tower in the "City," London's equivalent of Wall Street. It's 3:00 p.m. on Friday, another gloomy April afternoon that's not cold enough for snow and not warm enough to signal that summer's right around the corner.
You're sitting in your cube, staring at your portfolio of Dow stocks. You could really use a pint right about now. "Will the weekend ever get started?" you wonder aloud.
Sure, your U.S. stocks have been doing okay lately. But you bought them with British pounds, which keep rising in value relative to the buck. If you tried to cash out right now, your gains would be almost completely wiped out by the lousy exchange rate!
Read full article...

Read full article...
---

Thursday, April 19, 2007
"In a bull market and particularly in booms the public at first makes money which it later loses simply by overstaying the bull market… The big money in booms is always made first by the public-on paper. And it remains on paper. " – Edwin Lef èvre, Reminiscences of a Stock Operator . 1923.
To the investment community the sell-off in February came as a complete surprise. Readers of our report understand what is happening. In our article on October 17 th of last year, titled Credit Extreme Emotion ;
"As a result, financial institutions will come under severe strains as the credit bubble bursts. The rise of mortgage defaults will signal the beginning of this deflationary spiral. Unfortunately, interest rate markets are setting up homeowners for this exact scenario. "
Read full article...

Read full article...
---

Thursday, April 19, 2007
China, Shanghai 180 Update:
Yesterday, we warned our paid subscribers with the following: "Day traders and short term traders should be extra cautious today and tomorrow ." It is now "tomorrow" ... and this morning, the Shanghai 180 fell 6.93% before a small retracement that took it to a 4.25% loss for the day.
If you recall, we posted this expectation last week, warning members that the Bow Tie Pattern was repeating 100%. The exact, first down day should have been Wednesday, and instead it was off by one day. In spite of being 1 day late, we warned that the probability of falling today was extremely high because the Shanghai 180 had a Doji Star on Tuesday, and a Spinning Top on Wednesday ... both were candlesticks that typically precede a downside reversal. *** See the chart below, and the previous postings, including last week's analysis and warning.
Read full article...

Read full article...
---

Thursday, April 19, 2007
With the Asian markets all down heavily last night, and the Yen strengthening again, I thought to talk about another possible Yen carry related market sell off.
China bubble trigger
A month or so ago, Premier Wen of China said that their manufacturing and financial bubbles were unsustainable and out of control. This was in light of recent financial tightening in China, increasing reserve requirements for banks to over 10% now, and raising interest rates moderately. It is important to realize that China is determined to do something about their financial bubbles.
Read full article...

Read full article...
---