Analysis Topic: Commodity Markets - Metals, Softs & Oils
The analysis published under this topic are as follows.

Monday, July 16, 2007
THE PRICE OF GOLD barely moved early Monday, trading in a $1 range before rising to break $668 per ounce as the US open drew near.
"Overall trading is not that great, and I don't see buying interest from Indonesia ," said a bullion dealer in Singapore to Reuters. "Demand from Thailand is still OK because of the Thai baht."
Read full article...

Read full article...
---

Monday, July 16, 2007
Gold rallied strongly during the week to key resistance above $670 which now threatens to end the corrective downtrend from $698 that has seen gold fall to a low of $641 three weeks ago.
Gold Outlook
Read full article...

Read full article...
---

Sunday, July 15, 2007
Nice little rally in the precious metals but for now the emphasis is on the "little". Rallies happen, longevity is rare. Let's take a closer look.
U.S. DOLLAR INDEX
Before going into a gold analysis, a few words about the U.S. Dollar Index shown here two weeks ago. Over the past two weeks the $ Index has moved lower and is sitting right on top of its indicated P&F support, at 81. As mentioned, it has been here several times in the past 20 years with significant rallies following. Only once had it dropped below this P&F support but then only for a couple of short weeks. Looking at a daily futures chart we see that the dollar is below the 81 level, more than half way towards the 80 level. Momentum is negative and the volume action seems to suggest that no one likes the $. What should we expect if the $ should drop decisively below support?
Read full article...

Read full article...
---

Saturday, July 14, 2007
The turning gears of Bernanke's beautiful machine continue to sound like music to the ears of precious metals investors! Given the repeated testing and holding of the 50-week average in gold on Friday, this will remain the important level to watch for confirmation of the short term rally. ~ Precious Points: The All's Well That Ends Well , July 14, 2007
Stocks exploded to record highs on Thursday and Friday, but metals were mostly left behind. The suggestion is that the move in stocks was less related to fundamentals and more to sentiment, with a short squeeze in equities driving a rally that overlooked gold and silver. But now with gold confirming two weekly closes above the 5-week moving average, the metals could be heating up for their own run at new records.
Read full article...

Read full article...
---

Friday, July 13, 2007
Earlier this week, I was invited on Canadian television to offer a real-time analysis of the latest weekly petroleum report from the US EIA. The Petroleum Status Report is released each week at 10:30 am EST, detailing exactly how much oil, gasoline and distillate is currently in storage in the US.
Sometimes, the report just isn't all that interesting nor does it always have much of an impact on market prices for crude and gasoline. But that certainly hasn't been the case this year.
Read full article...

Read full article...
---

Friday, July 13, 2007
Investment and speculation are ultimately the world's greatest probabilities games. Traders exist in a realm of constant uncertainty, where capital must be deployed today well before the unknown future arrives. To increase the odds of success for any trade, traders should only deploy when probabilities swing way into their favor.
So it is not surprising that virtually all financial-market analysis is designed to help deepen our understanding of the underlying probabilities governing the markets at any time. The whole gamut of research approaches from fundamental to technical to sentimental ultimately boils down to gaming whether or not today is a high-probability-for-success opportunity to buy or sell.
Read full article...

Read full article...
---

Friday, July 13, 2007
GOLD RECOVERED an overnight dip in Asia during the first half of London trade Friday, reaching back above $668 for the fourth time in two days as the US open drew near.
"Sentiment is definitely firm at the moment given the consistent record highs we are seeing on the Euro," says Brandon Lloyd for Mitsui.
"It wouldn't be surprising at all for gold to reach its next target in the mid-$670 area tonight. If the US Dollar does manage to find the strength to recover some of its losses, then gold should find support at $660."
Read full article...

Read full article...
---

Thursday, July 12, 2007
The technical situation for silver closely parallels that for gold and therefore most of the arguments set out in the Gold Market update are applicable to silver. In this update we will therefore confine ourselves to highlighting the important points of difference between the two metals. One important development over the past week or so for silver has been the improvement in its COT structure that has at last given a major buy signal.
Read full article...

Read full article...
---

Thursday, July 12, 2007
There are several factors coming together now to suggest that a powerful rally in gold is drawing near, and because they are so clear and potent, they do not require a long-winded description.
On the 2-year chart for gold we can see how it has stabilized above an important support level in the $635 - $640 area over the past few weeks. This after having broken below a long-term trendline dating back to mid-2005 that may have caused some to short the metal and who thus must be growing increasingly concerned at the lack of downside follow through, although they are probably finding solace in gold's insipid performance over the past week as the dollar has fallen sharply.


Read full article...

Read full article...
---

Thursday, July 12, 2007
Let us clarify that we do our best to take the emotional element out of our trading decisions and we do not "worry" about our investments. Instead we pay especially close attention to the markets and our investment decisions at critical junctures. But for expediency we will use the term "worry" in this article.
So when is it time to worry? It is our opinion that an investor should pay close attention and possibly "worry" when truly unusual market behaviors, or "anomalies", take place.
Read full article...

Read full article...
---

Thursday, July 12, 2007
GOLD PRICES ROSE steadily through the Asian and early London sessions on Thursday, touching $665 per ounce for US investors as the US open drew near.

Gold also recovered more than 0.7% from yesterday's low against the British Pound, but rose more slowly versus the Euro, only just breaking €482 per ounce.
"Funds are shifting more into gold for safe-haven reasons as currencies, stocks and bonds are all volatile now," said Tatsuo Kageyama, an analyst at Kanetsu Asset Management in Tokyo , to Reuters earlier.
Read full article...

Read full article...
---

Wednesday, July 11, 2007
The International Energy Agency released their " Medium-Term Oil Market Report " a short time ago - it looks like we're going to need a good recession to avoid much higher energy prices over the next few years.
Thought you might like to hear that first thing on a Monday morning - here's why:
Read full article...

Read full article...
---

Wednesday, July 11, 2007
The past month has required extraordinary attention to be paid to the charts as the gold markets have been approaching a decision point.
On June 21 st , 2007 this analyst stuck his neck out by calling for an upside break. (See http://www.321gold.com/editorials/bloom/bloom062107.html )
So far, it has been a fairly nail biting time, but the call seems to have been reasonable. Now what?
Read full article...

Read full article...
---

Wednesday, July 11, 2007
Good news just keeps rolling in. Aircraft carrier Enterprise off on summer cruise to Middle East. Horton has collapsing home sales. S&P and Moody's analysts awake from naps to reconsider ratings on some CDOs. Ten year rate of inflation in U.S. at highest level since 2002. Oil prices moving up. Radical Islamic groups in effort to take control of Pakistan, and its nukes. Israeli general warns time may be running out on halting Iranian nuclear weapon program.
Read full article...

Read full article...
---

Wednesday, July 11, 2007
OLD TRADED $2 above Tuesday's US close in the first-half of London trade on Wednesday, approaching lunchtime just shy of $666 per ounce.
Aside from growing demand for investment gold, "additional buying in gold also comes from the strong support around the $650 level," said Pradeep Unni at Vision Commodity Services in Dubai to Reuters earlier.
"Every time gold slips below $650, physical demand [for jewelry fabrication] is seen to creep in. This has been a trend for the last four months."
Read full article...

Read full article...
---

Wednesday, July 11, 2007
Sean Brodrick writes: I was raised in Maine, and I'm visiting my old stomping grounds right now. One thing I've always liked about this great state is its rich history. Just about everything has happened here once (and sometimes twice).
Case in point: The other day I was walking around Portland. As I came across all kinds of interesting street names — "Gold," "Silver," "Market," and "Exchange" just to name a few — I was reminded of perhaps the strangest story to ever come out Maine. It's the tale of the 1898 gold rush in Lubec, Maine.
Read full article...

Read full article...
---

Tuesday, July 10, 2007
Is there any doubt that we are in the mist of a bull market in the commodities sector, especially for natural resources? The expert analysts we follow believe this bull market will last another
15 to 20 years. The purpose of this article is not to convince you of the existence of the bull market but rather to discuss the different investment strategies that investors can use to accomplish their objectives.
Read full article...

Read full article...
---

Tuesday, July 10, 2007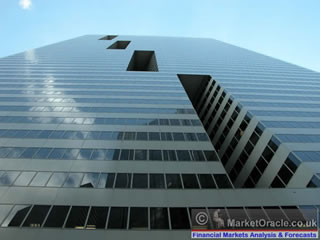 Over the last few years a lot of reports have described how China's gold markets have been opening up. We have commented in the Gold Forecaster that the changes have been superficial at best , but have laid the groundwork for the eventual opening of the gold market there.
The 'acid' test will come when the provincial and even rural centers in China have banks/jewelers that sell gold at prices close to if not at the prices to be found elsewhere in the world. With the infrastructural development of China moving at a fast pace now this time is getting closer. A step that precedes this and brings such a situation within reach of the broad Chinese public has now taken place.
Read full article...

Read full article...
---

Tuesday, July 10, 2007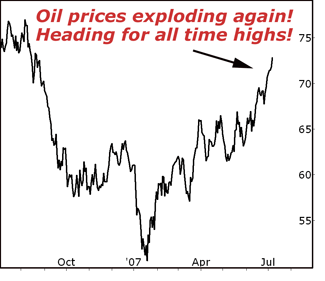 Martin here with an urgent update on the latest surge in oil, its many causes and its far-reaching consequences.
After months of meandering without direction, oil markets are jumping back into the limelight.
They're bursting with new activity … moving quickly toward the highest price levels of all time … and setting off a rapid-fire chain reaction of events that most investors are missing.
Read full article...

Read full article...
---

Tuesday, July 10, 2007
GOLD TODAY held onto Monday's gains early in the London session, hitting $661.15 per ounce at the Morning Fix – the highest AM Fix since June 7th for Dollar investors.
John Reade at UBS in London today advised investors to start buying gold, according to a Bloomberg report, before large speculators build their holdings, perhaps sending prices higher over the coming month.
Read full article...

Read full article...
---