Analysis Topic: Commodity Markets - Metals, Softs & Oils
The analysis published under this topic are as follows.

Wednesday, August 22, 2007
Sean Brodrick writes: When I wrote you last week, I had just joined my hosts in the diamond exploration camp in the Canadian Arctic. I was taking my first trips out on the tundra, looking for kimberlite, which is the host rock for diamonds.
In the picture, I'm standing with Nick, one of the locals. One of his many jobs was making sure I wasn't eaten by grizzlies. His bear rifle is in the blue bag on his shoulder!
Read full article...

Read full article...
---

Tuesday, August 21, 2007
SPOT GOLD PRICES pulled back after rising into the London opening on Tuesday, recording a Morning Fix of $655.50 before recovering $3 per ounce as European stock markets gave back their own early gains.
"The rebound in equities [has] helped support gold," reckons Wallace Ng at Fortis Bank in Hong Kong . "We also saw a bit of physical demand coming in this morning."
Read full article...

Read full article...
---

Monday, August 20, 2007
SPOT GOLD PRICES dipped before rebounding early Monday, recording an AM Fix in London of $658.50 per ounce, virtually unchanged from Friday's US close.
"Some people are still afraid there might be more bad news ahead, and liquidity in the gold market is poor because most of the traders are not back from their summer holiday," said Ng Cheng Thye, head of Standard Bank's precious metals desk in Singapore , to Bloomberg earlier.
Read full article...

Read full article...
---

Sunday, August 19, 2007
At the time of writing this, the Dow Jones Industrial Average is down 9% from its record closing high of 14,000 set on the 19th of July. Since then, fears over defaulting sub-prime funds spilling into main markets has had large numbers bailing out of higher risk assets into the relative safety of government bonds and cash.
Read full article...

Read full article...
---

Saturday, August 18, 2007
It's not at all likely that the credit crunch which plagued the markets last week will be resolved when trading on Monday resumes. But … it appears the Fed is sensitive to the market and will continue providing liquidity as needed, virtually on demand. The pace at which … the Fed is able to remove the billions of new dollars from the money supply, if at all, will largely determine the direction for metals in the coming weeks. All that is reasonably certain is that if the liquidity situation only deteriorates from here, which would probably have to occur before a rate cut is truly on the table, precious metals, along with most assets, will suffer in the short run. ~
Precious Points: Bernanke the Maestro
, August 11, 2007
Read full article...

Read full article...
---

Saturday, August 18, 2007
Scary? Maybe, but we've been there before. $21 (or 3%) drop in gold price is not so unusual. What next? Let's take a quick look at where we've been and see if we can guess what to expect ahead.
Who's Panicking?
It's just my unsophisticated guess as to who has been panicking these past few days but it looks like the panicky people are in two classes. First are the commentators and media personalities. They doth not knoweth of what they speaketh off most of the time. The second are the industry professionals, you know the kind, those that continually advise you to look at the long term and not at the short term fluctuations. They are often the first to panic during short term troubles.
Read full article...

Read full article...
---

Friday, August 17, 2007
SPOT GOLD PRICES rose at the London opening on Friday, recovering the overnight bounce above $653 before slipping to $651.56 per ounce by lunchtime – a little more than 1% above Thursday's low.
European stock markets also rose despite a torrid session in Asia , bouncing 0.7% on average as London 's FTSE regained 1.4% and France 's Cac 40 put on 0.9% from Thursday's close.
Read full article...

Read full article...
---

Thursday, August 16, 2007
After a week of exhibiting great relative strength, spot gold prices -- and with them the streetTRACKS Gold Shares (NYSE: GLD) -- finally caved in to the intense selling pressure exerted by "the liquidators": those managers and investors who bailed out of the precious metals to raise cash, likely to meet anticipated margin calls, etc…or merely to preserve capital during very tumultuous times.
Read full article...

Read full article...
---

Thursday, August 16, 2007
By now, with the markets causing heart palpitations, readers should be receptive to what this author has been attempting to communicate. The preceding articles in this series were intended to enable readers to gain a clearer understanding of the real (as opposed to perceived) problems being faced by humanity. For ease of reference they are summarised in Appendix 1 hereto. We can now turn our attention to developing a plan to solve these problems in the shortest possible time and at the lowest possible cost.
Summary and Conclusions
This concluding article articulates a Vision which will allow for most of the defined problems to be addressed. As a side effect, the USA can once again aspire to become an export oriented country operating at a surplus. Debt levels can begin to shrink.
Read full article...

Read full article...
---

Thursday, August 16, 2007
SPOT GOLD PRICES
ticked lower during a torrid session for Asian and European stock markets early Thursday, avoiding the worst of the current sell-off in financial assets to record a Morning Fix of $664.15 per ounce in London .
Read full article...

Read full article...
---

Thursday, August 16, 2007
If you're reading this article we likely know how you're feeling about your investments. You probably feel a little anxious, uncomfortable, worried, you may be thinking about selling or you have recently sold some of your investments. You may not be adding to positions or you may have stopped viewing your trading account because you do not want to see your accounts performance.
How do we know this?
Read full article...

Read full article...
---

Wednesday, August 15, 2007
"...In a credit crunch, it's often said, cash is king. In which case, gold's just been crowned emperor..."
AT LEAST THE weather here in London suits the markets. More like October than August, the constant drizzle is broken only by chill gusts of wind, rattling the windows like a late autumn gale.
Read full article...

Read full article...
---

Tuesday, August 14, 2007
The normal annual demand forces for oil have reached a crest again. Mid-year driving pressures, which usually peaks in between early August to as late as mid-October, has forced this commodity once more to roar over $78 in early August in similar fashion to last year. Oil then follows a typical path of drifting downward to a low late in the 4th quarter. Natural gas, on the other hand, begins to escalate upwards during this time and tops in October to December depending on winter weather.
Read full article...

Read full article...
---

Tuesday, August 14, 2007
SPOT GOLD PRICES for immediate delivery were little moved against the US Dollar early on Tuesday, slipping 0.3% to record an AM Fix in London of $667.35 per ounce.
But gold rose against all other major currencies besides the Japanese Yen, however, as European bourses struggled to recover after opening the day 0.5% lower.
Asian stock markets outside China also pulled back or held steady at best, with shares in Sydney ending 0.8% lighter after sharp falls in the banking and home-loans sector. South Korea 's Kospi index dropped 1.7%. Hong Kong shares ended 0.5% higher.
Read full article...

Read full article...
---

Monday, August 13, 2007
Once again we have oil prices (+$1.40) climbing sharply along with equities, which purely is a function of market liquidity -- that is, the re-entry of market liquidity. Central Bank infusion has alleviated the immediate real or psychological need to jettison commodities to raise cash. From a technical perspective, oil and the US Oil Trust (AMEX: USO) were overdue for a recovery rally into the Thurs-Fri lows around $54 (basis the USO).
Read full article...

Read full article...
---

Monday, August 13, 2007
Doesn't that chart below look sweet?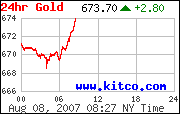 Of course I am optimistic. But I will admit that my optimism is built on a foundation of strong favorable fundamentals. And what you are observing below is one of those strong fundamentals acting in over drive. And so be it. I will not stand in its way.
Reading an interesting book, "How the Irish Saved Civilization," Thomas Carhill. The premise of the story is that as the Roman civilization was crumbling one Irish man through a gargantuan effort began preserving western civilization for modern posterity. And of course the irony is that the Irish were the least civilized of that era yet they played an important and life preserving role in preserving ancient civilized knowledge, technology and literature.
Read full article...

Read full article...
---

Monday, August 13, 2007
SPOT GOLD PRICES slipped against the US Dollar early Monday, opening the week in London just shy of last week's start around $671 per ounce as global equity markets rose in response to fresh injections of cash from the world's leading central banks.
"Despite the recent sell off in gold from fund managers attempting to raise capital to cover margin calls on loss making positions in their portfolios, the yellow metal should bounce back and react positively given the amount of cash being fed into the global markets," says today's note from Standard Bank.
Read full article...

Read full article...
---

Sunday, August 12, 2007
"The credit crunch panic has worked to the benefit of the metals and those who own them, but blindly relying on this to continue without any sort of correction is a risky bet. Another successful retest of the 5-week moving average, currently below $670, would further solidify the strength of the current uptrend.
"The Fed will attempt to placate what is approaching outright panic in some circles and will feel compelled to amend the language of its statement, but ... will resist an outright rate cut for as long as possible, though it will very likely continue quietly expanding bank reserves to mitigate damage to the system and spur liquidity." ~ Precious Points: Tough Love from Bernanke and Co? , August 5, 2007
Read full article...

Read full article...
---

Sunday, August 12, 2007
You'll sleep better at nights if you just focused on the intermediate or longer term trends. As an example, both moving averages of gold remained positive as did the price momentum indicator. Not yet time to panic from the perspective of these time periods.
GOLD : LONG TERM
Despite the volatility in the price action the long term P&F chart has not moved. I'll forgo any analysis of the P&F chart this week. You can go to last week\s commentary which remains unchanged.
As for the normal indicators, these have also changed very little. Gold is still above its long term moving average line and the line is still slightly pointing upwards. Price momentum is still in its positive zone but has been showing weakness versus price action for some time. The volume indicator remains below its trigger line and the trigger is still sloping downward. The volume indicator is the one indicator that has gone negative and has been negative for most of the past few months.
Read full article...

Read full article...
---

Saturday, August 11, 2007
Sales of gold by European Central Banks are primarily for the adjustment of national reserves in terms of structure or size. They are not intended under the rules of the European Union, intended to pay the bills of the governments of Europe, so when the subject came up, after a consistent record of the Bank of Italy's refusal to even contemplate the sale of the country's gold reserves, everyone was surprised. The reality was suddenly the government of Italy wanted to put their hand into the country's coffers in an exercise that would never have solved the country's debt problems. 
Read full article...

Read full article...
---