Analysis Topic: Commodity Markets - Metals, Softs & Oils
The analysis published under this topic are as follows.

Friday, July 20, 2007
How would the loss of nine percent of world's uranium mining impact the uranium price?
We would not wish to trade places with Nick Tattersall, the Reuters wire serve reporter providing outsiders a glimpse of the chaos now unfolding in the Republic of Niger.
Nearly all of Niger's journalists have been threatened or shut down.
Read full article...

Read full article...
---

Thursday, July 19, 2007
On Thursday gold stocks broke out from the consolidation that began in May 2006. The XAU closed at 158.25, exceeding its consolidation high of 153.15. The HUI closed at 371.88, exceeding its consolidation high of 369.69. If not for the recent slip in Eldorado Gold (EGO), the HUI would be at least a few points higher.
How do we know that this breakout is for real or confirmed?
Given the aforementioned case with Eldorado, I'm going to use the XAU here.
Read full article...

Read full article...
---

Thursday, July 19, 2007
GOLD PRICES rose nearly 1% by mid-morning in London on Thursday, reaching $673 per ounce by the Morning Fix – the highest fix in US Dollars since May 14th.
Priced against Euros, gold hit a one-month high at €486.90 per ounce, and the metal was rose 0.8% from Wednesday evening against the Pound Sterling. Fixed at £328.18, the metal then rose further as the Pound slipped on the currency markets.
Read full article...

Read full article...
---

Thursday, July 19, 2007
The dollar resumes its broad sell-off as Chairman Bernanke's speech and the Fed's central tendency forecasts present no real deviation in the existing negative dollar flows, which have escalated in the Asian session following Bear Stearns' announcement on its sub-prime hedge funds. The secular deterioration in the US dollar is highlighted via the 5% increase in gold prices over the past 2 ½ weeks. Gold today is surging by $8 per ounce to $674 per ounce, its highest level in 2 months.
Read full article...

Read full article...
---

Wednesday, July 18, 2007
Sean Brodrick writes: I have bad news: If you think oil prices are high now, you ain't seen nothin' yet. The good news is that you can profit from oil's next move. That should help you pay your soaring bills when gasoline accelerates past $4 a gallon. More on that in a moment. First, let's talk about why energy prices are on the move.
About a month ago, I gave you "Three Triggers for Higher Oil Prices." Just to refresh your memory, they are: 1. the potential for monster hurricanes in the Gulf of Mexico, 2. spreading violence in the Persian Gulf, and 3. a potential al Qaeda attack on U.S. oil facilities.
Read full article...

Read full article...
---

Wednesday, July 18, 2007
SPOT GOLD PRICES rose steadily throughout the Asian session on Wednesday, hitting a new high for the week above $669.90 before slipping to $667.75 per ounce at the AM Fix in London – the highest Fix since June 7th.
Global stock markets fell sharply, meantime, knocking 1.1% off the Nikkei in Tokyo and shaving 0.7% off the FTSE in London .
Read full article...

Read full article...
---

Tuesday, July 17, 2007
In London, the price of North Sea Brent, the benchmark for two-thirds of the world's oil, touched an all-time high of $78.40 per barrel this week, with no sense of alarm at the world's top central banks. Regarded as a key indicator of global inflation, central bankers are sitting in stone faced silence about the surge in crude oil, and that's been good news for bullish speculators in gold and energy shares.
After all, higher interest rates won't produce one extra barrel of oil. When asked about the high price of crude oil on July 10th, Federal Reserve chief Ben "helicopter" Bernanke replied, "Inflation is less responsive than it used to be to changes in oil prices and other supply shocks. If inflation expectations are well anchored, changes in energy and food prices should have relatively little influence on "core" inflation."
Read full article...

Read full article...
---

Tuesday, July 17, 2007
For the past four sessions, and since it thrust above its declining 50-day moving average, the streetTRACKS Gold Shares (NYSE: GLD) has consolidated above the 50 DMA in what appears to be a bull flag formation that should resolve itself in a thrust towards the May '06-July '07 resistance line, now at 67.80. At this juncture, only a sustained break of the 50 DMA will begin to compromise the developing bullish scenario.
Read full article...

Read full article...
---

Tuesday, July 17, 2007
GOLD SLIPPED nearly $2 per ounce during the first-half of London trade on Tuesday, nearing the US open below $665, its lowest price since Thursday.
"The Dollar is still the main driver of gold prices and there will be a set of important data points this week which may influence the Euro/Dollar exchange rate and hence gold," reckons Michael Widmer, director of research at Calyon Bank.
Read full article...

Read full article...
---

Monday, July 16, 2007
How do you beat the market when oil keeps on rising? Last week's rise in the price of oil to $74/barrel once again raises speculation that we could see all time highs in oil. As you might realize there are three factors that contribute the price of oil. Supply of oil, demand for oil and speculation. Looking at these factors may help provide a better understand of where the price of oil might go.
Supply of Oil
The following is from the Energy Information Administration Short Term Energy Outlook .
Read full article...

Read full article...
---

Monday, July 16, 2007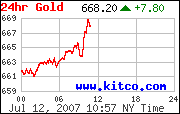 The US dollar continues to see saw back and forth. And as the dollar continues to demonstrate its weakness gold will continue to dig deeper into its present 600 per ounce foundation.
Here is an interesting thought. How will gold do when it hits 400 an ounce? You say wait a minute, Dave, its already passed 400 an ounce. So what is my point? My point is to illustrate the significance of the gold price. Whether it's 300 an ounce or 500 an ounce or even 400 an ounce.
Read full article...

Read full article...
---

Monday, July 16, 2007
THE PRICE OF GOLD barely moved early Monday, trading in a $1 range before rising to break $668 per ounce as the US open drew near.
"Overall trading is not that great, and I don't see buying interest from Indonesia ," said a bullion dealer in Singapore to Reuters. "Demand from Thailand is still OK because of the Thai baht."
Read full article...

Read full article...
---

Monday, July 16, 2007
Gold rallied strongly during the week to key resistance above $670 which now threatens to end the corrective downtrend from $698 that has seen gold fall to a low of $641 three weeks ago.
Gold Outlook
Read full article...

Read full article...
---

Sunday, July 15, 2007
Nice little rally in the precious metals but for now the emphasis is on the "little". Rallies happen, longevity is rare. Let's take a closer look.
U.S. DOLLAR INDEX
Before going into a gold analysis, a few words about the U.S. Dollar Index shown here two weeks ago. Over the past two weeks the $ Index has moved lower and is sitting right on top of its indicated P&F support, at 81. As mentioned, it has been here several times in the past 20 years with significant rallies following. Only once had it dropped below this P&F support but then only for a couple of short weeks. Looking at a daily futures chart we see that the dollar is below the 81 level, more than half way towards the 80 level. Momentum is negative and the volume action seems to suggest that no one likes the $. What should we expect if the $ should drop decisively below support?
Read full article...

Read full article...
---

Saturday, July 14, 2007
The turning gears of Bernanke's beautiful machine continue to sound like music to the ears of precious metals investors! Given the repeated testing and holding of the 50-week average in gold on Friday, this will remain the important level to watch for confirmation of the short term rally. ~ Precious Points: The All's Well That Ends Well , July 14, 2007
Stocks exploded to record highs on Thursday and Friday, but metals were mostly left behind. The suggestion is that the move in stocks was less related to fundamentals and more to sentiment, with a short squeeze in equities driving a rally that overlooked gold and silver. But now with gold confirming two weekly closes above the 5-week moving average, the metals could be heating up for their own run at new records.
Read full article...

Read full article...
---

Friday, July 13, 2007
Earlier this week, I was invited on Canadian television to offer a real-time analysis of the latest weekly petroleum report from the US EIA. The Petroleum Status Report is released each week at 10:30 am EST, detailing exactly how much oil, gasoline and distillate is currently in storage in the US.
Sometimes, the report just isn't all that interesting nor does it always have much of an impact on market prices for crude and gasoline. But that certainly hasn't been the case this year.
Read full article...

Read full article...
---

Friday, July 13, 2007
Investment and speculation are ultimately the world's greatest probabilities games. Traders exist in a realm of constant uncertainty, where capital must be deployed today well before the unknown future arrives. To increase the odds of success for any trade, traders should only deploy when probabilities swing way into their favor.
So it is not surprising that virtually all financial-market analysis is designed to help deepen our understanding of the underlying probabilities governing the markets at any time. The whole gamut of research approaches from fundamental to technical to sentimental ultimately boils down to gaming whether or not today is a high-probability-for-success opportunity to buy or sell.
Read full article...

Read full article...
---

Friday, July 13, 2007
GOLD RECOVERED an overnight dip in Asia during the first half of London trade Friday, reaching back above $668 for the fourth time in two days as the US open drew near.
"Sentiment is definitely firm at the moment given the consistent record highs we are seeing on the Euro," says Brandon Lloyd for Mitsui.
"It wouldn't be surprising at all for gold to reach its next target in the mid-$670 area tonight. If the US Dollar does manage to find the strength to recover some of its losses, then gold should find support at $660."
Read full article...

Read full article...
---

Thursday, July 12, 2007
The technical situation for silver closely parallels that for gold and therefore most of the arguments set out in the Gold Market update are applicable to silver. In this update we will therefore confine ourselves to highlighting the important points of difference between the two metals. One important development over the past week or so for silver has been the improvement in its COT structure that has at last given a major buy signal.
Read full article...

Read full article...
---

Thursday, July 12, 2007
There are several factors coming together now to suggest that a powerful rally in gold is drawing near, and because they are so clear and potent, they do not require a long-winded description.
On the 2-year chart for gold we can see how it has stabilized above an important support level in the $635 - $640 area over the past few weeks. This after having broken below a long-term trendline dating back to mid-2005 that may have caused some to short the metal and who thus must be growing increasingly concerned at the lack of downside follow through, although they are probably finding solace in gold's insipid performance over the past week as the dollar has fallen sharply.


Read full article...

Read full article...
---