Analysis Topic: Commodity Markets - Metals, Softs & Oils
The analysis published under this topic are as follows.

Wednesday, April 25, 2007
Investors the world over are constantly evaluating the leverage, risk and potential rewards of their investment decisions. Whether you are an individual investor or an analyst for a large mutual fund, leverage, risk and the pot of gold at the end of the rainbow are always factors to be considered.
Read full article...

Read full article...
---

Wednesday, April 25, 2007
How much has Gold benefited from the carry trade loans? How much of the run from US$640 to US$690 has been fueled by the same borrowed money that has pushed paper equities higher? Is Gold vulnerable when the carry trade loans are forced to unwind?
How much price vulnerability might occur? These are the questions being mulled by serious investors in Gold. Unfortunately, these same questions as they apply to paper equities are being largely ignored. Too many speculators in paper equities believe the rise in the prices of their stocks is because they are talented, rather than being due to cheap money from foreign sources.
Read full article...

Read full article...
---

Tuesday, April 24, 2007
Several weeks ago I wrote about how the US dollar was on the verge of a breakdown and that gold was on a verge of a break out. Sure enough, the dollar has hit multi-year lows against a wide array of currencies and gold, while overbought in the short-term, seems to be well on its way to multi-year highs.
One of the interesting aspects of this recent move up in the gold market is that gold prices have had a relatively orderly move up to new highs. After the knee-jerk sell-off in gold (where gold mindlessly tracked the equities market) gold has moved higher by trading in ranges…and breaking those ranges…and moving swiftly higher due to buy stops being triggered. Another way of looking at this is that gold prices have moved higher in a "stairway" type approach. Take a look, for example, at the gold chart.
Read full article...

Read full article...
---

Monday, April 23, 2007
Oil
June crude lost $2.22 to $64.11. May gasoline was down 1.9% and Natural Gas fell 5.4%. As the chart below shows, crude is at a critical stage - it either rallies up from here to hold support, or it breaks through support and starts a new leg down.
Read full article...

Read full article...
---

Monday, April 23, 2007
Gold broke out last week and now looks set to run up at US$730 but a few resistance levels above here first. Back at the start of the year I made an educated guess at a May $730 top for the first half of 2007, time will tell. This is not a technical article, if is a fundamental one for my PDF clients and resource investors. Tread warily here is my current take – the ASX is toppy and needs a pull back but there are still some opportunities in the resource arena short term. Full technical and fundamental coverage of this is in the latest GoldOz Newsletter.
Read full article...

Read full article...
---

Monday, April 23, 2007
Resource Stock investors have become increasingly excited as gold, silver and oil have advanced over the past 7 weeks or so, with the usual cheerleaders advancing plausible reasons why gold and silver will soon break out to new highs. However, as we will shortly see, big money is positioning itself to fleece the little guy yet again, with the same old music playing over, as it has done countless times in the past.
On shorter-term charts all seems to be OK - gold and silver were wildly overbought after their strong run in late 2005 and early last year, and were entitled to take a lengthy breather to let the extremely overbought condition unwind, and as they now approach the highs of last year they are nowhere near as overbought, and thus on the face of it, they appear to be ready to break to new highs at last.
Read full article...

Read full article...
---

Sunday, April 22, 2007
Oroborean writes "A corrective dollar rally, as short-lived as it might be, could become a hurdle for metals going forward … When support finally kicks in, as it may have on Friday, there could be some correction and consolidation in metals. "
~ Precious Points: Got Discipline? , April 14, 2007
Everywhere you turn, economists and commentators are talking up the benefit of the weak dollar – how it's good for exports, how it will boost the profit margins of multinational corporations. What you don't hear quite as much of is how it makes your cash savings worse less and less and how your wealth would be more than keeping pace with inflation if it was stored in metals.
Read full article...

Read full article...
---

Sunday, April 22, 2007
Lots of speculation about the next great gold boom – or not ? My Composite Index of Precious Metals Indices shows a serious double top. Let's hope it's just a short term aberration.
COMPOSITE INDEX of PRECIOUS METALS INDICES
At the end of most of these commentaries you will find a table of Precious Metals Indices. The table includes the major North American precious metals Indices, the various FTSE Gold Mines Indices, the seven Merv's Indices as well as gold, silver and the US$. Subscribers to my weekly precious metals service get the full expanded table along with a weekly Composite Index chart that shows the average weekly performance of all of these Indices. This week the chart may be giving a very serious warning so I thought I'd show it to all my commentary readers.
Read full article...

Read full article...
---

Saturday, April 21, 2007
Brown Again ?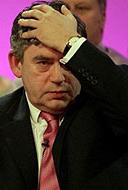 Two of the chief qualifications for a Minister of the Crown in the U.K. are a complete disregard for the opinions of others and absolutely no regard for the consequences of his actions. Mr. Brown is superbly qualified to be Prime Minister in this regard.
Despite the overwhelming evidence of the foolishness of the sale of half Britain 's gold in a manner to guarantee a low price, Mr. Brown unashamedly continues to press for the sale of other people's gold.
Read full article...

Read full article...
---

Friday, April 20, 2007
Oil and gas stocks had a great run to the upside following the correction low in earlier March. The Amex Oil Index (XOI) rallied nearly 180 points from its March low of 1,100 to its most recent high of 1,280. The Amex Natural Gas Index (XNG) was likewise bullish from March through late April and rallied from its correction trough of 440 to its latest high of 500.
How much energy is left in the oil/gas stock sector after this extraordinary rally? To answer that question we turn to the internal momentum indicator series known as OILMO.
Read full article...

Read full article...
---

Friday, April 20, 2007
This week has been a busy week for silver as announcements of two silver ETFs were made to the media. When I read the words "silver" and "ETF" I was part hoping it was finally the silver stocks ETF I mentioned in the latest issue of my newsletter. However, it was not to be as the third silver ETF was announced by the Zurich Cantonal Bank along with their platinum and palladium ETFs. It will start trading on the 10th May.
I asked for the prospectus and got some documents in German. I ran it through Google translator and got some extra items of information.
Read full article...

Read full article...
---

Friday, April 20, 2007
It is still common for market commentators to denigrate gold as a relic of little value. They claim that since it offers no dividend its only appropriate use is for jewelry--never calling to mind the hubris it takes to ignore 5,000 years of civilization that viewed gold as money.
Most market strategists still don't realize that gold is money and its value is as a store of wealth and it holds its value against fiat currencies better than any Treasury asset, including TIPS. So, I thought it may be enlightening to compare the returns of gold versus Treasury Inflation Protected Securities and determine which offers a better hedge against inflation.
Read full article...

Read full article...
---

Friday, April 20, 2007
Gold in recent days has flirted with resistance above $690, currently having retraced from the initial attempts at a breakout higher.
From time to time, so as not to get suckered into a wrong analysis or wave count of a market based on relying too much on ongoing 'updated' analysis. I like to take a fresh chart of a market, in this case of Gold, and see what actually stands out clearly at this point in time, a Fresh view so to speak.
What is the 'Fresh' current chart of Gold telling us, especially in terms elliott wave analysis ?
Read full article...

Read full article...
---

Thursday, April 19, 2007
The focus on gold and the USDollar alone lacks a crucial factor in maintaining the world currency reserve on its fragile pedestal. The PetroDollar is a term used to describe the close relationship between the USDollar and the crude oil export business dominated by Saudi Arabia , manifested in the superstructure of the global banking system. So one could say the oil world provides the pool from which the US $ exchange rate valuation is applied and enforced.
The gold community pays far too little attention to crude oil factors in my opinion, but Adam Hamilton does indeed. Gold investors love to point to Iran war tensions as a factor to lift the gold price, but they might overlook how the associated earthquakes in banking shift the very ground under the world currency reserve.
Read full article...

Read full article...
---

Thursday, April 19, 2007
The silver chart looks considerably less inspiring than the gold chart at this juncture, which is perhaps not so surprising as after outperforming gold last year, it has been under performing it so far this year.
On the 10-year chart the trading range that has followed the ramp from September 2005 through April last year does not look to be of sufficient duration to support another strong advance, and the uptrend channel drawn on this chart looks unsustainably steep and for these reasons the chances of a breakdown are considered to be quite high.
Read full article...

Read full article...
---

Wednesday, April 18, 2007
The gradual uptrend of the past 6 weeks has brought gold once again to a critical juncture. This rise has brought it up to the late February high and within $40 of last year's highs at about $730, raising hopes that it may soon break out to a new high.
Read full article...

Read full article...
---

Wednesday, April 18, 2007
The recent upward move in the energy indexes signals higher prices can be expected in 2007 and oil will remain firm at current levels. It also shows inflation is still growing and global economies are continuing to expand.
After 10 months of consolidation below the key 1235 resistance level, the Amex Oil Index (Chart 1) has broken out above this important price ceiling. This indicates the main upward trend in the oil sector is now continuing. And as the Amex Oil Index often leads the commodity, it also implies oil prices will remain firm at current levels as the summer driving season draws near.
Technical evidence shows growing upward pressure should continue until the first half of June.
Read full article...

Read full article...
---

Wednesday, April 18, 2007
Sean Broderick writes: You think the fact that uranium prices have more than doubled in the past 12 months is something? Just wait! I hope you have your safety belt on, because this could be the ride of your life. Here's why …
There's a feeding frenzy going on in Australian uranium stocks right now. For example, two of the best uranium companies in the world, Areva and Paladin Resources, fiercely bid against each other for another company (and its resources).
Larger miners are generally very conservative. So the fact that these two companies are throwing so much money around, tells me that uranium — which recently hit $113 per pound — has a long, LO-O-O-NG way to go.
Read full article...

Read full article...
---

Wednesday, April 18, 2007
Much talk about this index or that index making a new high, or near a new high. The level for an index is interesting, but the return being earned is more important. A stock market index could conceivably make a new high each and every day without providing a desirable return. Today's graph compares the return over the past five years of an investment in $Gold and U.S. stocks, as measured by the total return on the S&P 500.
As is readily apparent from that graph, $Gold has substantially outperformed an investment in U.S. equities. Why these results? Gold's price is a mirror reflection of the global purchasing power of the U.S. dollar. As the Federal Reserve has grossly mismanaged U.S. monetary policy over the years, the global forex market has pushed down the value of the dollar. That depreciation of the dollar's value is not reflected in the equity market.
Read full article...

Read full article...
---

Monday, April 16, 2007
Gold is on the rise. Investors are excited, especially after last month's volatility, which proved to be nerve wracking for many gold investors. This alone reinforces why it's important to focus on the major trend.
Chart 1 shows gold's mega uptrend and as you can see, the volatility over the past year doesn't look like much. On the contrary, this chart illustrates gold's strength as it sits near the high side of the rise that started in 2001. This is the most important picture to keep in mind when investing in gold. The bull market since 2001 is clearly underway.
Read full article...

Read full article...
---