Analysis Topic: Commodity Markets - Metals, Softs & Oils
The analysis published under this topic are as follows.

Wednesday, March 28, 2007
Moneyization: The global financial phenomenon of individuals and businesses moving their funds to monies in which they have the highest confidence, or money in which they have a higher store of faith.
Or, The Vote of the Markets
To the joy of day traders, the Federal Reserve Open Market Committee, the rate setting arm of U.S. Federal Reserve, announced again their lack of commitment to sound money. For a day U.S. equity markets were filled with joy and short covering. FOMC statement, released after their meeting, suggested diligence on inflation(wink, wink), and suggested some concern for weakening U.S. economy. Easier U.S. monetary policy may require just one more indication of the collapsing U.S. housing industry and could be only one committee vote away.
Read full article...

Read full article...
---

Sunday, March 25, 2007
Gold & Silver
Gold closed up $3.40 to $657.30. It was the second lowest daily close of the week. The daily high for the week was put in on Thursday at $664.20. The intra-day high for the week was also on Thursday at $667.30.
The first chart up is the daily chart of gold, which shows the rising lower trend line solidly in place. Higher highs are rising from the lower left corner to the upper right hand corner of the chart. A bullish signature.
Read full article...

Read full article...
---

Sunday, March 25, 2007
This article is an update to the article
Buying gold - The easy and safe way for personal investors to Buy, Sell and hold gold at market price
, which covered the technical aspects of buying and holding gold with
Bullionvault.com
, and now we look at what to expect from holding your own gold investments in terms of real returns after charges.
Read full article...

Read full article...
---

Sunday, March 25, 2007
Friday's sharp reversal almost wiped out the gains from the previous 4 days. Is this a new reversal or just nervous nellies selling prior to a week-end?
Relative Strength (RS)
I don't remember how I got started on this but I guess I'd better finish it off. In my tables of technical information and ratings (an example is usually published at the end of my commentaries) is a column called RS for Relative Strength. As I have explained briefly in previous commentaries what the moving average (MA) and momentum (MOM) columns of information are all about I guess I should finish and explain the last of the information columns. There is still the RATINGS (RATE) column but I'll leave that for possibly next week.
Read full article...

Read full article...
---

Sunday, March 25, 2007
What does it take to stop people hoarding gold instead of cash...?
16th SEPT. 1992 – and led by the chancellor in London, Norman Lamont, the Bank of England raised its lending rates from 10% to 12%.
This was the largest hike in 8 years. But the Bank also promised a further increase to 15% later that same day.
Why the sudden urgency? The Old Lady was desperate to defend the Pound Sterling.
Somebody had to.
Read full article...

Read full article...
---

Sunday, March 25, 2007
by Joe Nicholson (oroborean) - "I n the end, it's not always the facts that determine the market's reaction, but the context… The best advice for markets like these is to shut out the noise and trade the charts."
~ Precious Points: Lackluster, But Not Tarnished
The gold chart below is an updated version of the one shown here last week. Clearly there's something to those channels, and it can only be interpreted as bullish that gold caught support at the centerline and moved higher last week.
Read full article...

Read full article...
---

Wednesday, March 21, 2007
China, now the world's largest Investor

This report is written in the light of an overlooked conclusion on the objectives of China. China realizes that it is an emerging giant. It realizes it has the capacity to outperform the developed world in manufacturing of all kinds [by following a path similar to Japan and other Asian nation - but on a far greater scale]. It is not China's intention to sit in the shadow of the U.S. or Europe, but to become the dominant global player, with its extremely low cost manufacturing cost structure.
The Chinese government wants China to be number one in the world and not just in manufacturing, but in designing a new government relationship to its economy, far removed from the structure used by either the U.S. or Europe. As such it will comply with the world's requests for change if it suits China's future. Such compliance will lessen as it grows to be indisputably the driver of the world's economy. It will do whatever it takes to access the resources with which to secure such a future, without asking anything of the nations with whom it contracts. It is naïve to think that China is likely to kowtow to the developed world. Because of these aims gold & silver has a place in the globe's monetary system.
Read full article...

Read full article...
---

Wednesday, March 21, 2007
A decade ago the decisions of the Bank of Japan and the People's Bank of China might have been reported, but not widely. Somewhere in the back pages of the paper those musings would occasionally be found. Few were interested, and fewer yet knew these institutions existed. Today though the interconnected nature of financial markets, as well as the economic markets, is widely known.
What happens in those markets has implications for developments in your financial markets. To some this might be a loss of sovereignty, but economic sovereignty has been fading since the Phoenicians.
Read full article...

Read full article...
---

Monday, March 19, 2007
Last year's basic series on In Situ Recovery uranium mining became a major success with many investors, who finally got an inside look at how uranium mining takes place. Part two of this six-part series provides a deeper understanding into the In Situ Recovery (ISR) uranium mining method.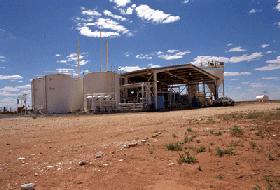 Read full article...

Read full article...
---

Monday, March 19, 2007
Iran's President Mahmoud Ahmadinejad asked to address the United Nations Security Council, reportedly causing speculators to assume that no reduction in Iranian oil supplies will occur for military or "diplomatic" reasons. Subsequently, crude oil fell to a six week low.
Prices are down 4.9% for the week, and are 10% lower compared to a year ago. Natural Gas fell 2.2% this past week.
Energy Secretary Samuel Bodman stated that the government plans on refilling the strategic oil reserve as early as April. The U.S. Energy Department plans to buy up to 4 million barrels of crude oil to replace 11 million barrels sold from the strategic petroleum reserve in the wake of Hurricane Katrina.
Read full article...

Read full article...
---

Sunday, March 18, 2007
Mestena Uranium Auction to Guide Utility Purchases - By the end of March, Mestena is expected to offer another 100 thousand pounds U3O8 in a sealed-bid auction from the company's ISR (in situ recovery) mining operations at Alta Mesa. "Bidding is expected to be aggressive," wrote Nuclear Market Review editor Treva Klingbiel in the March 16th issue.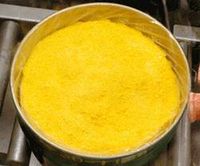 Read full article...

Read full article...
---

Saturday, March 17, 2007
ACCORDING to the laws of quantum physics
, simply watching an event changes the nature of that event itself.
You'll find the same phenomenon at work on Wall Street, too.
The more stock brokers follow a stock, the higher it goes. The best PR money can buy comes in the form of "independent" analysis.
Small-cap stocks suffering "absolute neglect" by professional analysts, for example, can trade at a huge discount to their more research-friendly peers. In the City of London, a study found in 2004, unloved small company stocks were seen to trade 32% lower on a valuation basis!
Read full article...

Read full article...
---

Saturday, March 17, 2007
"Even if there is a retest of support in the next two weeks, vital signs indicate this cat still has plenty of lives." ~ Precious Points: Nine Lives, March 11, 2007
Though the trading in metals looked pretty unenthusiastic by the end of the week despite higher than expected inflation readings, gold and silver lived up to our expectations and, at Wednesday's lows, landed on all four feet. Readers were directed last week to examine last June, Sept and January on the weekly charts to illustrate the expectation of "inevitable" attempts to retest the 50-day simple moving average at higher lows. Even without the trend charts and commentary available to members of TTC, readers of this weekly update could have reasonably sold early strength and bought near the lows.
Read full article...

Read full article...
---

Saturday, March 17, 2007
Gold went down. Gold went up. In the end gold went nowhere during the week. If this keeps up one can just go to sleep for a while and miss nothing. But are there stirrings under the guise of boredom? Let's see.
MOVING AVERAGE : Last week I briefly commented upon momentum, what it was and how to use it. I guess I should also say a few words about the moving average, which is another of the important indicators I use in my simple market analysis. I say "simple" as I do not believe in the complicated or super sophisticated. If it's not simple
I have found too often that it is also not worth the extra time and effort versus the potential extra benefits. I like the simple message of an indicator and especially the message that tells me " you screwed up, get out fast ". The moving average is one such simple indicator that does the job. Unfortunately, it is also an indicator that at times causes sudden reversals of message (whipsaws) so nothing is ever perfect.
Read full article...

Read full article...
---

Wednesday, March 14, 2007
The Technical Picture of the Gold Price: The Gold Bullion Price expressed below is the price defining those of the Futures / Options / and Exchange Traded Funds, representing a portion of an ounce of gold. The $ price of gold is the one all market operators relate to, due to the $'s position as the present global Reserve Currency. Each Producer receives his income from gold in his local currency only as the host government of the mines exchange the income for local currency.
Likewise indian, European, et al, buyers of gold use their own local currencies when buying gold. Gold Forecaster , tracks the gold price in the different currencies.

U.S. Dollar Gold Price
The Long-Term Technical Picture of Gold: Looking to Target $730+ in 2007
Read full article...

Read full article...
---

Wednesday, March 14, 2007
GOLD THOUGHTS : New York, which considers itself the center of the known universe, has discovered a solution to collapsing mountain of mortgage debt. NYSE is delisting NEW. Strategy of out of sight out of mind works for them. Amid this collapse of mortgage related stock prices and business models, Street analysts are showing their skills. One of these fantasy forecasters lowered NEW to "under perform" on Monday.
Talk about forecasting ability. The mortgage bomb de jour for Tuesday is LEND, down from almost $60 to $5. This one also downgraded to "under perform" by a talented analyst on Monday, and the price target of $26 was discarded. Interestingly, in most of these meltdowns some hedge fund seems to be identified as holding a major position. Pity the poor individual investors, the ultimate beneficiaries of this combined ineptness.
Read full article...

Read full article...
---

Wednesday, March 14, 2007
Wow! This mortgage meltdown you're seeing in the stock market is exactly what Martin and Mike have been warning you about all along. Boy, am I glad they're on our team!
Meanwhile, the uranium market is booming regardless of the stock market. Just last week, an Australian uranium mine got clobbered by a powerful cyclone. And the damage to just that one mine could result in losses exceeding all the new uranium production coming online this year!
So uranium prices are reacting to the news by blowing through the $90-a-pound mark.
Read full article...

Read full article...
---

Tuesday, March 13, 2007
GOLD THOUGHTS : Equity markets have begun a demonstration of long known fact, even a dead cat bounces when thrown into the air. Market corrections can certainly include days of temporary relief. A possible end to the correction is being called by some. More likely it is a bear market trap. Such commentators, having failed to anticipate end of liquidity driven rally, now have ability to identify bottoms. Real ability or expectational biases?
Even Mark Hulbert, with his dubious analysis of newsletters, has suddenly been able to find statistics suggesting end of equity correction may be near. Common characteristic of these gurus is that they have something to sell you, something that failed to suggest extracting your money from paper equity markets before the slide.
Read full article...

Read full article...
---

Tuesday, March 13, 2007
New Mexico state senator David Ulibarri's senate initiative, initially designed to increase public awareness of uranium mining and nuclear energy, has now taken on a larger dimension. After the New Mexico Senate Rules and Conservation Committees passed his Senate Joint Memorial (SJM)10 bill, Senator Ulibarri decided he accomplished what he hoped for – to help launch a study of uranium mining safety.
Read full article...

Read full article...
---

Sunday, March 11, 2007
After Cameco Corp's Cigar Lake flood at the company's northern Saskatchewan uranium mining project rattled analysts and utilities who previously expected sufficient uranium would be available to meet the needs of nuclear utilities, along came another mine flooding – this one in Australia.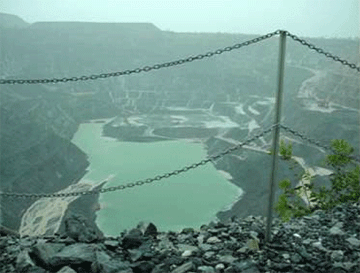 Read full article...

Read full article...
---