Analysis Topic: Commodity Markets - Metals, Softs & Oils
The analysis published under this topic are as follows.

Friday, March 08, 2013
U.S. DOLLAR gold bullion prices hovered near $1580 an ounce Friday morning, broadly in line with where it started the week, as stocks edged higher and the US Dollar weakened ahead of the publication of the latest US nonfarm payrolls and unemployment rate data.
Gold in Sterling meantime dipped below £1050 an ounce by lunchtime in London, while in Euros it fell towards €1200 an ounce as both currencies gained against the Dollar.
Read full article...

Read full article...
---

Friday, March 08, 2013

We all know that sentiment on Gold is quite bearish. Rather than post numerous charts which you've likely already seen, I want to note some of the recent statistics. By recent, I refer to the past two weeks. Market Vane's bullish consensus for Gold hit its lowest since 2001. SentimenTrader.com's public opinion, which combines various surveys, touched its lowest level since 2004. GLD has seen outflows for 41 consecutive days. It's monthly outflow was the largest since inception in 2007. According to BullionVault and COT data, speculative bets against Gold are the highest since 1999. The recent commercial short position was at its lowest since late 2008.
Read full article...

Read full article...
---

Friday, March 08, 2013
Even though the newsletter I write for Casey Research is focused primarily on gold, our metals investments cover all the precious metals, and when warranted, some base-metals plays too. And with the markets in the state they are, I want to say something about silver.
Read full article...

Read full article...
---

Thursday, March 07, 2013

"When it becomes serious, you have to lie." That statement was made by Jean-Claude Juncker, head of the Eurozone. Let's call this a Juncker Moment.
As per Tyler Durden, "He uttered (the above) after getting caught with a bold faced lie about the stability of the failed European project."
Read full article...

Read full article...
---

Thursday, March 07, 2013
WHOLESALE PRICES to buy gold held around $1580 per ounce on Thursday morning, trading in a tightening range as Asian and European stock markets crept higher after the Dow stock average recorded another all-time high in New York last night.

The Euro and Sterling both rallied this morning against the Dollar after the ECB and Bank of England both left their key interest rates unchanged.
Read full article...

Read full article...
---

Thursday, March 07, 2013
The current bull market for gold has risen steadily for about 9 years, but on a percentage basis we still haven't seen the exponential rise in a 1 to 2 year period that would clearly mark it as a bubble mania phase. In fact, after making solid gains and rising for 9 years, the gold market has essentially gone sideways over the last eighteen months. The good thing is that in the previous bubbles, after it burst the asset class had given back several hundred percent in the 1-2 years following the peak. Luckily we haven't seen that in this bull run for gold, not yet anyways, but we could see the cycle bottom later this year. The recent correction has given back about 20% from the peak of just over $1900 to just below $1550.
Can the correction continue and steepen to the downside? Sure, anything is possible, especially in a market that can easily be manipulated. But looking at the charts below, gold never went into a mania exponential rise and has been consolidating sideways for 18 months. This gold bull market run is definitely not like previous bubbles and the further this correction at these prices goes out in time, the more likely we will still see one more mania phase push higher with a several hundred percent rise before we can state that gold is truly in a bubble.
Graph courtesy of Macrotrends.org - This chart tracks the performance of gold since July of 2002 against the three largest bubbles of the last 40 years. Past bubbles have shown strong but steady growth for the first 7-8 years before moving into a hyper-growth phase for the last 18-24 months. Each series is adjusted for inflation and is smoothed with a 3-month moving average.
Dow vs. Gold Over the Last 100 Years and in the Current Bull Market
When we look at the Dow to Gold ratio for the last 100 years we see that the Dow has traded between less than 5 times the price of gold on several different occasions. Most of this time was between 1915 and 1940s, with the exception of the roaring 20s when the stock markets outperformed gold significantly. The only other time we saw gold become over valued compared to the Dow was during the 60s and 70s, this was the last time when gold was in a bull market and it lasted less than 20 years. From the early 1980s to about 2000, the Dow has clearly outperformed gold going from one extreme to another. In fact, at the peak of the Dow to gold ratio in 1999, you could buy the Dow 45 times over gold, but ever since then gold has been outperforming the Dow up until recently. What we haven't seen during this bull market for gold is a Dow to Gold ratio below 5 which could easily mark gold as way over valued compared to the Dow. In order for gold to be considered in a bubble territory, history has shown us that we need the ratio to be clearly below 5 to 1 on a spike low.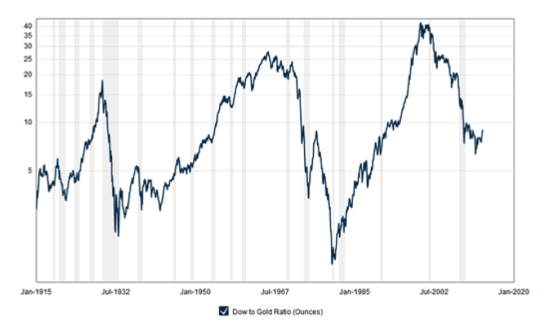 Graph courtesy of Macrotrends.org
Now let's take a look at the recent chart for Dow to Gold over the last 12 years shown below. Starting in 1999, the Dow was priced 45 times gold and since then has given up a significant portion of that ratio. In 2011, the ratio did go as low as 5.7 to 1 when the gold price peaked at about $1900 and ever since then the Dow has been advancing while gold has still been correcting. Today the Dow to Gold ratio is about 9 to 1 and the Dow just made all time highs at 14,286 while gold is sitting at about $1580.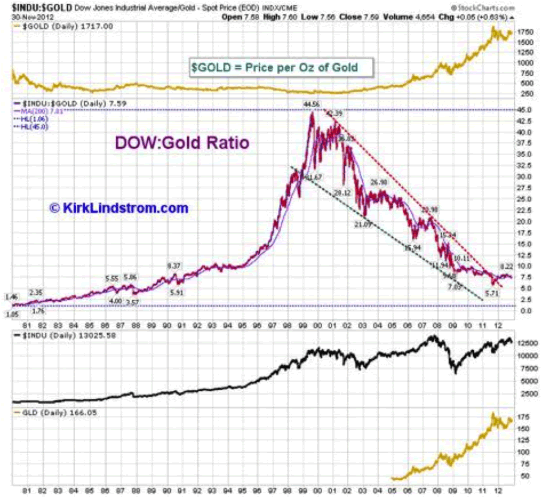 While the ratio is working in favour of the Dow for the moment, it would clearly need to break above 10 to 1 on a strong advance before we can say that gold is in trouble and that the bull market may be over. The 10 to 1 Dow to Gold ratio can be considered the line in the sand; this is where a period of great consolidation will take place before any judgement can be made. Assuming gold stays at about $1600, the Dow can easily move to all time new highs and towards 16,000, it will probably do so by May. At that time, the Dow will most likely take a pause and possibly start a correction going into the summer.
The only question is what will gold do once we reach the 10 to 1. Does it enter a strong bear market and retreat further compared to the Dow as it goes on to make all time highs from Fed enduced printing? Or does the bull market in gold reassert itself and the Dow starts a correction as we move back towards a 5 to 1 ratio. Looking at the chart above, the Dow to Gold ratio is still in favour of gold but has started to move sideways. Maybe a new trading range of 5 to 1 and 10 to 1 between the Dow and Gold still holds for the remainder of the decade. If that is the case, we are much closer to the Dow being at a top and gold at a bottom if the 10 to 1 ratio holds. At some point in the next decade we could see this ratio dip below 5 to 1 which would mean a strong rise in gold compared to the Dow at it enters bubble territory, but we are clearly not there yet.
One thing the charts above clearly show are that gold has never entered a strong parabolic rise into bubble territory. If that was the case, we would have seen a strong percentage gain of several hundred percent in gold within a very short period of time, of which it would be all given back in the same amount of time. Also, looking at the 100 year Dow to Gold ratio chart, the ratio never went below 5 to one which would mark that gold was way over valued compared to the Dow on a historical basis.
The Gold Miners Have Under Performed Everything
As for the gold miners, the XAU is a much broader index used to measure the performance of 30 mining companies. A chart courtesy of James Turk from Gold Money shows how the miners have done compared to gold since 1988. As we can clearly see, gold has outperformed the Dow and the miners during the current Bull Run we have been in. Following the melt down that started in 08, the miners have seriously underperformed and have gone on to historical lows compared to gold. During the 90s when there was technically no bull market in gold and you could buy the mining companies in the XAU index between 6 to 10 grams of gold. The range between 6 to 8 grams of gold for the XAU held between 2001 and 2008 when the bull market started. Since 2008, the miners have seriously underperformed versus gold and you can now buy the index for less than 3 grams of gold. The miners are extremely cheap compared to gold; in fact they probably have never been this cheap throughout history.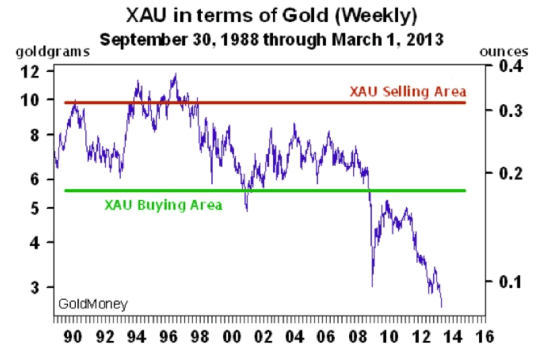 If you enjoyed reading this article and are interested in protecting your wealth with precious metals, you can receive our free blog by visiting TDV Golden Trader.
Cheers,
Vin Maru
Anarcho-Capitalist. Libertarian. Freedom fighter against mankind's two biggest enemies, the State and the Central Banks. Jeff Berwick is the founder of The Dollar Vigilante, CEO of TDV Media & Services and host of the popular video podcast, Anarchast. Jeff is a prominent speaker at many of the world's freedom, investment and gold conferences as well as regularly in the media.
© 2013 Copyright Jeff Berwick - All Rights Reserved Disclaimer: The above is a matter of opinion provided for general information purposes only and is not intended as investment advice. Information and analysis above are derived from sources and utilising methods believed to be reliable, but we cannot accept responsibility for any losses you may incur as a result of this analysis. Individuals should consult with their personal financial advisors.
---

Thursday, March 07, 2013
As looming inflation, currency wars and a possible run on gold threaten to derail markets, Leonard Melman, author of The Melman Report, is setting his sights on the midtier and near-term producers that he wants to scoop up when the blood is in the streets. In this interview with The Gold Report, Melman explains why gold, silver and the companies bringing them out of the ground could do very well in the second half of 2013.
The Gold Report: You recently told a crowd of investors at Prospectors & Developer Association of Canada (PDAC) that precious metals are the best place to invest in an inflationary period. Why is that?
Read full article...

Read full article...
---

Wednesday, March 06, 2013

How to get past money illusion now that it's day-break in America once again...
FORGET about the Apple effect. Not including AAPL in its 30 constituents is just one of the Dow Jones Industrial Average's many quirks.
So too is its ever-changing Dow divisor, a number seemingly picked at random to smooth out the math in the DJIA. But neither of these oddities changes the fact that this oddest of equity averages is hitting new all-time highs right now.
Read full article...

Read full article...
---

Wednesday, March 06, 2013
The propaganda has turned openly laughable. On the popular major financial news networks, the recent decline in the so-called Gold price has prompted quite the parade of clowns on the ship of fools to trumpet nonsense. The widely published and posted Gold price is dominated by futures contracts, and thus as corrupted as meaningless. The entire global financial structure is crumbling before our eyes. The gang of central bankers has applied their monetary policy for four and a half years since the implosion of Lehman, Fannie Mae, and AIG. The first is dead, while the second has transformed into a sanctioned subprime lender again, and the latter is a sinkhole. The deceptive messages are shrill, acute, and motivated from desperation.
Read full article...

Read full article...
---

Wednesday, March 06, 2013

Late last month it was reported that Mexico are going to organise an audit of their gold stored at the Bank of England.
Financial journalist Guillermo Barba, writes that that the Mexican Superior Audit of the Federation ("ASF" in Spanish) has made an official 'recommendation' that the Bank of Mexico "should "make a physical inspection with the counterparty that has the gold under its custody, in order to be able to verify and validate its physical wholeness and the compliance with the terms and conditions of dealing with this Asset…" It was verified by the ASF that this has never been done by Banxico."
Read full article...

Read full article...
---

Wednesday, March 06, 2013
Sasha Cekerevac writes: The recent pullback in gold has certainly unnerved long-term investors. It has also seen a dramatic shift in market sentiment. However, recent data shows that this shift in market sentiment has primarily come from shorter-term institutional funds.
When considering gold as an investment, one must consider the timeframe as well as the underlying participants in the market. Market sentiment for every asset class oscillates from overly optimistic to overly pessimistic. The goal for the long-term investor is to use this volatility to accumulate during overly pessimistic times and take profits during overly optimistic times.
Read full article...

Read full article...
---

Wednesday, March 06, 2013

This where we stand, and it's a fairly bleak view: Peak oil is almost here, and nothing new (with the possible but unlikely exception of Iraq) is coming online anytime soon and while the clock is ticking - forward movement on developing renewable energy resources has been sadly inadequate. In the meantime, the idea that shale reservoirs will lead the US to energy independence will soon enough be recognized as unrealistic hype. There are no easy solutions, no viable quick fixes, and no magic fluids. Yet the future isn't all doom and gloom - certain energy technologies do show promise. We had a chance to speak with well known energy expert Dave Summers where we cut through the media noise and take a realistic look at what our energy future holds.
Read full article...

Read full article...
---

Wednesday, March 06, 2013
How many times have we heard that the precious metals stocks are so oversold and cheap that they can't go any lower and have to rally. They just can't go any lower because the low in 2008 was the absolute low that will never be hit again as it was just an extraordinary event. A precious metal stock crash that was a once in a lifetime thing. So based on that low many PM investors bought their precious metals stocks thinking they were buying on the cheap. I'm wondering if they still think the precious metals stocks were a good buy at that 2008 crash low in the ratio charts?
Read full article...

Read full article...
---

Wednesday, March 06, 2013

While I suspect this is probably the furthest thing from what most investors expect, I think the dollar index is very close to forming another major top, and once it does it should release oil, gold and the rest of the commodity index from their extended corrections. Granted no one believed me when I called the major three year cycle low in the CRB last summer either.

As you can see in the next chart, as soon as the dollar began to rally out of its last intermediate bottom, commodities, including oil and gold, all began to move down into major intermediate degree declines. For gold this has turned out to be one of the most difficult yearly cycle lows of the entire bull market, other than the eight year cycle low in 2008.
Read full article...

Read full article...
---

Wednesday, March 06, 2013
U.S. DOLLAR prices to buy gold hovered around $1575 per ounce Wednesday morning in London, in line with last week's close, as dealers in Asia reported an increase in demand for physical bullion, in contrast with exchange traded funds, which have continued to see selling, in what one analyst calls a "tug of war" between physical buying and ETF selling.
"Short-term, gold should drift lower to the short-term support line at $1569/65 or even to the previous low at $1555," say technical analysts at Societe Generale.
Read full article...

Read full article...
---

Wednesday, March 06, 2013

Today's AM fix was USD 1,574.00, EUR 1,207.98 and GBP 1,043.42 per ounce.
Yesterday's AM fix was USD 1,584.25, EUR 1,214.82 and GBP 1,044.33 per ounce.
Silver is trading at $28.68/oz, €22.10/oz and £19.09/oz. Platinum is trading at $1,596.70/oz, palladium at $736.00/oz and rhodium at $1,200/oz.
Read full article...

Read full article...
---

Tuesday, March 05, 2013

Keith Fitz-Gerald writes: If you've ever suspected gold prices are being manipulated, you're not alone--and you're right, they are.
Against the backdrop of fiscal mismanagement, political incompetence, and failed austerity measures, the world's biggest traders have all bet heavily on gold. Lately, they've been pulling out all the stops to get what they want while laughing all the way to bigger bonuses.
Read full article...

Read full article...
---

Tuesday, March 05, 2013
U.S. DOLLAR gold prices climbed to $1584 an ounce Tuesday morning, 1.2% above last week's low, as stocks and commodities also edged higher and the Dollar weakened slightly after another Federal Reserve policymaker spoke in favor of ongoing quantitative easing.
Silver hovered just below $29 an ounce this morning, 3.5% up on last week's low, while major government bond prices fell.
Read full article...

Read full article...
---

Tuesday, March 05, 2013
Today's AM fix was USD 1,584.25, EUR 1,214.82 and GBP 1,044.33 per ounce.
Yesterday's AM fix was USD 1,578.00, EUR 1,214.13 and GBP 1,049.06 per ounce.
Silver is trading at $28.93/oz, €22.30/oz and £19.16/oz. Platinum is trading at $1,588.50/oz, palladium at $722.00/oz and rhodium at $1,200/oz.
Read full article...

Read full article...
---

Tuesday, March 05, 2013
Yes, the real rate of interest matters to gold. But not as much as its direction...
Wall Street and the City are coming to decide that gold is a sell. Because interest rates, they reason, are set to rise sooner than they used to imagine.
This professional money is only half-wrong. Central banks aren't about to hike the returns on cash savings, which have been a wasting asset pretty much non-stop since 2007.
Read full article...

Read full article...
---