Analysis Topic: Commodity Markets - Metals, Softs & Oils
The analysis published under this topic are as follows.

Tuesday, November 12, 2019
The metals market is an extremely emotional one. The highs and lows you see with metals traders are evident at each of the extremes. I think we are now approaching another extreme.
Several months ago, back in early June, I notified those willing to listen that gold was preparing to "take off like a rocket-ship." To my members of ElliottWaveTrader.net, I outlined my expectations for a strong rally to the 137 region, followed by a continued move to the 143/45 region before we see a larger consolidation. Thus far, the market has been reacting as generally expected.
Read full article...

Read full article...
---

Tuesday, November 12, 2019

Gold and silver stocks have held up decently during the correction in precious metals, which is now in its 3rd month. However, as we mentioned last week, the bugaboo has been the relatively high net speculative position in Gold, which has not changed much despite recent weakness in the sector.
Technically Gold cracked last week and the downside momentum coupled with the relatively high net spec position argues that Gold is headed for a retest of the summer breakout.
Read full article...

Read full article...
---

Monday, November 11, 2019

Global central banks have been pumping the liquidity spigots 24/7 and the US Fed is starting to go that way as well. This during a time of supposed economic splendor and fruitfulness (it is these contradictions that are the windows into a ginned up, leveraged economy dependent on monetary policy) while the S&P 500 breaks through the bull turnstile to blue sky.
Read full article...

Read full article...
---

Monday, November 11, 2019

…the financial system experienced some serious liquidity shortages in August 2007, and the Fed injected funds to help keep financial markets operating effectively so that they would continue to support ongoing economic activity
Federal Reserve Bank of San Francisco, August 2007
In August 2007, a credit crunch swept global markets forcing central banks to provide billions in emergency liquidity to ensure markets remained functioning. Despite the emergency infusion, financial markets and investment banks collapsed one year later in the greatest financial crisis since the 1929 stock market crash and the Great Depression of the 1930s.
Read full article...

Read full article...
---

Sunday, November 10, 2019

Australia's Mineral Resources (ASX:MIN) said last week it is pausing operations at its Wodgina lithium project, a joint venture with US-based Albemarle, due to "challenging lithium market conditions."
"Given the current challenging market conditions for lithium, the MARBL Lithium Joint Venture believes there is more value to be delivered in the long term by placing Wodgina on care and maintenance now," MIN Managing Director Chris Ellison said, on the same day a transaction concluded giving US-based Albemarle a 60% stake in the facility, located in Western Australia.
Market conditions are difficult primarily for two reasons: low prices due to oversupply from Australian hard-rock lithium producers, most of whom sell their spodumene concentrate to China; and reduced Chinese demand for lithium, after Beijing cut EV subsidies that made electric vehicles more affordable.
Demand has also been dented by bottlenecks in Chinese chemical conversion facilities, that make lithium hydroxide from spodumene concentrate.
Read full article...

Read full article...
---

Sunday, November 10, 2019

Make no mistake: Oil and gas companies may be doing some serious cost-cutting and slimming-and-trimming to stay competitive after the shale boom binge, but when it comes to employment, it's still one of the best industries to hit up for a job.
Jobs are booming, just as much as U.S. oil and gas production is.
US oil production has increased from 11.7 million bpd at the start of 2019 to 12.6 million by the end of October, according to the Energy Information Administration (EIA). Natural gas production has risen as well, to 99.1 Bcf/d at the end of October—95 Bcf/d of which is from dry natural gas—up from 91.3 Bcf/d this time last year for total US natural gas production.
Read full article...

Read full article...
---

Sunday, November 10, 2019
A line chart can give you a different perspective vs a bar chart which is why I like to use them both to help uncover a potential pattern. Line charts can often times give you a quicker heads when a stock is breaking out.
Below is a weekly line chart for GLD which shows you why I'm so concerned about the PM complex right now. As you can see this weekly line chart shows a triple top with the breakout in progress. My biggest concern is that we could see some reverse symmetry to the downside as shown by the blue arrows. Many times how a stock goes up is how it may come down over that same area especially when the move was strong.
Read full article...

Read full article...
---

Sunday, November 10, 2019

Something has changed in the gold industry. During high gold-price periods the trend was to produce as much as possible - in many cases, irrespective of higher extraction costs per ounce. In a way you can't blame them for making hay while the sun shone. The gold price rose for 12 consecutive years, hitting an all-time high of $1,907 an ounce in that heady summer of 2011. Why wouldn't it continue?
Their lack of cost control came back to haunt the major gold miners when prices crashed in 2013, along with their market values.
Partying like it's $1,900/oz
During the decade-long gold run (2001-11), gold giants like Newmont, Barrick, Goldcorp and Newcrest tried to out-mine each other with the annual ounce count being the main driver of shareholder returns and CEO bonuses.
Read full article...

Read full article...
---

Saturday, November 09, 2019
Gold has been the most popular form of investment and one of the most reliable assets recognized for its multiple use and rare value. Following the recent introduction of other investment substitutes, a number of people are made to believe that gold is less superior than the others. This article will highlight five reasons why gold has not lost its value, but still thrives as an investible
Read full article...

Read full article...
---

Saturday, November 09, 2019

Mike Gleason: It is my privilege now to welcome in David Jensen of Jensen Strategic and a highly studied mining analyst and precious metals expert with close to two decades of experience in the mining industry. And it's great to have him back on with us.
David, thanks so much for the time again today, and it's nice to talk to you again. Welcome.
David Jensen: Thank you, Mike. It's good to be back with you again.
Mike Gleason: Well, David, we had you back on at the beginning of the year and you shared some amazing insights on palladium, and we'll get to that in a bit because that market is still very interesting. But first off, you've been watching the Fed balance sheet closely here and I wanted to get your comments about that to begin with. Now, after the extraordinary expansion, which followed the 2008 financial crisis and a few rounds of QE, the Fed began contracting the money supply in 2017. You've been making the case that the withdrawal of liquidity could trigger another catastrophe.
Read full article...

Read full article...
---

Saturday, November 09, 2019
Oftentimes, you need to have patience when it comes to the metals. You see, while they move very quickly when they do move, the rest of the time they simply consolidate until they are ready for their next big move.
We have been waiting to see if the market is going to provide us that deeper pullback we wanted to see, and today seems to have triggered that potential. But, not all charts are showing the same degree of weakness.
Read full article...

Read full article...
---

Saturday, November 09, 2019
Let's take a closer look at the chart below (chart courtesy of www.stooq.com ) and assess the likely crude oil price path ahead.
Read full article...

Read full article...
---

Saturday, November 09, 2019
Fundamental analysis versus Elliott wave analysis: the winner for predicting the 9-year long commodity bear market is clear.
95% of traders fail. It's a day-drinking, country-music kind of statistic. Think: "Friends in Sell-Low, Buy-High Places."
One article attempts to quantify the reasons, citing: "SCIENTIST DISCOVERED WHY MOST TRADERS LOSE MONEY -- 24 SURPRISING STATISTICS." See number 14:
"Investors tend to sell winning investments while holding on to their losing investments."
In other words, their timing is off key. And when it comes to seizing market opportunities, nothing is as important as timing. Our friends at Elliott Wave International said it best in the pages of their educational reference guide, Elliott Wave Principle -- Key to Market Behavior:
Read full article...

Read full article...
---

Friday, November 08, 2019

Silver plunged on Tuesday, just as it was likely to after the triple reversal that we've been writing about, and it was declining strongly during Wednesday's pre-market trading. And then it all changed. Silver soared before the U.S. markets opened and the white metal ended the session in the green. We definitely saw a silver reversal. But, was it significant and can it be trusted?
We doubt that and the below chart shows why.
Read full article...

Read full article...
---

Friday, November 08, 2019
This morning in pre-market the Amigos' futures charts update the macro story…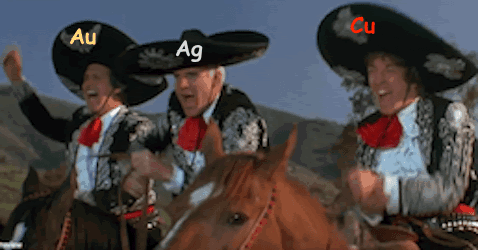 …which goes something like this…
Read full article...

Read full article...
---

Friday, November 08, 2019

As it has done with cobalt, graphite and rare earths, China appears to be locking up the nickel market.
Nickel's top producer, Indonesia, in early September decided to accelerate a scheduled ban on ore export shipments, from 2022 to January 1, 2020. The ban which instead took immediate effect on Oct. 28, is to encourage the building of domestic smelters instead of exporting raw nickel, and other metals, for processing abroad. (the country did the same thing in 2014 but lifted the ban three years later).
No coincidence
Is it any coincidence that Indonesia decided in September to ban nickel ore exports, just a few weeks after a meeting between Indonesian president Joko Widodo and Chinese industrial executives, including Xiang Guanda, who in partnership with his wife, runs Tsingshan Holding Group?
Read full article...

Read full article...
---

Thursday, November 07, 2019

We wrote a very telling research article on October 24th, 2019. We never published it because we had other articles scheduled to be published over the next few weeks in the queue and because our subscribers get our trade alerts before the general public. At this point, we are sharing that past article as well as some current research for Natural Gas that should be very interesting to you.
Pay very close attention to the original October 24th article, below, and our prediction that the $2.75 to $2.85 level would be a likely target for the upside price rally from the basing level below $2.30. Currently, Natural Gas is trading at $2.87 – reaching our initial target level.
If our research is correct, strong demand and limited supply globally may push Natural Gas well above the $3.20 to $3.40 level after a very brief pause happens near $3.00. In fact, Natural Gas may be getting ready to rally past 2018 highs ($4.93) if the situation presents itself for such an incredible price rally. What would it take for a rally like that to happen? Much stronger demand for natural gas because of an early, extreme winter and extended global demand.
Read full article...

Read full article...
---

Wednesday, November 06, 2019
...
---

Tuesday, November 05, 2019

In our most recent editorial we concluded by observing a few positives in the gold and silver stocks. W concluded with: "Their performance over the weeks ahead could give us an early hint as to how much longer the correction will last."
Fast forward another week and a few positives has morphed into a handful of positives.
First let's look at GDX. In the chart below we plot GDX and its advance decline (A/D) line.
GDX has essentially corrected for two months and it has yet to test the previous resistance zone at $24 to $25. It has bounced from $26 several times and established good support there. So it's holding its gains.
Read full article...

Read full article...
---

Monday, November 04, 2019
...
---