Analysis Topic: Stock & Financial Markets
The analysis published under this topic are as follows.

Tuesday, May 01, 2007
Consider Dow 13,000. We have already surpassed that mark and probably will do so repeatedly in the next several weeks. To skeptics such as myself, there is an underlying fallacy in numbers such as this. When DJIA hits new high water marks, it allows investors to fall prey to the big number fallacy.
The big number fallacy goes something like this: All big numbers, and we can certainly qualify 13,000 as a big number in terms of stock market advances, are considered infinite. There is the possibility that given enough time the Dow could lumber on towards infinity. And the chartists among us will agree, based on the pace of recent years that it could happen in our lifetimes.
Read full article...

Read full article...
---

Tuesday, May 01, 2007
Tony, here. In just two weeks, I'll be flying over to Asia. It's going to be a whirlwind trip, with stops in Hong Kong, Shenzhen, Bangalore, Singapore, and Manila. And I'm frantically trying to put together all the last-minute preparations.
That's why I've asked Dan Ascani, Executive Vice President of our separate affiliate, Weiss Capital Management, and Portfolio Manager of three ETF programs, including the Weiss ETF Strategic Allocation Portfolio, to fill in today.
Read full article...

Read full article...
---

Monday, April 30, 2007
The biggest question of the week is: if the economy is doing so poorly, why is the stock market cheering? Based upon the GDP report, economic growth in the US is a measly 1.3%, way below what even the most pessimistic economists believed. As with any bit of bad news, there is always a silver lining – and here the blame rests firmly upon the housing slump. Next week we get the "big" economic reports that tend to move markets: employment and purchasing managers reports (ISM data).
Either these reports will confirm the GDP report or they will point to a one-quarter wonder and investors will continue to cheer stocks higher. The current guess (as good as it gets in this business!) is that payrolls will grow by roughly 100,000 with a fairly wide range around that figure.
Read full article...

Read full article...
---

Monday, April 30, 2007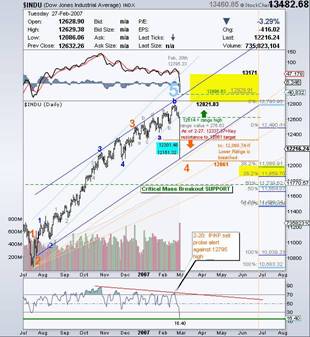 BACKDROP
In April of 2006, we were quite aware of the parabolic price movements taking place amid numerous global equity markets. We weighed in on the matter with a piece entitled Global Contagion.
On September 14, 2006 with the Dow trading at the 11,500 level, Elliott Wave Technology forecast an imminent critical mass building within the Industrial Average. At the time, we shared those observations in our presenting Equity Markets Approach Critical Mass .
Read full article...

Read full article...
---

Sunday, April 29, 2007
Many investors have been taken by surprise by the sudden strength in the broad US stockmarkets, especially given the severe structural problems of the US economy. The breakout to new highs by the Dow Jones Industrials was predicted in a Marketwatch article on 13th April, based on volume studies.
The S&P500 index has not as yet broken out to new highs, but is close to doing so and is expected to shortly. What are the reasons for this sudden strength and to what extent is it an illusion?
Read full article...

Read full article...
---

Sunday, April 29, 2007
"Dead man walking" is the phrase shouted by guards when a condemned prisoner is taken down to Death Row. The words have also been used to describe individuals who face an unwelcome but unavoidable fate. In other words, although they might be employed or involved in a particular relationship right now, circumstances will soon change -- for the worse.
In many ways, this epithet describes today's U.S. equity market. That is despite the fact that the majority of investors seem to believe that the increasingly exuberant run-up we've seen since the fall of 2002 can only lead to one thing: more of the same.
Read full article...

Read full article...
---

Saturday, April 28, 2007
A 3-dimensional approach to technical analysis
Cycles - Breadth - Price projections
A summary of the market position:
Long-term trend : up
Intermediate trend: up
Short-term: consolidating.
Read full article...

Read full article...
---

Saturday, April 28, 2007
The markets have totally blindsided any trader or analyst who's clung to a bearish big picture view of the markets since the 2000 high in the S&P 500. But now, 60 points under its 2000 peak, some of them are finally looking to buy! It was only a few months ago that acquaintances within the trading community had every sort of target or cycle that supposedly should have halted this advance about a hundred points lower. Now, they ask if it can extend. Once again, this is Mrs. Market doing her job well oh so well.
Read full article...

Read full article...
---

Saturday, April 28, 2007
The standing forecast as of December 06 for 2007 is for the FTSE to rally towards 7000 by year end, however a strong summer correction is also anticipated to begin sometime during May 2007 and carry into July 07. The following analysis is an attempt at fine tuning the Outlook for the Summer FTSE 100 Correction
Read full article...

Read full article...
---

Saturday, April 28, 2007
The good news is: All of the major indices hit multi year or all time highs during the past week.
Short Term
The secondaries lead both up and down.
Read full article...

Read full article...
---

Saturday, April 28, 2007
This week we look at the growing disconnect between the US economy and the stock markets. One is slowing and the other is exploding to the upside. One of my mentors once said that it is the duty of the markets to prove the most-possible people wrong.
So far, I am clearly in the wrong category. We will look at some explanations as to why, ponder if this can continue, and more. (I will conclude the letter I promised last week in next week's letter. There were still a few details I needed to get it ready.)


Read full article...

Read full article...
---

Friday, April 27, 2007
This week, the Shanghai Composite Index has maintained its bubble trajectory angle, and if the angle continues to hold, the Shanghai will hits its 12 year major resistance in the latter half of next month. Why is the Shanghai continuing to move up at such an incredible pace?
Because of supply and demand of investors.
Read full article...

Read full article...
---

Friday, April 27, 2007
As the Dow burst through the 13,000 milestone this week, few understood the hollowness of the achievement. Measured against the rising dollar-denominated prices of just about everything else on the planet, the Dow has actually lost value over the past seven years. Measured against the truest benchmark, the price of gold, the record high for the Dow was set back in January of 2000 when its price equaled approximately 43 ounces of gold. Today it is only worth about 19 ounces.
Read full article...

Read full article...
---

Thursday, April 26, 2007
After over four years of near uninterrupted advancing, the stock markets have now pushed through into all-time highs. The question for most investors is centred on the probability of the continuation of this current trend. Recent fundamental data points to the risk of a cooling economy in the second half of 2007 accompanied with lower interest rates.
Concern for the U.S. housing market and its potential impact also looms over the gradually expanding North American economies. Yet in spite of these challenges, equity markets trade higher month after month. This report is the first in a two part series reviewing the key leading indicators of the stock markets and their implications.
Read full article...

Read full article...
---

Wednesday, April 25, 2007
Investors who want to beat the market need to be aware of the key trends that will impact their portfolios. To some this year looks like a classic sell in May and go away. The theory is that the market goes into hibernation for up to six months from May to November, and during the other six months it gets back into gear and makes its move up. Part of this idea comes from the larger traders taking time off for their summer vacations.
I am not so sure we will see this happen this year, as I expect many traders and investors will be looking to react quickly to any further signs of market weaknesses. I also believe we are likely to see much more volatility in the months ahead, which should present some good buying opportunities for some quicker trades.
Read full article...

Read full article...
---

Wednesday, April 25, 2007
Sean Brodrick writes . Right now, there's a major disconnect in the markets — the U.S. dollar is going down while U.S. stocks are going up .
Look at my weekly chart of the dollar. If this were a stock, we'd be talking about a potential bankruptcy!
Read full article...

Read full article...
---

Tuesday, April 24, 2007
For a few tumultuous hours on April 19th, it seemed like deja 'vu all over again. Global commodity and stock market operators held their collective breathe, as the Shanghai Stock Index tumbled as much as 7.2% to the 3,400 level, reviving fears of yet another gut wrenching global shake-out. Beijing had delayed the release of two key economic statistics until after the close of trading, heightening fears of bearish news that could derail the Shanghai freight train.
After the close of trading, Beijing said consumer inflation had hit 3.3% in March, its highest in more than two years, and far above 2.7% in February. China's economy is overheating, expanding at an 11.1% annualized clip in Q'1, and factory output is 18.5% higher from a year ago. The news of above target inflation, jolted China's 5-year bond yields upward by 50 basis points to 5.25%, to its highest in two years, on fears the People's Bank of China (PBoC) might actually tighten liquidity.
Read full article...

Read full article...
---

Tuesday, April 24, 2007
What scared the markets just a month ago now is merely a blip on the computer screen. China's economic growth rate far surpassed economists' guesses and the markets looked to be taking a tumble on the news, however earnings reports were better than the "low ball" estimates from the street and after a brief decline, the markets put on a show to new all-time highs for the Dow.
While the other markets are tracking a bit lower, the gains are nonetheless significant. China and Japan have both indicated that they would be raising interest rates (as they did a month ago) to stem their rampant markets, however after being fooled last month, investors took the cue to add to existing positions. The housing market remains weak and much of the economic data out recently failed to meet initial estimates, but the equity markets continued their march to a different drummer.
Read full article...

Read full article...
---

Tuesday, April 24, 2007
We've been measuring and reporting
Demand Power
and
Supply Pressure
for the Blue Chip indices each night for several years. This week we present them graphically, and show you how they offer highly correlative buy and sell signals. But even more exciting, for those of you who have been wanting some guidance on exit signals, these indicators also offer an option for exiting an established position.
Read full article...

Read full article...
---

Tuesday, April 24, 2007
Tony Sagami writes : The Wall Street crowd is treating the Dow's march to 13,000 like a New Year's Eve countdown. And I'm sure they'll break out lots of bubbly when it happens. But although 13,000 is a nice, round number, it's just 4.3% higher than where the Dow started 2007.
A 4.3% gain in the Dow is nothing to sneeze at. However, over the same timeframe, investors could have gotten double or triple that return from other markets around the globe.
In fact, I can think of three Asian exchange-traded funds that have already jumped by double-digits this year (through April 21) — the iShares Singapore (+10.4%), the iShares Malaysia (+19%), and the iShares Australia (+10.4%).
Read full article...

Read full article...
---