Analysis Topic: Stock & Financial Markets
The analysis published under this topic are as follows.

Tuesday, May 17, 2022
While investors may have been betting on a Fed pivot, expert Michael Ballanger analyzes where we may find ourselves if they don't.
As a young and very brash "stock salesman" in the early 1980s (Note: Back then, they did not call us "wealth managers" or "investment professionals" or "advisors."), I discovered a newsletter writer that was the best storyteller I have ever read, and his name was Richard Russell. The author and founder of the 1958 "Dow Theory Letters," he rose to fame after calling the bottom of the horrendous 1973-1974 bear market in December of the terminal year resulting in a bombardment of catcalls and peer-pressure ridicule. Nobody—and I mean NOBODY—expected that stock prices were going to do anything but continue to crater and that was what made him such a beast.
As we do our collective best to weather this storm of selling pressure in what started as tech stocks but which has now migrated to literally everything, I am reminded of one of the more poignant "Russell-isms." He said, "In a bear market, he who loses the least, wins."
"My losses have taught me that I must not begin to advance until I am sure I shall not have to retreat." — Edwin Lefevre
That phrase is the major portion of the reason that I advised subscribers on January 7th of this year, with the S&P 500 clipping above 4,800, that capital preservation was our primary focus and that volatility would dominate the investment landscape in 2022.
Read full article...

Read full article...
---

Monday, May 16, 2022
Following and trading on price can be compared to the reading of a good book. As we read each page, we acquire additional information that may give us a better understanding of the unfolding story.
The same is true of the market, as each day is like the reading of another page. The pages of a book make up chapters. These chapters in trading represent bull markets, bear markets, distribution and accumulation, and time frames of high and low volatility.
Unfortunately, in trading, we cannot skip to the end of the book to learn how everything turns out. However, as traders, we have learned that studying and remembering the past can pay great dividends.
Trading price in its rawest form is simply plotting and studying price without the use of moving averages, stochastics, RSI, or other technical indicators. This simplified but often overlooked methodology can offer everything a trader needs to be successful.
Read full article...

Read full article...
---

Friday, May 13, 2022
These can "work tirelessly to keep investors trapped on the wrong side of a bearish trend"
It's been a rocky road for the Dow and the S&P 500 index since the start of the year. And, even longer for the NASDAQ, which topped back in November.
Indeed, speaking of technology stocks, some of the most popular names took a big beating in April alone. As the Wall Street Journal noted (April 29):
The FAANG stocks, consisting of the popular quintet of Facebook parent Meta Platforms, Apple, Amazon.com, Netflix and Google parent Alphabet, have collectively lost more than $1 trillion in market value [in April], the most since Facebook started trading in May 2012.
So, you might think that this bumpy ride in the stock market would have many investors at least considering moving to the sidelines, especially those with a sizeable nest egg to protect.
Read full article...

Read full article...
---

Thursday, May 12, 2022
The earnings bloodbath materialised, that started on Tuesday with Google trading down to $2265, and ended on Friday with Amazon plunging down to a new low of $2425. With the two 'cheap' stocks Qualcom and Facebook rallying strongly post earnings. Virtually everything went according to the script of my last article i.e. "we could see Amazon trade to well under $2500, probably into the $2450 to $2300 support zone". The only odd one out was Apple that refused to budge much from $160, where my expectations remain is headed to below $142.
Read full article...

Read full article...
---

Tuesday, May 10, 2022
Last Wednesday's rate hike by the Federal Reserve failed to convince investors that the central bank can tame inflation without wrecking the economy.

Subsequent remarks by Jerome Powell insisting that the economy isn't vulnerable to recession were also unconvincing – especially given the Fed chairman's lousy forecasting track record ("transitory" inflation has proven to be more like intractable inflation).

The good news for gold holders is that the safe-haven metal is holding up better than conventional financial assets. Stocks are breaking down at the same time as purportedly "risk-free" Treasury bonds are collapsing in value at a rate never before seen.

Sentiment gauges are showing extreme pessimism among the public. Most say the country is headed in the wrong direction and give President Joe Biden terrible marks for his handling of the economy.
Read full article...

Read full article...
---

Monday, May 09, 2022
Dear Reader
The stock market continues to trend in line with my expectations for an mid April higher low that I am sure will be accompanied by maximum fears of a CRASH to NEW bear market lows, which without any road map would be ones natural instincts to expect, i.e. most market commentators tend to be bullish AFTER stocks have gone up and BEARISH AFTER stocks have fallen. Instead with a road map, I am not seeing any reason to not continue to expect stocks to bottom and then rally strongly into May and thus I wll continue accumulating target stocks as and when opportunities arise over the coming week whilst most will kick the can down the road out of fear of new lows.
Read full article...

Read full article...
---

Saturday, May 07, 2022
Hi,
You might agree that so far, not much about this year has been "normal."
Normally, commodity prices don't leap to the moon
Stocks don't sell off this hard in April
And European countries don't engage in brutal wars
All of that to say: It's time to stop thinking "normal," and start thinking "new."
For that, you can't do better than Elliott waves. Just look at these 8 "before/after" charts from Global Market Perspective, a monthly publication by our friends at Elliott Wave International.
Read full article...

Read full article...
---

Tuesday, May 03, 2022
Fed Plunge Protection Team HALTS Stock Market Crash in it's tracks, sending stocks sharply higher late MOnday ahead of this weeks Fed meeting.
There I was eagerly anticipating the BEAR signal for a potential stock market waterfall event on break of the S&P to NEW LOWS, Which happened! The S&P broke a NEW bear market low, jeronimo, or Jerome Powell, the S&P was off to at a quick rendezvous with 3900 and lower over subsequent days.
Read full article...

Read full article...
---

Tuesday, May 03, 2022
Market volatility remains elevated and may be setting the stage for spikes even higher than we have already experienced.
Global money is continuing to flow into the US Dollar making it one of the primary safe-haven trades. This may eventually trigger a broader and deeper selloff in U.S. stocks. As the USD continues to strengthen corporate profits for US multinationals will begin to disappear.
It's imperative to assess your trading plan, portfolio holdings, and cash resources. Experienced traders know what their downside risk is and adapt as needed to the current market environment.
If you still have money invested in Amazon, Netflix, PayPal, or one of the many other stocks that are sinking fast there is no easy way out. Your options are:
Hold tight and "hope" for a rally to recover part of your money.
Reduce some of your position to "limit your downside" in case the bottom really falls out, and then sell the balance after a bounce of 5-8%.
Move to cash, "bite the bullet", get a good night's sleep, take a break, reassess, and live to come back and trade another day.
Read full article...

Read full article...
---

Wednesday, April 27, 2022
Stock market price action is proving X files style spooky, not in terms of big price movement but rather that it is spookily following my trend expectation as of late March, unfortunately this is NOT AI generated for if it were I could sit back and retire, this is Deem generated of the trend picture in my mind late March of how things could play out during April and into May. A chart is much better than just text which is open to misinterpretation.
Read full article...

Read full article...
---

Wednesday, April 27, 2022
Multi timeframe, as well as comparison analysis, have many benefits. As traders, we tend to utilize the shorter-term time frames to enter our trades and place our stops. But the BIG money is made from gleaning information from the longer-term charts. We would classify long term as monthly or weekly while short term would be a daily or 4-hour time frame.
Comparison analysis can be done by comparing different time periods or we can see how our market is trading vs another highly correlated market.
Since we have a lot of subscriber interest in stocks, we thought it might be time to compare the current chart of the SPY to the S&P 500 index during the 2002-2009 period. The S&P 500 weekly chart experienced a nice bull market with several buy points from 2002 up to 2007.
Read full article...

Read full article...
---

Tuesday, April 26, 2022
It's bear market big tech Q1 earnings week when we could see blood on the streets of silicon valley, as Google, Microsoft, Apple, Amazon, Qualcom and Intel all report their earnings, potential blood on the street buying opportunties that I and my patrons have been patiently waiting for the buying levels to be triggered as these charts from my early February article illustrate where the dominos could finally start falling as we seee a continuaiton of Friday's plunge on break of key support levels for the likes of Nvidia and Google, seeing big buying levels finally starting to get triggered in the latest phase of this stealth stocks bear market that is cycling through target stocks like the tasmanian devil where my focus was on Google as it finally broke below $2400, a level that I had long flagged to patrons of where I would be buying big and in advance of warned Patrons for several weeks not to jump the gun regardless of what the genernal indices were doing.
Read full article...

Read full article...
---

Tuesday, April 26, 2022
The odds of a recession in the US just spiked considerably.

I'm not saying this to scare you…

That's what three important recession indicators are saying today.

They're all flashing "red"…

But as I'll show you today, this isn't the time to panic. Instead, it's an opportunity.

I'll explain in a moment. First, let's look at each indicator:
Read full article...

Read full article...
---

Sunday, April 24, 2022
This is why one has NO CHOICE but to be invested in price volatile assets such as stocks and housing which whilst yes will move up and down in value from tim to time like a yo yo nevertheless over he long-run will be leveraged to rampant government and central bank money printing inflation so we have NO CHOICE BUT TO BE INVESTED IN SUCH ASSETS! NO CHOICE WHATSOEVER FOR THE ALTERNATIVE IS CERTAIN DESTRUCTION OF ONES HARD EARNED WEALTH which is why the largest asset class I have held for near 10 years now is bricks and mortar UK housing regardless of what the price indices do from month to month, year to year, or the clowns proclaim about imminent deflationary crashes. There is NO CHOICE BUT TO BE HOLD ASSETS THAT ARE LEVERAGED TO INFLATION AS THE ALTERNATIVE IS ONE WILL LOSE THE VALUE OF ALL OF ONES HARD EARNED SAVINGS! Which is why whenever I am asked if now is a good time to buy property I tend to remind those asking that house prices are leveraged to inflation so regardless of the tripe in the clueless mainstream press of how UK housing is unaffordable, however inflation ensures that the overall trend trajectory remains upwards for the fundamental fact that unlike fiat currency houses cannot be printed and thus house prices have confounded the clownomics in the mainstream press by soaring into the stratosphere.
Read full article...

Read full article...
---

Sunday, April 24, 2022
Tough talk from the Fed roiled markets this past week, with stocks as well as precious metals getting hit.
On Thursday, Federal Reserve chairman Jerome Powell said the central bank intends to pursue a more rapid pace of interest rate increases. He indicated that a 50-basis point hike in May is likely.
Jerome Powell: We really are committed to using our tools to get 2% inflation back and I think if you look at, for example, if you look at the last tightening cycle, which was a two-year string of 25 basis point hikes from 2004 to 2006, inflation was a little over 3%. So, inflation's much higher now and our policy rate is still more accommodating than it was then. So, it is appropriate, in my view, to be moving a little more quickly. And I also think there's something in the idea of front-end loading, whatever accommodation one thinks is appropriate. So, that does point in the direction of 50 basis points being on the table, certainly. We make these decisions at the meeting and we'll make them meeting by meeting, but I would say that 50 basis points will be on the table for the May meeting.
Read full article...

Read full article...
---

Thursday, April 21, 2022
S&P 500 rose incessantly during the regular session but bonds don't yet confirm the decline would be over. So much hawkish noise (75bp hike next?), and tech keeps rising? Still a peculiar case of strength but a daily rotation out of energy stocks into tech can't be denied. I wouldn't yet jump to conclusions about lastingly improving market breadth though. The S&P 500 upswing may just take a few days more to run its course as the tightening heat hasn't yet played out. Powell talking tomorrow is a nice opportunity. Real assets will find it easy to recover from yesterday's daily setback – they had plenty of opportunities to decline before Feb 24th, yet tellingly didn't...
Read full article...

Read full article...
---

Thursday, April 21, 2022
Every day seems filled with some new comment or data point that suggests the Global Market or the US Fed will aggressively attempt to burst the inflation bubble. Global central banks continue to warn that COVID, and other issues, persist. Traders seek some clarity and understanding of what's going to happen next.
Will The US Stock Market Continue To Rally Higher?
Allow us to help you understand what is happening behind all these data points and news posts. We can understand key market components better by using specialized modeling systems that aim to distill market events into relatable trigger events within our strategies. This, in turn, helps us to better understand what may come next for the US markets.
We'll focus on some of our Custom Indexes to better illustrate current market trends and conditions. These are examples of our Custom Smart Cash Index (a more global market custom index), our Commodity Price Index, and our Custom US Index (a focused US Custom Index).
Read full article...

Read full article...
---

Wednesday, April 20, 2022
"Even short term, diverging trends can signal an unhealthy market"
If you've been an investor for any appreciable length of time, no doubt you've noticed that all of the stock market indexes usually move in unison.
For example, when the Dow Industrials rally, the S&P 500 and NASDAQ usually do so too -- the same applies during a broad downtrend.
As the April 8 U.S. Short Term Update, a thrice weekly Elliott Wave International publication which provides near-term forecasts for key U.S. financial markets, notes:
Think of the final days of [the big down wave] in March 2009, at the end of the Dow's 54% decline from October 2007. Nearly every stock index made a low within days of March 9, 2009 -- blue chips, technology, small caps, transports, secondary stock indexes -- and all rallied in unison thereafter.
However, when stock indexes begin to diverge, this is usually a sign that the existing trend is about to reverse.
Read full article...

Read full article...
---

Tuesday, April 19, 2022
Dear Reader
What if you could know the future, had a chart of the stock market that showed a high probability trend forecast into the middle of May 2022. We'll that's what my Patrons got in a market brief at the end of March 2022, a trend forecast right into the middle of May 2022.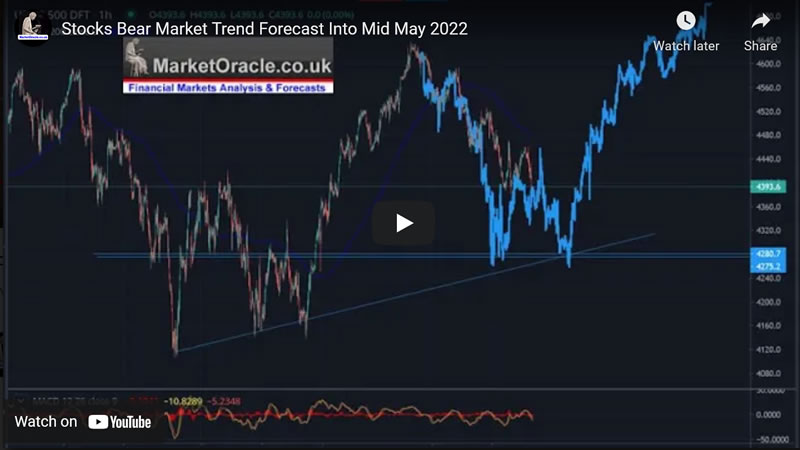 Latest Update - The Stocks Stealth BEAR Market, AI Stocks Buying Levels Going Into Earnings
Read full article...

Read full article...
---

Tuesday, April 19, 2022
There are just a few times in ones investing career, depending how early you start and if you survive long enough, that you are witness to some extraordinary changes from the MACRO scale perspective. A few examples would be the beginning of the 1929 crash, the end of the secular bull market that was made in 2000 that began in 1974, the 1987 crash which is still the biggest one day percentage drop in stock market history of 23%. Then there was the banking and housing bubble that collapsed into the 2009 crash low which launched our current secular bull market in the stock markets which is now 13 years old.
Then there are more subtle changes in the macro world that are very rare which most investors or even economist don't have the ability to recognize until they are well established. Eventually the change of trend is so great that one has to accept the fact and recognize it for what it is. In the beginning of a macro shift few believe it is really happening because the trend has been in place for so long that it seems normal and that is how markets work.
What I would like to show you today are several rare macro events that are going to change the world and in ways we may not understand right now, but changes are coming whether we like it or not. To think one person or a group of people can wave their magic wand and make everything the way it was before are in for a rude awakening. We are just now witnessing the birth of these macro trends that are going to be with us for many years into the future.
It is always hard in the beginning because most people don't understand the changes and lash out to those in charge thinking they can make things right, but again that is wishful thinking. After a period of time has lapsed there will be an adjustment period and a new norm will be established. For those that understand the macro shifts will do well with their investments, but for those that are unwilling to adapt to the new environment will find it much harder and blame everyone and everything for their underperformance or outright failure.
Read full article...

Read full article...
---